You can bring the beauty of the ocean indoors thanks to the resin art pieces of North Carolina-based artist Roni Langley. She crafts one-of-a-kind wall art, home accessories, and even surfboards that feature colorful, realistic seascapes.
Langley has been creating art since childhood, but it wasn't until she was facing college debt that she decided to turn her passion into her career. Now, she hand-crafts hundreds of beach-inspired creations, from cutting boards and serving trays to tables and bowls. Using her kitchenware at home will almost feel like a trip to the beach!
Langley carves each piece from wood herself, but she really shows off her artistic skills when it's time to add the resin. She achieves her signature glossy seascapes with layers of epoxy resin that blend when poured and create mesmerizing swirls as well as bubbly, wave-like patterns. Although each stunning creation can take up to 10 hours to complete, Langley's creative efforts clearly pay off. Not only does her work look amazing, but every piece is waterproof and scratch-resistant thanks to the artist's choice of medium.
Check out some of Langley's creations below and purchase your own ocean-inspired design from her online shop, RLL Designs.
North Carolina-based artist Roni Langley is a master of resin art.
She crafts beautiful home accessories and surfboards inspired by her love of the ocean.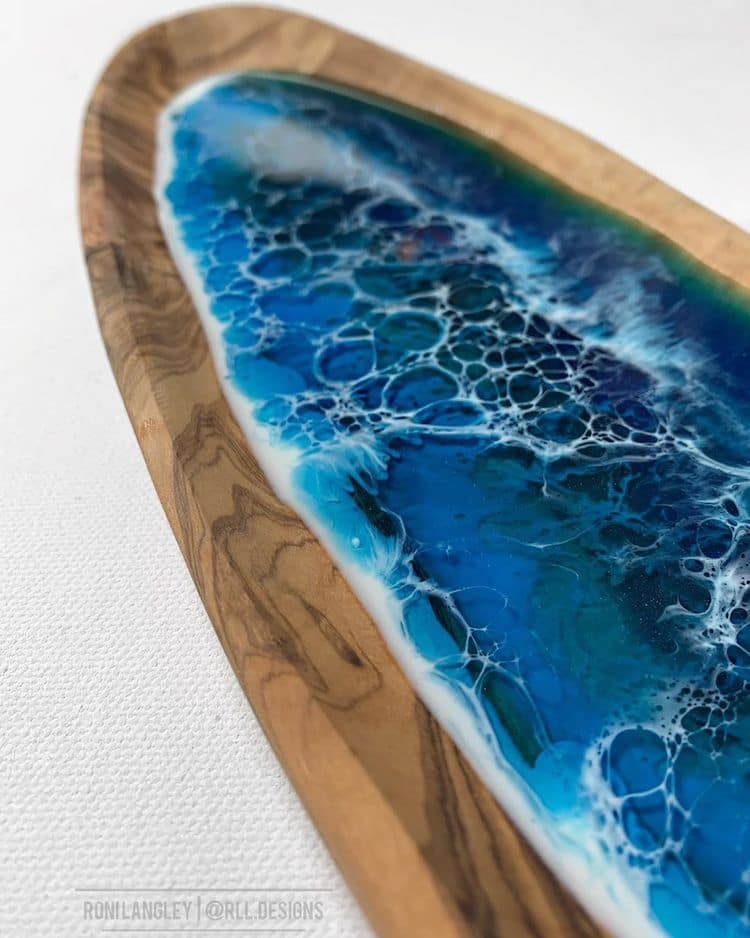 She creates each piece by pouring layers colorful epoxy resin and allowing it to blend.
The result is mesmerizing swirls and bubbly, wave-like patterns.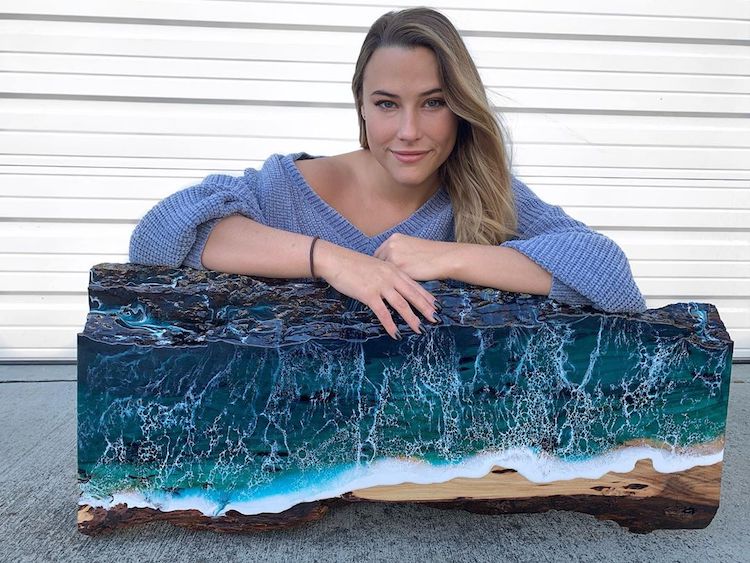 Watch Langley's creative process below.
Roni Langley: Website | Facebook | Instagram
My Modern Met granted permission to use photos by Roni Langley.
Related Articles:
Swirling Resin Art Uses Real Objects to Mimic the Untouched Beauty of the Ocean
Interview: Ocean-Loving Artist Creates Photorealistic Seascape Paintings with Resin
Amazing Wood and Resin Ocean Coast Tables Look Like Living Shores With Moving Tides
Earthy Bracelets Made with Clear Resin Allow You to Be One with Nature