Designed to be waterproof and buoyant, the Spry is a breakthrough in drone technology. This waterproof drone and its water-resistant remote control is the culmination of two years of prototyping by SwellUSA and Urban Drones. And now, their final push on Kickstarter is causing a sensation.
Spry blew past its initial goal in just 45 minutes, earning over six times more than its funding target. Just what makes the Spry so coveted? Marketed as a drone that the action sports community will love, the Spry "can submerge like a submarine, float and navigate like a boat, and fly in the air at over 43 mph." It's fitted with a 4K camera that captures video at 30 fps and can take still images at 12 megapixels.
The company also spent a significant amount of time working on a waterproof remote control, the first in the industry. This allows anyone who likes to play in the water the opportunity to have video streamed to the remote's 4.3-inch monitor without worrying it will break.
"The Spry's ability to submerge under water and fly in the air makes it the most versatile drone ever created. We've only seen this in science fiction movies," said Alex Rodriguez, CEO of Urban Drones. "Watersport enthusiasts have always liked drones, but the fear of losing their drone in the water has always been an obstacle that affects their creativity and we're happy to say that with the Spry, we've removed that barrier."
Spry's camera, which is enclosed inside a dome that cuts down on glare, can tilt via the remote control, ensuring you'll be able to capture the action at an angle. The drone flies at top speeds of 43 mph (70 kph) with a flight time of 17 minutes. Other cool features include Return to Boat, which has the Spry return automatically to the pilot, even if they're on something like a moving boat. The agile aircraft can also orbit around an object or follow a moving target from a distance while keeping focus.
Until October 1, 2018 the Spry is on pre-order via Kickstarter for $749. That's 25% lower than its estimated retail price, according to the company. It's projected that the Spry will start delivering in November 2018 and all orders should be received by December 31, 2018.
In case you're worried about the team hitting those targets, SwellUSA and Urban Drones point out that they've successfully completed two crowdfunding campaigns in the past three years. The Spry is an exciting evolution for drone lovers who want to take their artistry to the next level. Now we'll just need to patiently wait for water-themed videos to emerge as backers receive their waterproof drones.
The Spry is a waterproof drone that can submerge like a submarine, float and navigate like a boat, and fly in the air.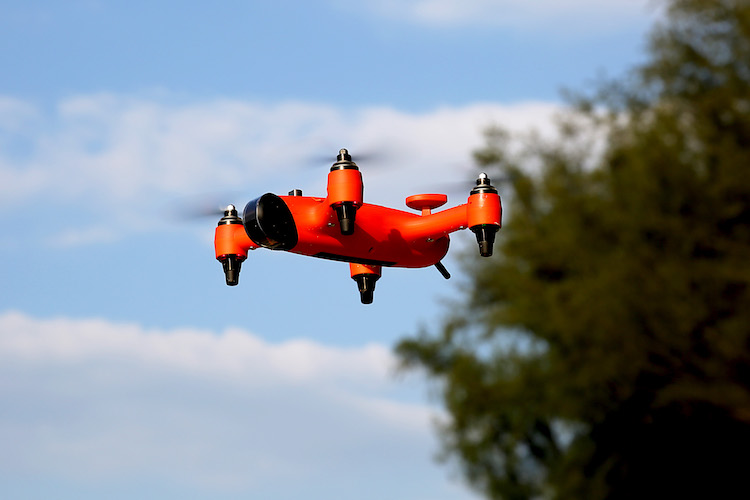 The drone comes with a waterproof remote control—a first—and has been a huge success on Kickstarter.
Watch the Spry in action.
Spry: Kickstarter
h/t: [Fstoppers]
All images via Spry.
Related Articles

:

DJI Unveils Upgraded Mavic 2 Drones With the Power of a "DSLR in the Sky"

Wearable Drone Flies off Your Wrist to Snap a Photo and Boomerangs Back

Revolutionary Robotic Camera Drone Pilots Itself While Following You