Calling himself an "object arranger," Adam Hillman sees the beauty in things organized neatly. Taking everyday things like matches, cotton swabs, and push pins, he meticulously places them in mesmerizing patterns that transform them from the ordinary into the extraordinary. Divorced from their original function, the items hardly look like themselves, and with Hillman's intervention, they function as a single form that electrifies the composition.
While every one of Hillman's pattern arrangements is impressive, his food organization is some of his best work. Preparing these edible materials often involves delicate peeling or precise slicing, which is both time consuming and unpredictable—you never know how an Oreo's icing is going to look until you twist it open. It requires the utmost patience; a trait best shown in his photograph of Fruit Loops cereal that's arranged in a square gradient pattern suspended in a milky bath.
Hillman sells prints of his obsessively arranged art on Society6.
Through meticulous pattern arrangement, Adam Hillman creates visually soothing photos.
From everyday objects to food, Hillman organizes it all.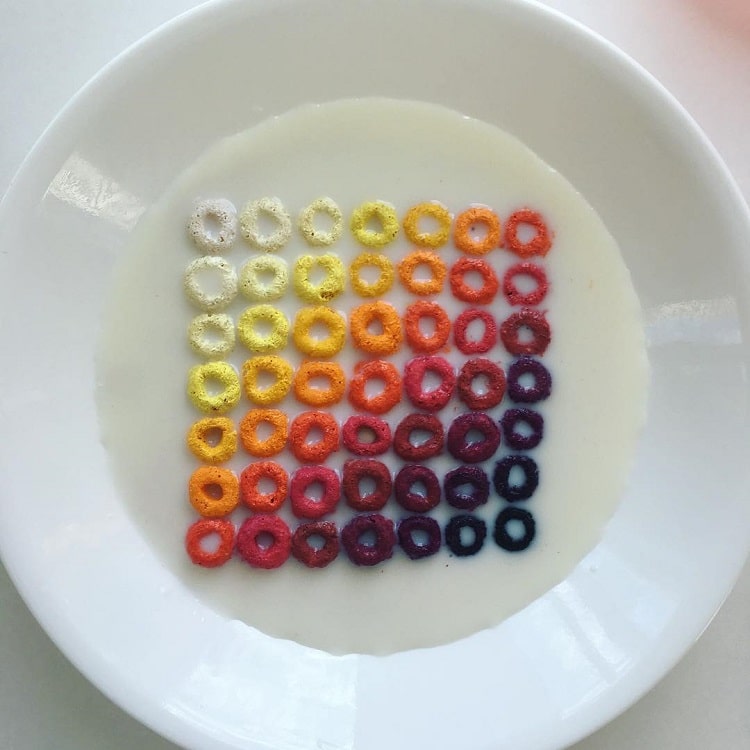 Some are arranged in rainbow colors, while others place an emphasis on shape design through negative space.
Whatever the items may be, Hillman shows how satisfying it is to see things organized neatly.
Adam Hillman: Instagram | Society6
h/t: [Colossal]
All images via Adam Hillman.
Related Articles:
Photos of Things Organized Neatly Provide a Soothing Feast for the Eyes
Delicious Sugary Treats Perfectly Organized by Color
Various Collections Organized In Shocking Abundance
Visually Satisfying Food Arrangements Are Rainbow Feasts for the Eyes