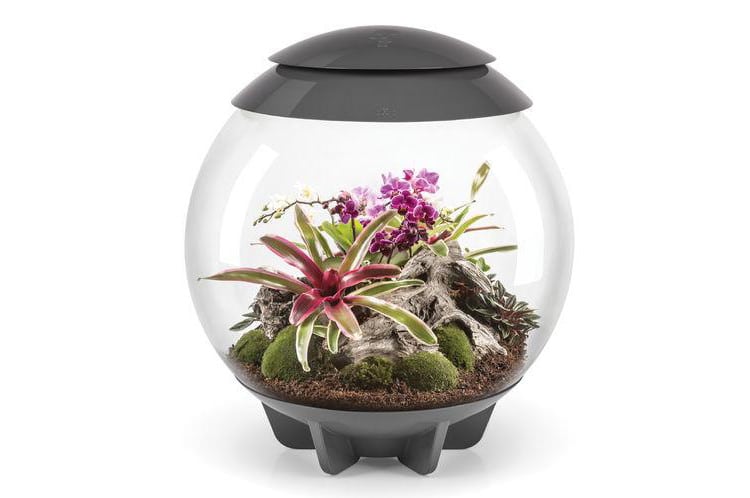 In every plant parent's life, there comes a time when they feel a little adventurous. Once they've mastered common houseplants and succulents, they want something a little more colorful, or maybe something exotic for a challenge. But not everyone can replicate the tropical and humid conditions some flora demand at home. Luckily, there are modern hi-tech terrariums that can work wonders and be aesthetically pleasing at the same time.
The AIR 60 Terrarium by biOrb is a stylish spherical terrarium with a capacity of 16 gallons. It can turn your favorite plants into a decorative piece that matches any room, all while providing the ideal conditions any plant needs to survive. Instead of regular glass, this terrarium is made of acrylic, which is 10 times stronger, 50% lighter, and has a 93% transparency rating.
Unlike an old-fashioned terrarium, which is basically just a fish bowl, AIR 60 can replicate the conditions found in tropical climates. It comes equipped with auto lighting, humidity, and airflow systems to simulate the temperatures and humidity the plant would find in its native environment outdoors. There are six LED lights at the top within the dome that work on a 24-hour cycle, imitating day and night, to encourage natural growth.
In addition to the AIR 60, biOrb has an 8-gallon terrarium aptly called AIR 30. It may be half the size, but it's just as effective. It can also simulate three climate settings to fit your plants' needs: tropical for plants that require high humidity, semi-arid for cacti and succulents, and medium for temperate plants. To prevent them from growing and bending towards just one light source, the top cover houses an array of LED lights that you can program for 8-hour, 10-hour, 12-hour, or 14-hour light cycles.
Whether you consider yourself a green thumb or a plant newbie, these terrariums can help make sure your plants thrive within the micro habitat. They can sense when the humidity drops and gently adjust the air within the sphere using advanced misting and fan settings.
One of the biggest known issues with regular terrariums is that they become hotbeds for fungus and rot. BiOrb's terrariums are better able to avoid this because of their clean air systems. They have fans that recycle the air through a replaceable carbon filter. The best part is that all the settings can be set and updated via remote control.
Whether your looking for a little help with your indoor jungle or a unique way to marry decor with your favorite plants, one thing is for sure: you'll rest easy knowing everything is in perfect balance within the sphere. If you can't wait to grow something in it, it comes ready with coir compost to welcome a plant—or plants!
The AIR 60 and AIR 30 are now available to purchase on biOrb's website.
BiOrb's AIR 60 is both a highly efficient and aesthetically pleasing terrarium for the modern indoor gardener.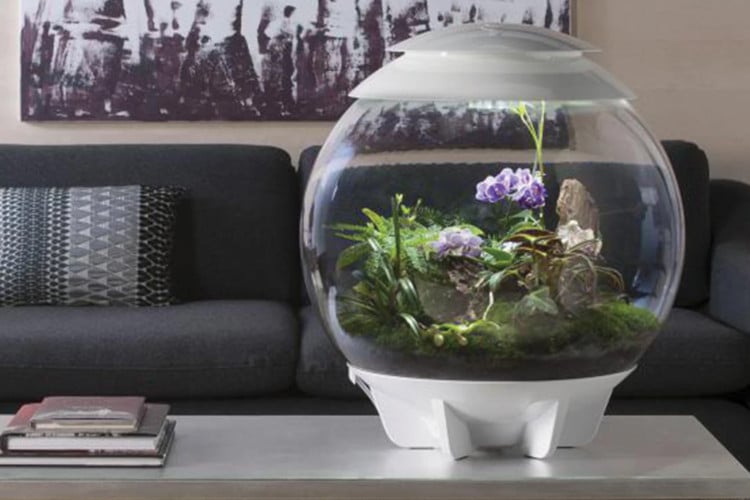 It turns your favorite plants into a decorative piece that matches any room.
It also provides the ideal conditions any plant needs to survive, as it can simulate different climate settings to fit your plants' needs.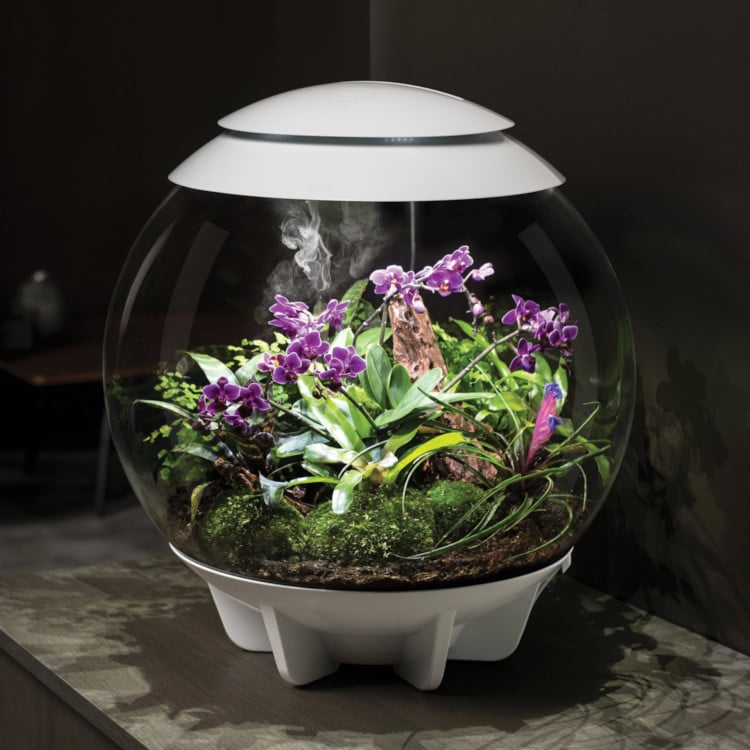 biOrb: Website | Instagram | Facebook
h/t: [Design Milk]
All images via biOrb
Related Articles:
15 Terrarium Kits That Have Everything You Need To Bring Some Green Into Your Home
Woman Transforms Old TV Into a Unique Terrarium for Her Cacti Collection
These Micro Terrariums Are Stackable Little Ecosystems to Add Nature to Your Desk
Etsy Artist Creates Massive Round Terrariums You Can Hang on Your Wall