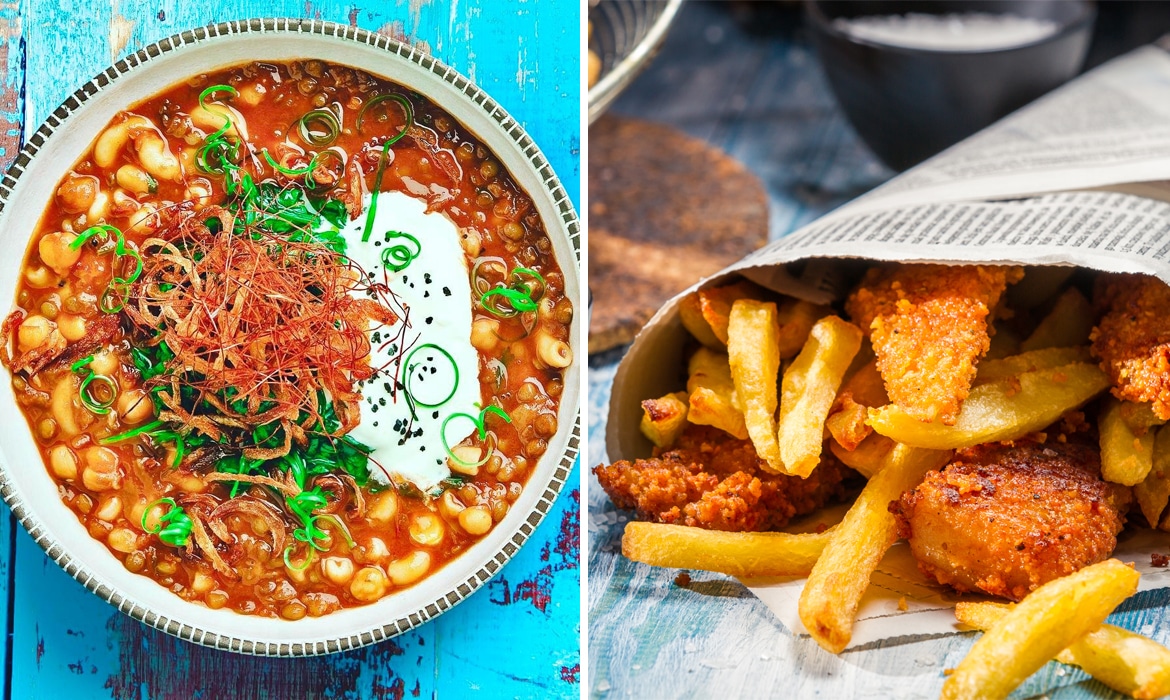 No matter where you live, you've probably got some version of comfort food. It's the type of dish that's associated with nostalgia; this is something that your mom might make for you when you're sick, or food that you'll indulge in if you've had a bad day. When you take that first bite, you immediately feel better—like suddenly, you're transported home.
Comfort food means different things across cultures. And, there's no definitive dish in any given place. Rather, there's a smattering of meals that are generally seen as warm and cozy, and the shared experience of eating them has touched the lives of the people there. In the United States, for instance, pizza is one of the most popular comfort foods. Bring it to a party or order it after a long work week and in that moment, it's the best thing you've ever eaten—even (or especially) when it's a big, greasy slice.
So, what does comfort food look like around the world? Grab a spoon and a fork and find out, below.
Canada
Poutine
Poutine is made with salty French fries, gooey cheese curds, and is doused in a light brown gravy. The fast food dish originated in Québec province.
Spain
Tortilla Española
There are few ingredients needed for the flavorful tortilla Española. Potatoes, onions, and eggs are fashioned into an omelet form and served as tapas or for lunch.
Japan
Onigiri
Onigiri, aka rice balls, are made from sticky white rice that's formed into triangular or cylindrical shapes. They're often wrapped in seaweed and filled with ingredients like salted salmon, smoked skipjack tuna, or edible kelp.
Turkey
Manti
Manti, or mantu, are dumplings filled with a spiced meat like lamb or ground beef. The dough wrapper is either boiled or steamed and served with yogurt, sour cream, or garlic.
Mexico
Chilaquiles
Chilaquiles, a traditional Mexican dish, consists of lightly fried corn tortillas that are doused with salsa or mole sauce. They can have a variety of toppings, including pulled chicken, cheese, or eggs (if you're serving them for brunch).
China
Congee
Congee is a type of thick rice porridge. They vary greatly by region, and the consistency is largely based on location of preparation. The same goes for what is eaten with it. Salted duck eggs, grilled fish, and pickled tofu are all ingredients you'll find in it.
Greece
Moussaka
Moussaka is a layered eggplant or potato-based dish that's served as a casserole. In Greece, it typically includes meat and is topped with a Béchamel sauce that's baked to perfection.
South Africa
Malva Pudding
Malva pudding is a sweet dish with a spongy, caramelized texture. It contains apricot jam and is served hot, where a cream sauce is poured over it.
England
Fish and chips
Fish and chips first appeared in the 1860s as a staple for the working classes. Now, the fried battered fish and hot fries is an iconic dish served in a paper wrapping.
Korea
Kimchi fried rice
Kimchi fried rice is a versatile dish that can be a snack or whipped up as a quick meal. This recipe features a flavorful kimchi sauce and an optional fried egg or spam component. (The canned meat is not traditionally Korean, but was introduced by the American military.)
El Salvador
Pupusa
Pupusas are made of thick corn tortillas and offer a variety of fillings—such as cheese, pork, or beans. Typically, they're served with curtido, which is a cabbage stew made with red chilies and vinegar.
India
Khichdi
Made from rice and lentils, khichdi is a one-pot comfort food. Depending on where it's prepared, it has myriad of preparations and can be vegetarian or cooked with meat or fish.
Poland
Pierogis
Like Turkey, Poland finds comfort in dumplings. Called pierogies, the dough is typically stuffed with onions, mashed potatoes, ground meat, and/or aged cheese.
Venezuela
Arepas
Arepas are essentially sandwiches, with two crispy, corn-based flat breads that are loaded with a variety of fillings. They can be eaten day or night.
United States of America
Pizza
From cheap and greasy to gourmet toppings, pizza consists of baked flatbread that's loaded with meat, vegetables, and condiments. The U.S.'s love for pizza extends far beyond eating and has transformed into a way of life.
Egypt
Koshari
A staple street food, koshari consists of rice, macaroni, and lentils mixed together and then topped with a spiced tomato sauce and fried onions.
Brazil
Pão de Queijo
Also known as Brazilian cheese bread, pão de queijo is a cheese puff that's crispy and hollow when you bite into it. Typically, they're made with Parmesan cheese.
New Zealand
Marmite and chip sandwich
Just as simple as a it sounds, a Marmite and chip sandwich features the yeast spread slathered over two slices of white bread. Salt and vinegar chips are layered on top for a nice crunch.
Germany
Käsespätzle
Spätzle is a soft egg noodle found in a variety of German cuisines. Käsespätzle is similar to macaroni and cheese, and the noodles are served in a creamy cheese sauce. Fried onions are a popular addition to the dish.
Ethiopia
Chechebsa
Sweet, spicy, and buttery, chechebsa is made from thin wheat pancakes that are fried with spiced butter. It's served with honey, yogurt, or scrambled eggs to make it perfect for breakfast or a snack.
Cuba
Picadillo
Prepared as a stew of ground beef and tomatoes, picadillo has a hint of sweetness to it—with raisins—as well as the delightful saltiness of olives.
France
Gratin Dauphinois
Considered one of France's ultimate comfort foods, gratin dauphinois consists of sliced potatoes double-cooked in seasoned cream and then baked with Gruyere cheese.
Australia
Lamington
A sweet sponge cake with a jam filling, the lamingtion has a national day devoted to it. The dessert is dipped in chocolate and coated in coconut.