You might have heard of "penny tile" flooring, but Kelly Graham has taken the idea of this type of ground to a whole new level. The jeweler, who has her own company called Camias Jewelry Designs, created a stunning mosaic in her home using roughly 7,500 pennies in a space measuring 6 feet by 6 feet—and the design has held up! Graham finished laying the final penny in 2015, but she was inspired to share her work again after seeing celebrity Kat Von D recently show off her own penny floor.
Graham has cultivated special skills that allowed her to craft her awe-inspiring interior. "Before jewelry," she tells My Modern Met, "I was a machinist and I think that really developed my eye for spatial reasoning. I sat down at this penny floor project, inspired to make one, but it had to be nothing anyone had seen before."
Graham began the project by separating the old and new pennies into piles with medium-aged coins designated as the filler between the mosaic lines. When it came to planning the design, she opted for spontaneity. "I did it as I went along and that's why you'll notice a few pattern changes during the process," Graham explains. "It took me three weeks to complete, so ample time for me to change my mind (and I did often)." But this doesn't mean it was a burden—it was the opposite. "Once I sat down to do it, I rather enjoyed myself immensely. It was a cathartic experience I needed in my life and maybe that's why the design worked as it did."
Beyond using pennies, Graham only needed a few more basic supplies to ensure that her design would last. Caulking was one of them, and she caulked the back of each coin for adhesion on her tile floor. "After I put the last penny down, I waited a few days for the caulking to solidify and then I grouted. I waited a full week for the grout to harden and set and finally poured a resin coating on top. There is no penny odor, the floor isn't slippery, and it's five years later and it still looks good!"
Jeweler Kelly Graham created a DIY penny floor using roughly 7,500 coins in varying shades.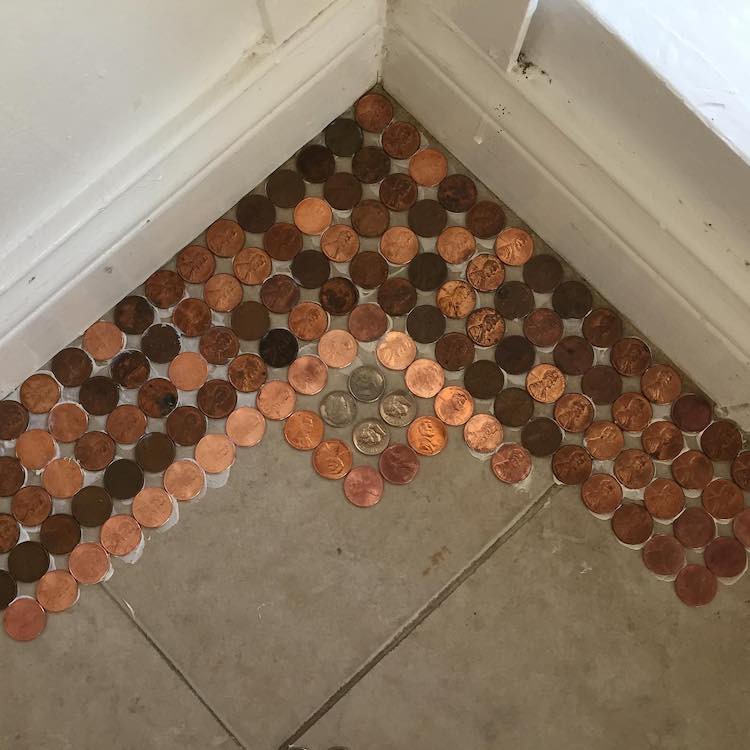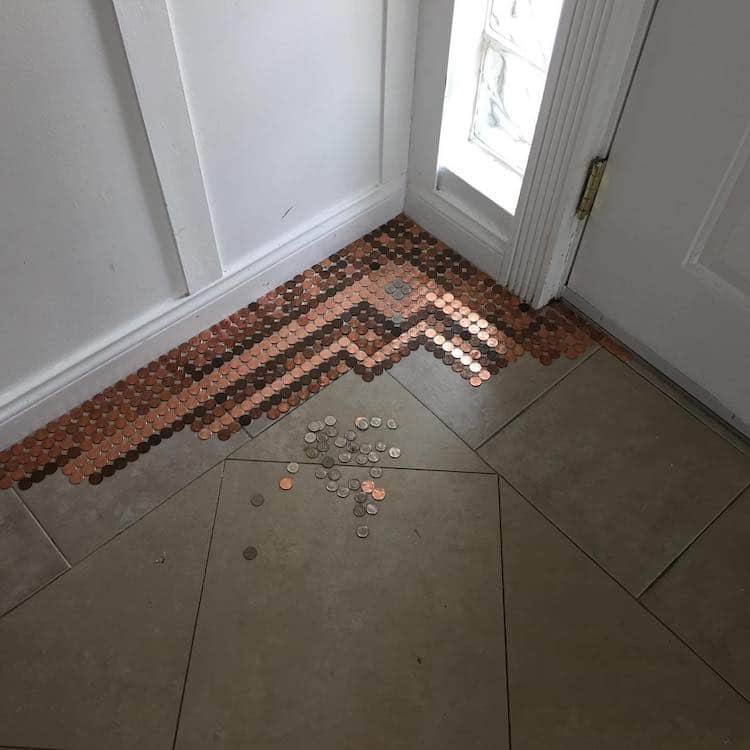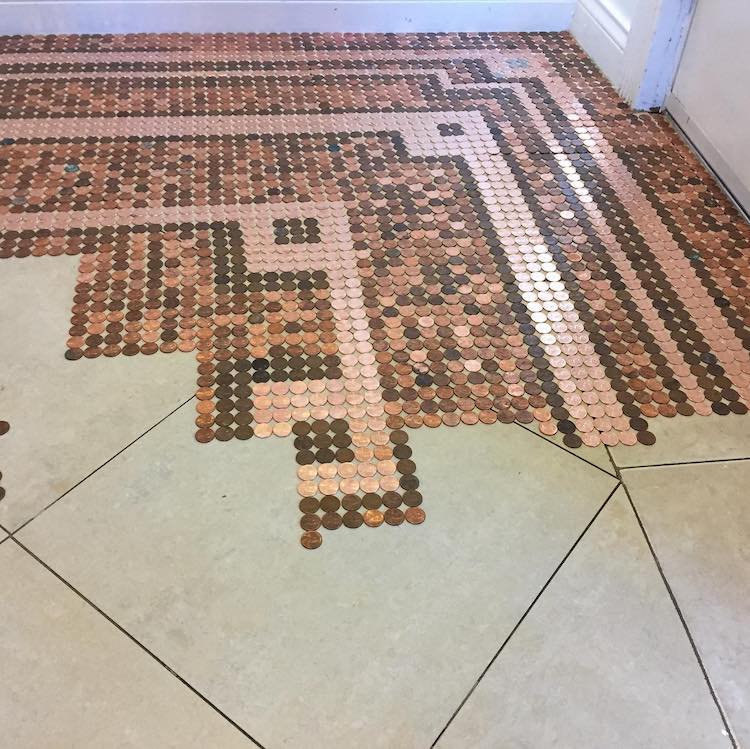 Camias Jewelry Designs: Etsy | Instagram | Facebook
My Modern Met granted permission to feature photos by Kelly Graham.
Related Articles:
Unique Flooring Made with Vintage Leather Belts
7 Contemporary Mosaic Artists Keeping the Ancient Art Form Alive
Optical Illusion Hallway Design Makes It Look Like Floor is Sinking