You've probably heard of Fabergé eggs—opulent, egg-shaped ornaments decked with gemstones and precious metals—but did you know about their history with Imperial Russia? These highly collectible objects were manufactured under the supervision of Peter Carl Fabergé between 1885 and 1917. The first was crafted for Tsar Alexander III, who decided to give his wife—the Empress Maria Feodorovna—an extra special Easter egg in 1885.
Known as the Hen egg, the white enameled "shell" opens to reveal a shining yellow-gold yolk. This then opens to reveal a multicolored golden hen that itself also opens to reveal a miniature diamond replica of the imperial crown and a ruby pendant. The Empress was so delighted by the elaborate gift that Alexander appointed Fabergé a "goldsmith by special appointment to the Imperial Crown" and commissioned another egg the next year. After that, Fabergé was given a team of craftsmen and the freedom to design all future imperial Easter eggs, which became more and more elaborate over time. The only requirement was that each egg had to be unique and contain a hidden surprise.
Famous Fabergé Eggs
Some of the most famous Fabergé eggs include the Diamond Trellis which encases a tiny ivory elephant covered with precious stones. The interior of the Gatchina Palace egg reveals a miniature gold replica of the palace at Gatchina, and many of the eggs feature little portraits of the royal family. Some were designed to commemorate important people or events, such as the Order of St. George egg made during World War I. It pays homage to the highest military decoration of the Russian Federation.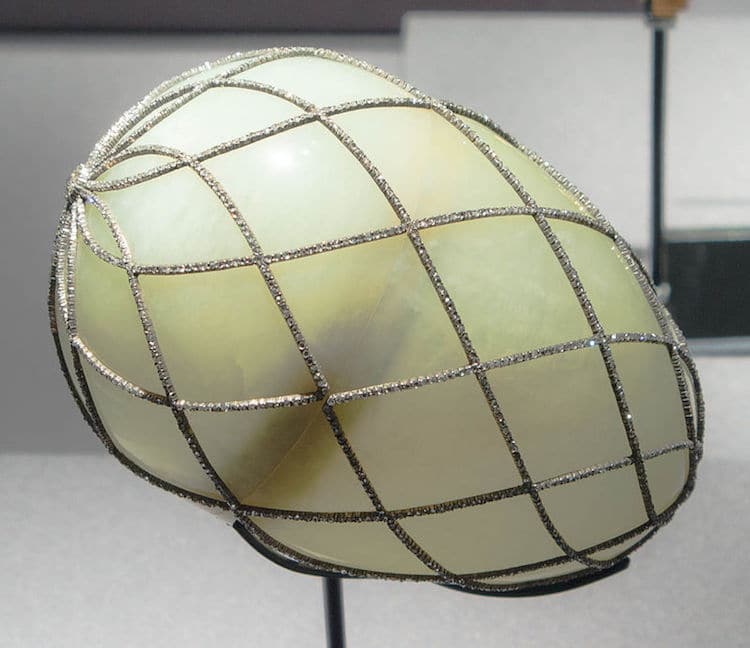 Even after Alexander III's death on November 1, 1894, his son, Nicholas II, continued to present a Fabergé egg each year to both his wife, Alexandra Fedorovna, and his mother, the Dowager Empress Maria Fedorovna. Fabergé was also commissioned to make similar eggs for a number of private clients, including the Duchess of Marlborough, the Rothschild family, and the Yusupovs. Additionally, the royal goldsmith was asked to design 12 eggs for the industrialist Alexander Kelch, though only 7 were completed.
When the Bolsheviks seized St. Petersburg in 1917, the three-century-long Romanov rule came to a brutal end. The Imperial family was imprisoned and later executed, leaving behind their 50 Fabergé eggs, created between 1885 and 1916. The Fabergé family were forced to flee Russia after the nationalization of the House of Fabergé, marking the end of their lavish productions.
Next up: Where are the Fabergé eggs now?