Today, Frank Lloyd Wright is regarded as one of American architecture's most influential figures. During his decades-long career as an architect and interior designer, Wright perfected a prolific number of designs, with his iconic Fallingwater at the forefront.
Wright described this 1930s home as "one of the great blessings to be experienced here on earth." Inspired by the architect's desire to integrate human-made structures into the natural world, Fallingwater typifies organic architecture. As Wright's signature style, understanding the philosophy behind organic architecture is key to grasping the significance of the famous Fallingwater house.
What is organic architecture?
Wright coined the term "organic architecture" in the early 20th century. Deeply rooted in his love of nature, organic architecture's primary intention is to unify buildings with their environments and visually blur the line between built structures and natural habitats.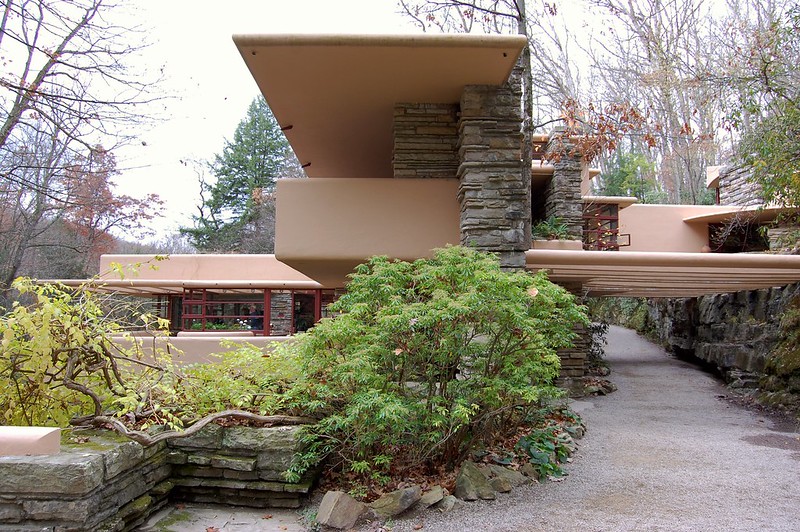 This philosophy guided the ins-and-outs of Wright's entire creative process. Approaching each design as a microcosm of the universe, he sought uniformity through repeating patterns and was guided by a belief in "determining form by way of the nature of materials." Additionally, he paid close attention to the setting of each structure, culminating in incredibly site-specific—and therefore fully integrated—designs like Fallingwater.
The Fallingwater House
In 1935, Wright was commissioned by the Kaufmanns, a prominent Pennsylvanian family, to replace their deteriorating summer home. Nestled along a stream in Bear Run, an Appalachian reserve, this property was a perfect fit for Wright, whose nature-inspired approach had attracted Edgar and Liliane Kaufmann.
Wright reportedly designed the home in a single morning in 1935. When designing the unique abode, Wright made one very surprising decision: to build the home above the property's naturally-occurring waterfall.
Regarded by the Kaufmanns as the centerpiece of the estate, they had hoped to have a view of the cascade. Nevertheless, they trusted Wright, who reassured them with a philosophical promise. "I want you to live with the waterfall," he told them, "not just to look at it, but for it to become an integral part of your lives."
Camouflaged Exterior
Wright found ample inspiration in this natural feature, whose cascading forms directly inspired the home's exterior. To reflect the look of the fall's jutting stone ledges, he opted "to cantilever the house from that rock-bank over the falling water," resulting in the house's organically stacked appearance.
Fallingwater's façade also showcases Wright's meaningful approach to materials. The external walls are composed of locally quarried Pottsville sandstone and reinforced concrete. This concrete concoction, in turn, is made up of cement, sand, and rounded river gravel. The home's "trays," or terraces, are coated in stucco, which Wright painted a neutral and nature-inspired ochre color.
These thoughtful aesthetic decisions essentially camouflage the dwelling. With its stacked silhouette, stone exterior, and neutral color scheme, it both recedes into its wooded surroundings and accentuates its waterfall. After all, as Wright claimed, "a building should grace its environment rather than disgrace it."
Bringing the Outdoors Inside
Wright also designed Fallingwater's interior with nature in mind. At the center of the home is a sandstone fireplace built around two unmoved boulders. All accents are painted Cherokee red, a burnt crimson color reminiscent of lumber. Similarly, the floors are stone and the walls are covered in unwaxed cork. Large, corner-less windows welcome "the natural environment into the house as well as enticing its inhabitants out."
This idea of bringing the outdoors inside is also evident in the home's collection of freestanding and built-in furniture. Fallingwater houses 170 decorative art pieces designed by Wright that channel the outdoors through both look and feel. Many of these furnishings are made of North Carolina black walnut, a wood with warm chocolate tones, and veneered in sapwood.
Finally, the house grants easy access to the outdoors in creative ways, including a staircase that takes visitors from the living room directly to the stream!
The Home Today
The Kaufmanns owned Fallingwater until 1963, when Edgar Kaufmann, Jr. donated the house and its 1,500 surrounding acres to the Western Pennsylvania Conservancy. "It has served well as a house, yet has always been more than that, a work of art beyond any ordinary measure of excellence," he said. "Itself an ever-flowing source of exhilaration, it is set on the waterfall of Bear Run, spouting nature's endless energy and grace. House and site together form the very image of man's desire to be at one with nature, equal and wedded to nature."
Now a museum, the site welcomes eager architectural fans from all over the world. Featuring a range of tours tailored to visitors' interests, exploring Fallingwater firsthand is an ideal way to appreciate this great blessing.
Related Articles:
Mid-Century Modern Homes That Shaped the Future of Architecture Design
Frank Lloyd Wright Exhibition at MoMA Celebrates the Architect's 150th Birthday
Beach House Designed by Frank Lloyd Wright Is Available on Airbnb for $150 A Night