For 45 years, Hello Kitty has captured the hearts and minds of people around the world. She's a symbol of kindness and friendship whose fan base spans generations, and her image has been seen on countless products, experiences, and beyond. The cartoon cat is getting the recognition she deserves through a special group exhibition featuring 100 artists from all over the globe. Called Hello Kitty 45th Anniversary Group Show, Los Angeles' Corey Helford Gallery is hosting this big bash in partnership with Sanrio, the parent company of Hello Kitty.
The massive exhibition showcases a range of interpretations of the illustrated character, and in doing so, examines Hello Kitty's influence on popular culture. Each artist combines the image of her with their own artistic style and visual language. Sometimes, as in the work of Kazuki Takamatsu, the image of Kitty is displayed exactly as we know her—a cute, childlike feline who dons a bow on her slightly-too-large head.
In other pieces, however, Kitty is reimagined in surprising ways. The artist Kukula pictures her as a baby in a heavily embellished Rococo-style painting. Kitty is relatively small compared to the overall composition, but you can't miss her iconic face. Although Kukula and Takamatsu's artworks are completely different, they are both a testament to how the character is so ingrained in our world that she can seemingly be anything and anywhere.
The Hello Kitty 45th Anniversary Group Show will be on view at the Corey Helford Gallery from June 29 to August 3, 2019.
The Corey Helford Gallery in Los Angeles is hosting a special Hello Kitty art show to celebrate the iconic character's 45th anniversary.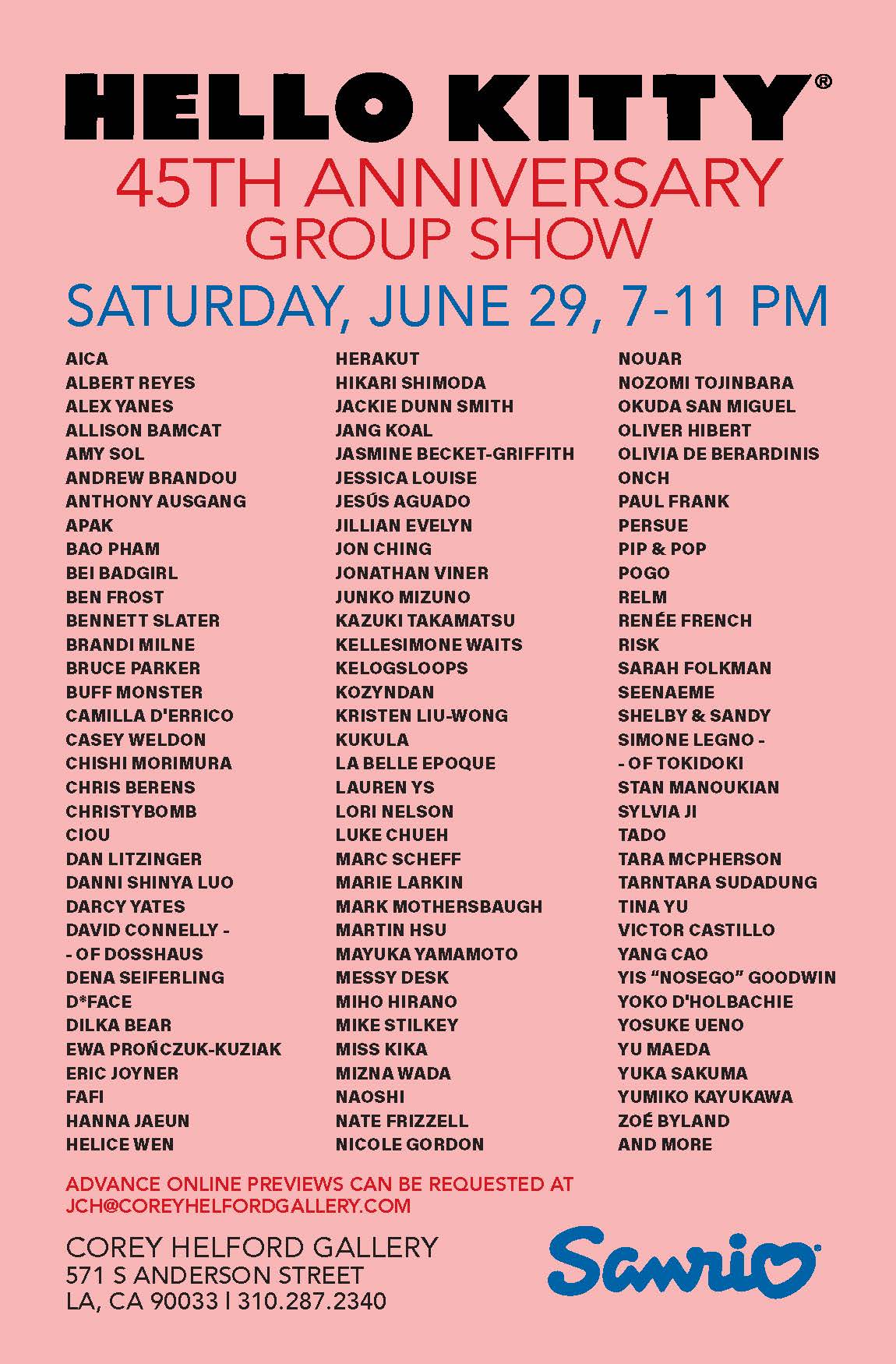 100 artists have reinterpreted Kitty in many different ways.
Corey Helford Gallery: Website | Instagram | Facebook
My Modern Met granted permission to feature photos by Corey Helford Gallery.
Related Articles:
Travel Japan in Super-Cute Style on the Hello Kitty Bullet Train
What is Kawaii? Discover What Led to Japan's Culture of Cuteness
Say "Hello" to Hello Kitty's Own Variety of Sweet Bottled Wines