As a drone that can fit in the palm of your hand and slip easily into a purse, the HoverAir X1 is enticing. But, as someone who has never used a drone, I wasn't sure what to expect. Fortunately, after some testing, it became clear that its size and ease of use make it an exciting gadget for anyone who wants to capture more memories and adventures.
The HoverAir X1 came with a charging station and an extra battery, as well as a drawstring bag to store the camera. With its wings closed, it really is quite compact and could even fit into a small handbag. And since it's just 125 grams (about 4.4 ounces), it won't weigh you down. Charging was quite fast—just 35 minutes using the charging station—and the interface is simple enough for novice users.
The camera has just two buttons, power and a button to switch between usage modes. To really unlock the power of the flying camera, you'll need to download the HoverAir X1 app, which is available for Android and iOS. Through the app, you can explore videos by other users and, even more importantly, connect your drone to unlock its full features.
As a beginner, the app's "Academy" videos were helpful and easily explained the drone's functionality. After connecting the HoverAir X1 to the app, there are some easy on-screen instructions to calibrate the drone, and then it's ready to fly. The drone features seven automatic modes, as well as a manual mode.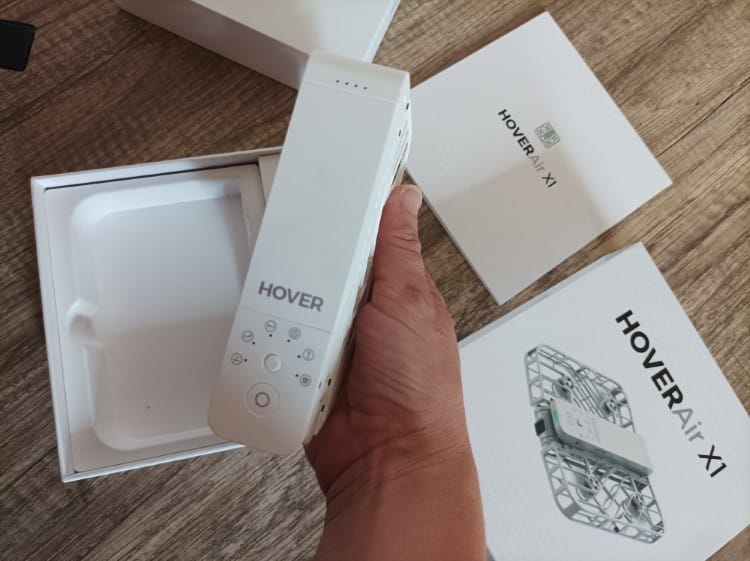 At a local park, I first tested the automatic modes and was shocked by how easy it was. Hover, Zoom Out, Follow, Orbit, and Bird's Eye are all basic modes that allow anyone to get great video footage or a still photo from an interesting perspective. After playing around with the programs, I quickly discovered the settings, where it's possible to toggle between different resolutions and set the camera to vertical mode. This makes it easy to create footage ready to upload on TikTok or as an Instagram reel.
Getting the drone moving is really as simple as pressing a button and holding out your hand. The camera effortlessly takes off and while there is some noise, it's nothing too distracting. While I was skeptical that it would really come back to land when I held my palm underneath, it really did every single time.
In the app, it's also possible to see a live preview in order to understand what the HoverAir X1 is viewing; and post-flight, a short preview clip is instantly available. With the click of a button, any piece of film can be downloaded to your phone. As for the battery time, after about 10 pre-programmed flights, I hit about 50%. This seemed fairly reasonable, and since there was a second battery, I never worried about running out of juice.
For a test of the manual mode, I traveled to see a mural recently completed by the artist Alice Pasquini. HoverAir X1 proved itself again by allowing me to take photos and videos of the entire mural, which wouldn't have been impossible from the ground due to the tight space. While I'd initially been nervous to test manual mode, it couldn't have been easier. Using the app, I was able to view everything as I was flying, and the controls were smooth. I was then able to download the footage quickly and get it to the artist, who incorporated it into a video about the making of the mural.
Overall, the HoverAir X1 hit the mark and makes a great gift for anyone interested in using a drone. Since it's so light and discrete, I wasn't worried about disturbing other people, and it even passed the toddler test when my son decided it would be fun to grab out of the air. Since the propellers are enclosed, he couldn't hurt himself, and even though the camera had a bit of a crash landing, it came away unscathed.
The HoverAir X1 retails for $399, which includes the charging station and extra battery in addition to the camera. With the holidays on the horizon, there's no better gift for anyone who loves new tech gadgets and enjoys creating content.
The HoverAir X1 is a foldable flying camera that can fit in your handbag.
By connecting the lightweight drone to its app, you open up a range of pre-programmed flight modes.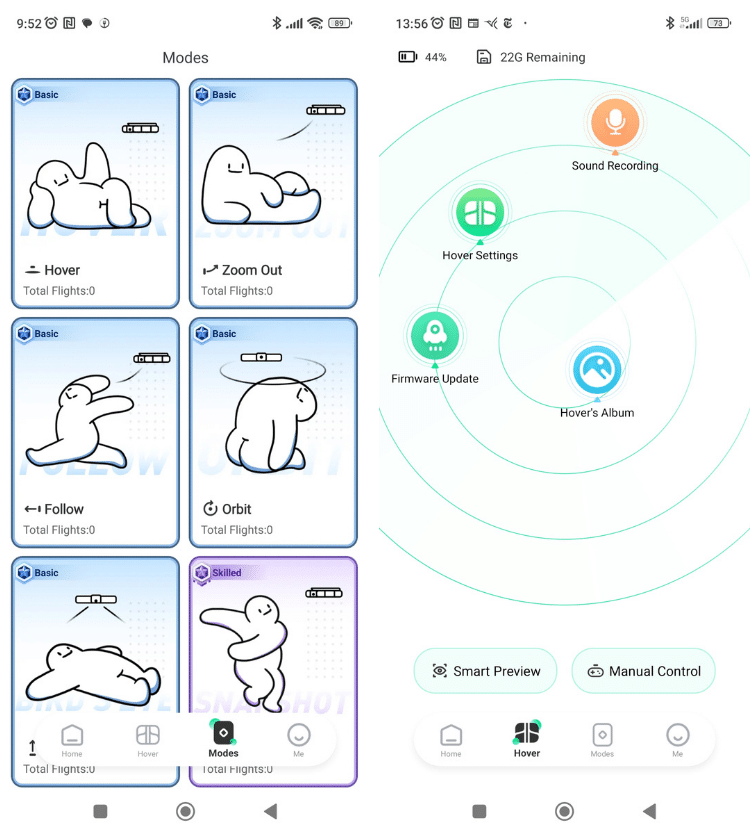 From Bird's Eye to Orbit, these automatic flights make it easy for even a novice to take professional-looking video.
In manual mode, you have full creative freedom to take HD video and stills.
Hover: Website | Facebook | Instagram | TikTok
All images via Jessica Stewart / My Modern Met.
Related Articles

:

This Tiny Drone Cam Can Fold Up and Fit in Your Pocket

Guy Invents an Instax Drone Camera That Takes Instant Aerial Photos

DJI Unveils Mavic Mini Compact Drone That Fits in the Palm of Your Hand

Wearable Drone Flies off Your Wrist to Snap a Photo and Boomerangs Back