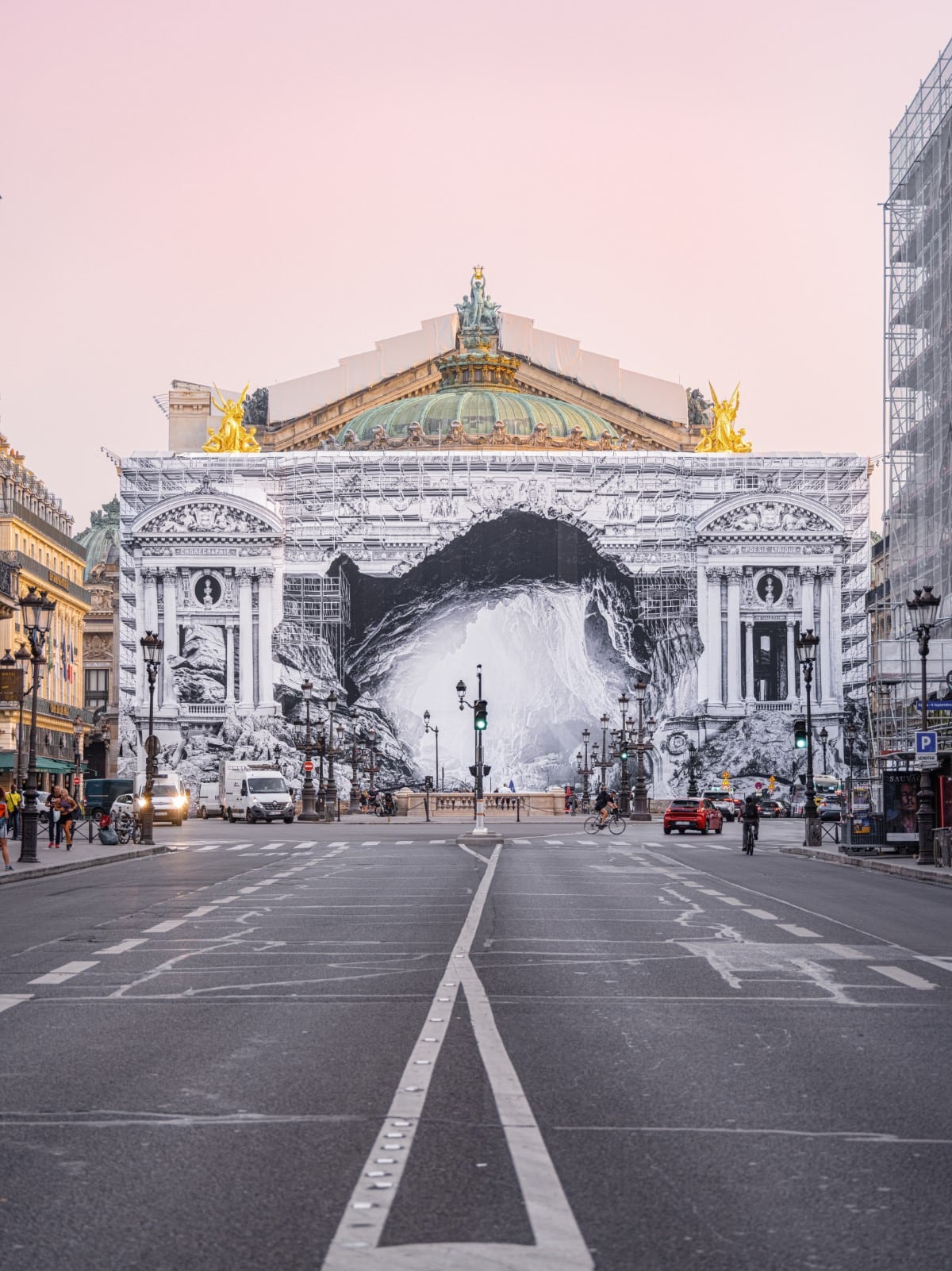 French artist JR continues transforming famous sites into stunning illusions with an installation at Paris' famed opera house. The façade of Palais Garnier was turned into a stage for all to enjoy. Over the course of four evenings, lyrical performances and dance related to the opera were projected onto the installation.
This is the first of two consecutive installations that the Paris Opera has commissioned from the well-respected artist. The pieces take advantage of the restoration work being carried out at Palais Garnier, giving JR a blank canvas for his work. The installation takes inspiration from Plato's philosophical allegory of the cave, a place whose exit provides access to knowledge and understanding of the world.
The piece is titled Retour à la caverne – Act I – L'entrée de la caverne and is visible until September 25. Then, in November, JR will once again create a masterpiece for the theater. For this second installation, the façade will be replaced by a giant embroidered stage curtain. The public will be asked to try their hand at embroidery, free of charge, thus contributing to the installation.
"In Act I, Palais Garnier appears to be stuck between two times," shares the artist. "At first glance, the building seems to be in ruins, a reflection of the fragility and eternity of Parisian monuments. But upon closer inspection, the piece can also be interpreted as a work of art in permanent construction. Alongside the century-old building and natural formations, contemporary scaffolding is present, a nod to the real and necessary work that physically supports this installation and monument."
The piece is a beautiful celebration of classical art and philosophy given a contemporary twist by JR. On September 16 and September 17, the public also enjoyed a mix of pieces from Boléro, La Traviata, and Les Contes d'Hoffmann among the scenes on view.
French street artist JR has created yet another illusion. This time the Paris Opera has asked him to transform the façade of Palais Garnier.
View this post on Instagram
During select evenings, performances were projected into the enormous cave, which thus became a stage.
View this post on Instagram
View this post on Instagram
My Modern Met granted permission to feature photos by Palais Garnier.
Related Articles

: