Artist Katie Marks of Silver Lining Ceramics crafts one-of-a-kind mugs that make sipping your morning coffee a cosmic experience. The objects transcend their practical use as Marks adds three-dimensional design elements and vibrant surface decor, making the cups double as sculptural works of art. Previously, she's created geode mugs that sparkle with clusters of crystals. Since then, Marks has continued to hone her artistic voice by evolving the appearance of her work.
For her most recent mugs, Marks has tapped into her past. "My latest glitter drip pieces are definitely inspired by my 90s childhood," she explains to My Modern Met. "They have this Nickelodeon Goosebumps kind of nostalgia for me while also looking like a fancy dessert." A quick glance at this particular ceramic art might make you think of an artisan donut.
In addition to the retro vibe, Marks has recently produced cups that are influenced by her role as a plant mom. "I have been taking care of my 25+ plant babies for over a year so I decided to incorporate my love of houseplants into my work." These designs feature the likes of ferns and monstera leaves painted in gold as they cloak the colorful mugs in a brilliant sheen.
If you're still yearning for Marks' crystal and geode pieces, don't worry—there are more coming. "I haven't given up my crystal and geode designs, but I very much enjoy seeing where my new ideas take me," she says. "I have new crystal/geode work in my head so you'll definitely see a reappearance at the beginning of 2019." This type of demand has helped her grow her career, which includes a big move from Seattle to Portland. "I now have a much larger studio to work from," she explains. "I've streamlined a few designs enough that I will have some lovely studio assistants helping me create a production line while I work on my fancy more over the top sculptural work. I'm hoping by offering a few designs that are always available I can meet a fraction of my demand."
Marks sells her work on Etsy. For shop updates, make sure to follow her on Instagram.
Artist Katie Marks of Silver Lining Ceramics crafts ceramic art mugs that go beyond your standard cup.
Inspired by being a 90s kid and now a plant mom, she applies sculptural elements and gold to create dazzling, one-of-a-kind pieces.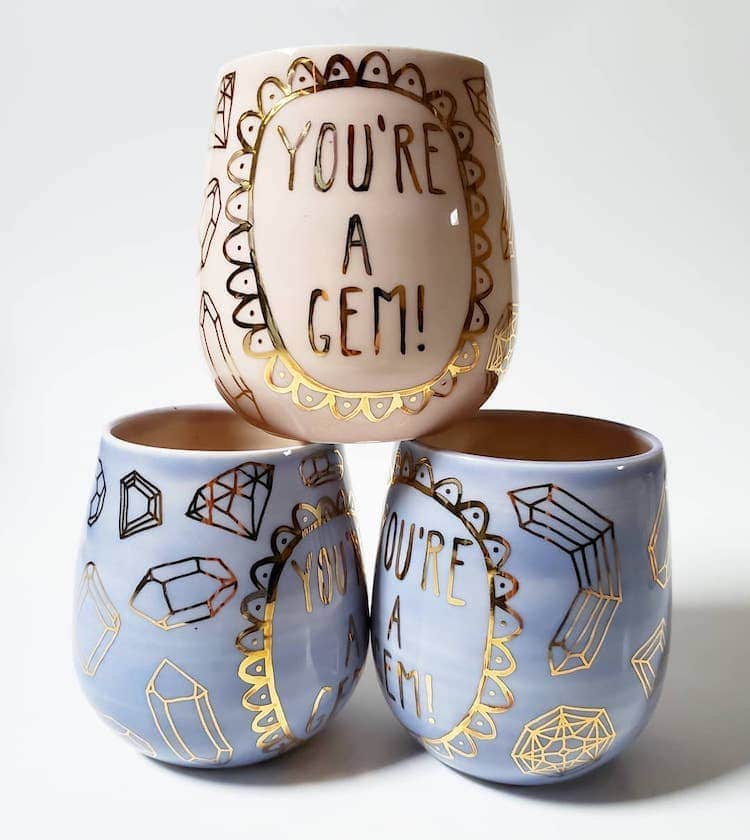 Silver Lining Ceramics: Etsy | Instagram | Facebook
My Modern Met granted permission to use images by Katie Marks.
Related Articles:
Colorfully Glazed "Donuts" Inspired by Pop Culture Are Expertly Crafted Ceramics
Colorful Ceramics Topped with Endangered Animals to Identify and Help Save Them