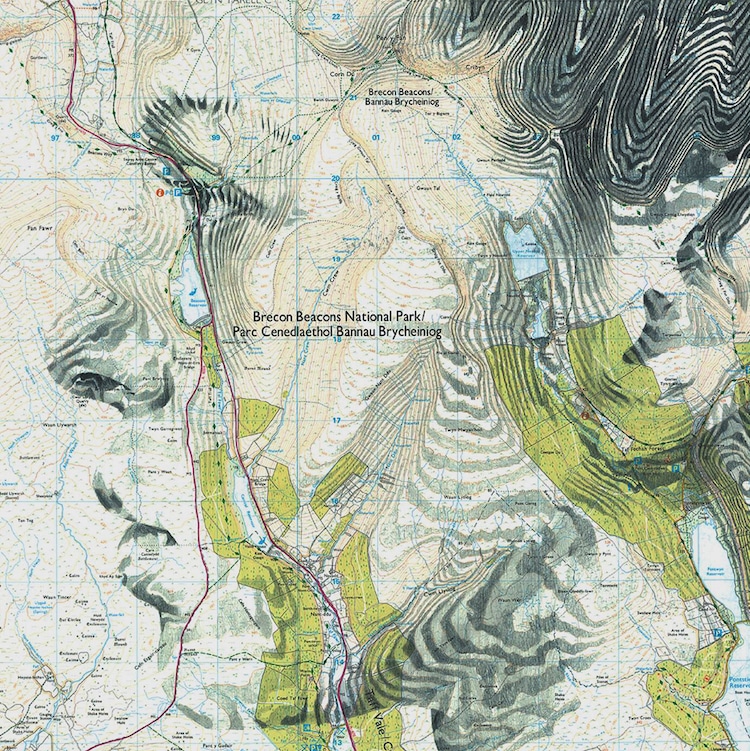 Beginning with a white page can be overwhelming for any artist, which is why Ed Fairburn adopted an unusual canvas. He repurposes old maps, transforming them into beautiful, highly-detailed portraits. By merging landscape and humanity, Fairburn reminds us that we are a product of our environment—and vice versa.
Fairburn often spends hours studying the map's terrain before beginning his artistic process. He then uses traditional materials—such as ink, paint, or pencil—to slowly extract facial features from roads, rivers, and mountainous contours by making gradual changes to the map. The talented artist calls his process "topopointillism" and describes it as a "direct mix of topography and pointillism." Just like a pointillism painting, Fairburn's portraits appear abstract up-close; but from afar, the viewer is able to see the human subject emerge from the topographic patterns.
Just as mountains and hills are drawn with contour lines on a map, Fairburn renders elevated facial features—such as cheek bones and noses—the same way. Hundreds of hand-drawn, curved lines in various tones of black and gray allow each portrait to appear as though it's three-dimensional—as if the human form really exists within the landscape.
We briefly caught up with Fairburn to find out more about his process. Read on for My Modern Met's exclusive interview.
What do you love most about drawing on maps?
I love the ephemeral nature of maps, the range of paper types, weights, textures—even the smell. No two surfaces are ever the same. Sometimes that's too bad, because occasionally I'll find a paper type I really like, only to never find it in any other map ever again. I love the way in which maps age and show their use over time. In that respect, old maps are a very forgiving medium, unlike a crisp white canvas. It's somehow welcoming, like a pair of shoes that have been worn in. You can't really go wrong with the marks you make—at least not at the very start of a drawing, which is often the most daunting part for any artist.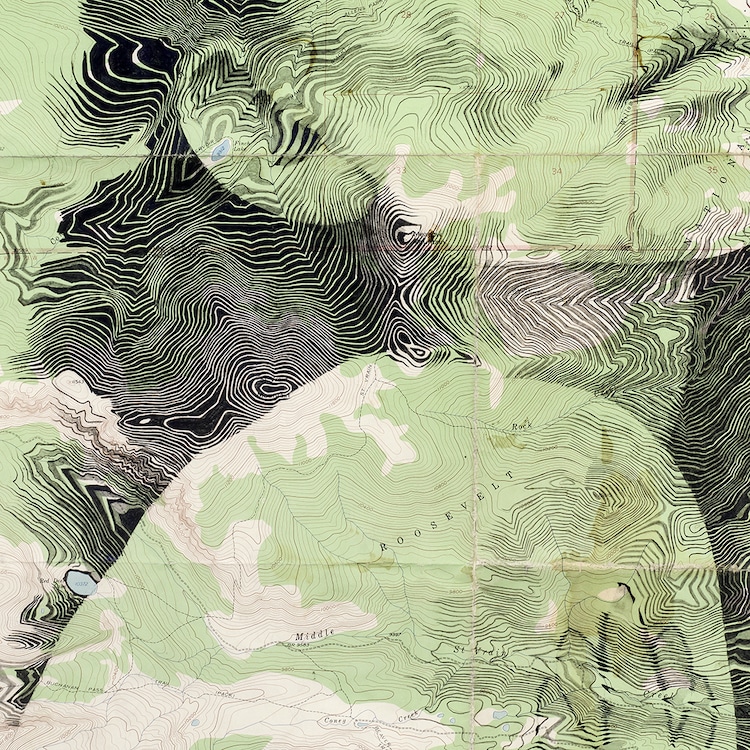 Where do you find your maps?
Naturally, I've become a map collector, so nowadays I'll often find what I'm looking for in my studio—I think it's important to have resources at hand. To me, a drawer full of maps is a store cupboard of paper and other supports. I've collected maps over the years from a number of places—charity shops, old book stores, and lots of places online too. Aesthetically, I know what I like, and I know what works. I've developed a remarkable reaction time to picking out maps of interest, a sort of double-take, whether I'm browsing maps in a shop, or watching something on TV. If I see a map, I automatically run through any possibilities in my head. Finding maps for specific locations (usually commissioned work) is very much the same process, just a little more focused. I think experience plays a big part, too. I'm at a point now where I can dismiss or investigate a map based on the cover alone. Given that maps can be a pain to unfold and fold back up, this has saved me a lot of time and embarrassment.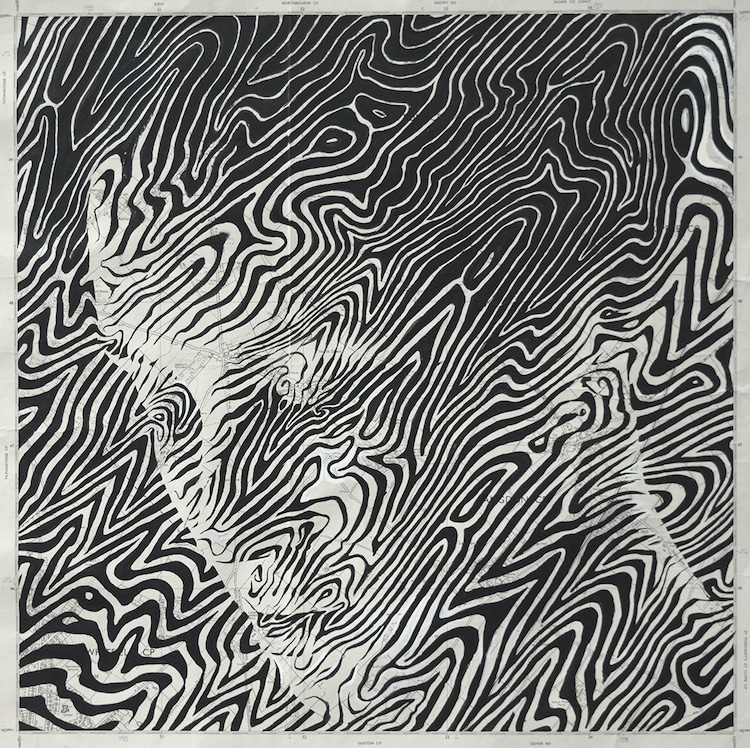 Can you describe your process? Do you usually see where the face will fit right away?
In short, yes—I see potential, but there's never any "one way" or correct placement per landscape. Like any traditional painter, I strive for a strong composition. I see where the weight of the portrait should sit based on the framework of the geography—it's about balancing both landscape and figure, without ruining either. I'll always start by studying the map against the figure, mentally sketching any possible outcomes. Ultimately, my process is about harmonizing two structures in one physical space. Firstly, in a very broad sense, looking for anchors, similarities or shapes to synchronize; and secondly, fine-tuning the process, hijacking the information on the map, and making gradual changes to affirm the figure. Whenever I'm in doubt about any parts of the drawing, my instinct tends to follow what the landscape wants to do.
How long does the average piece take to make?
This can really vary depending on size and complexity (and how much I fuss with the end result before calling it finished) but from start to end, usually anything from a couple of days to a couple of months. I have some maps in my studio I've been working on and off for a few years now, but for more focused work, if I put my head down I can usually see completion within a few sittings.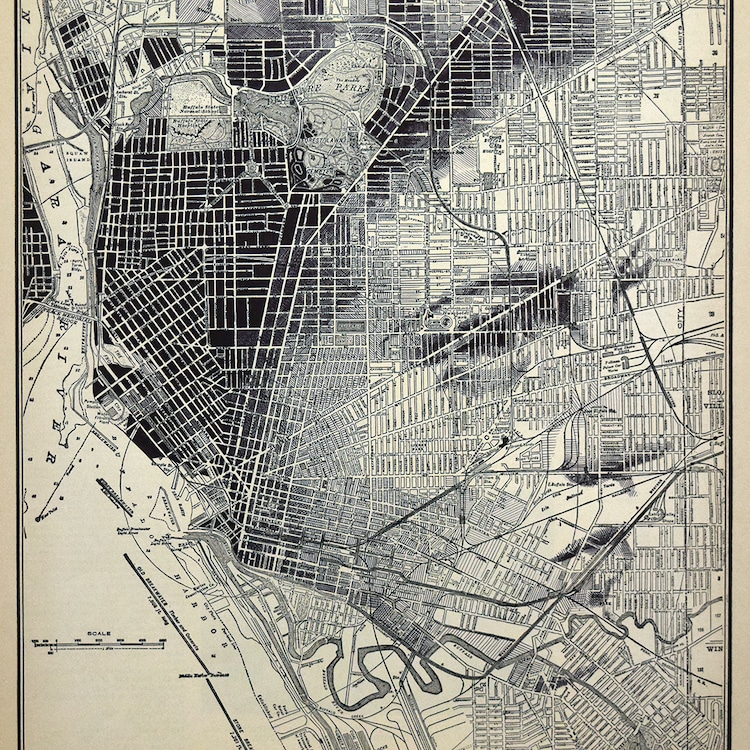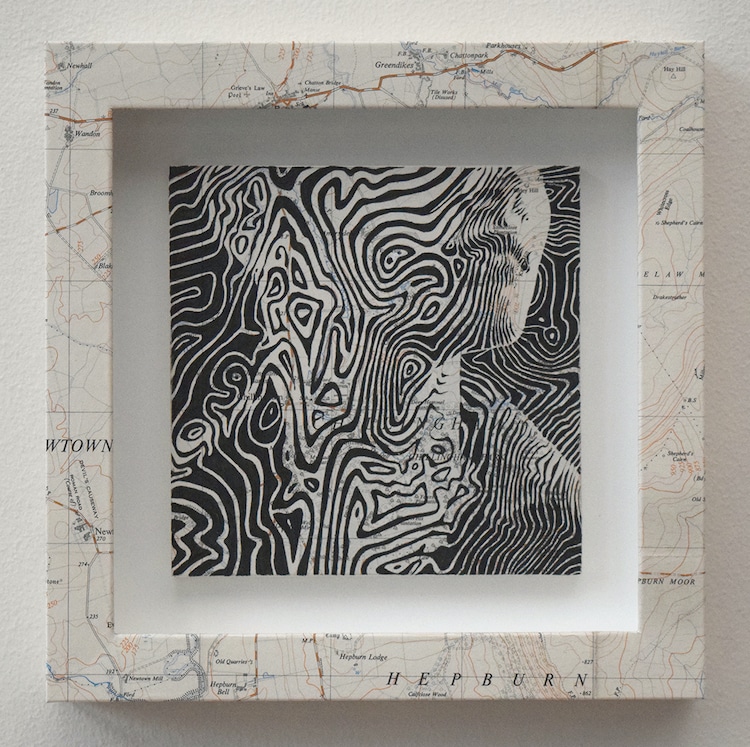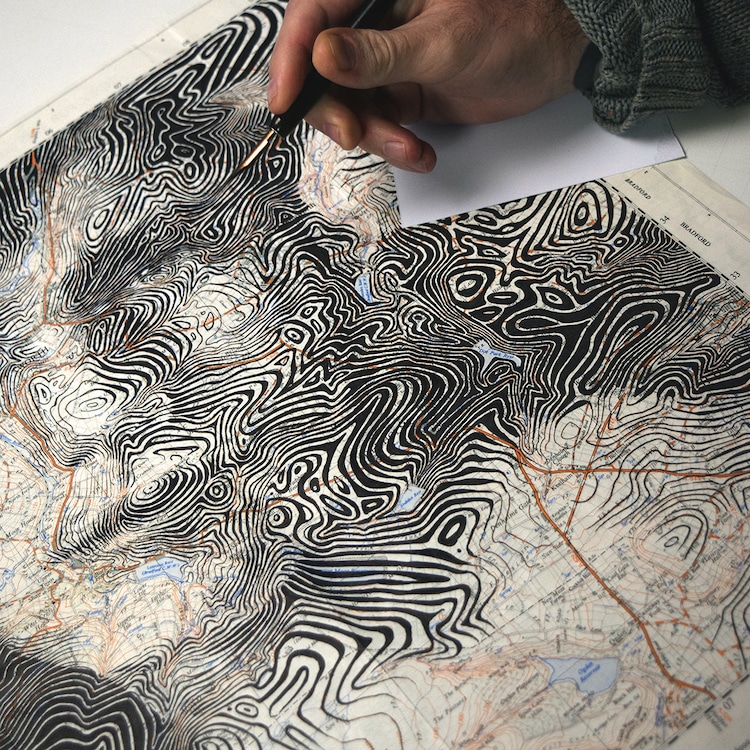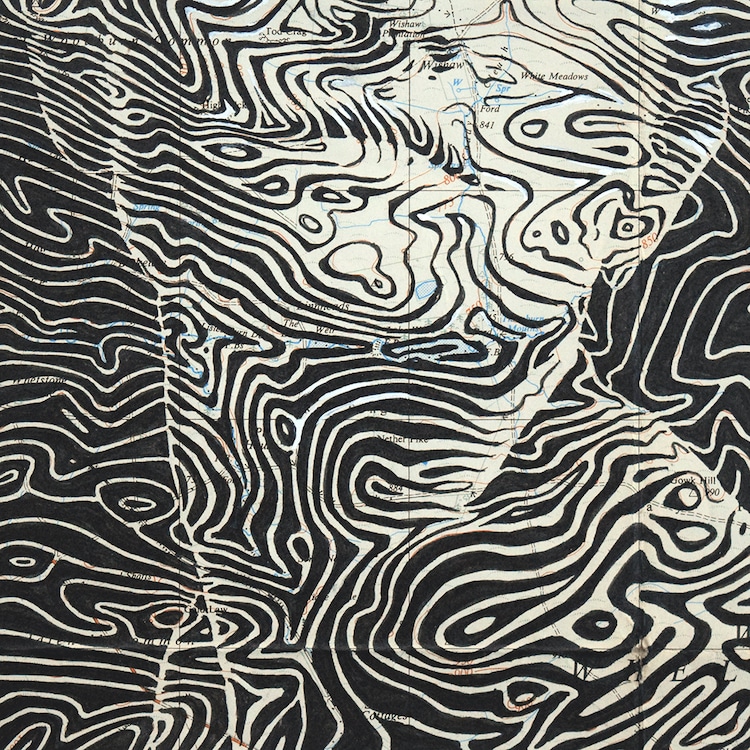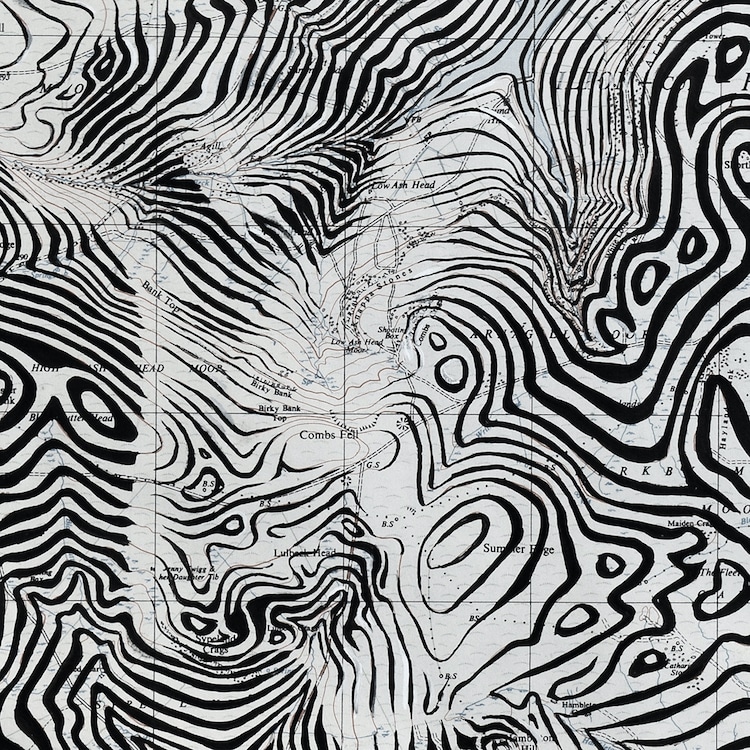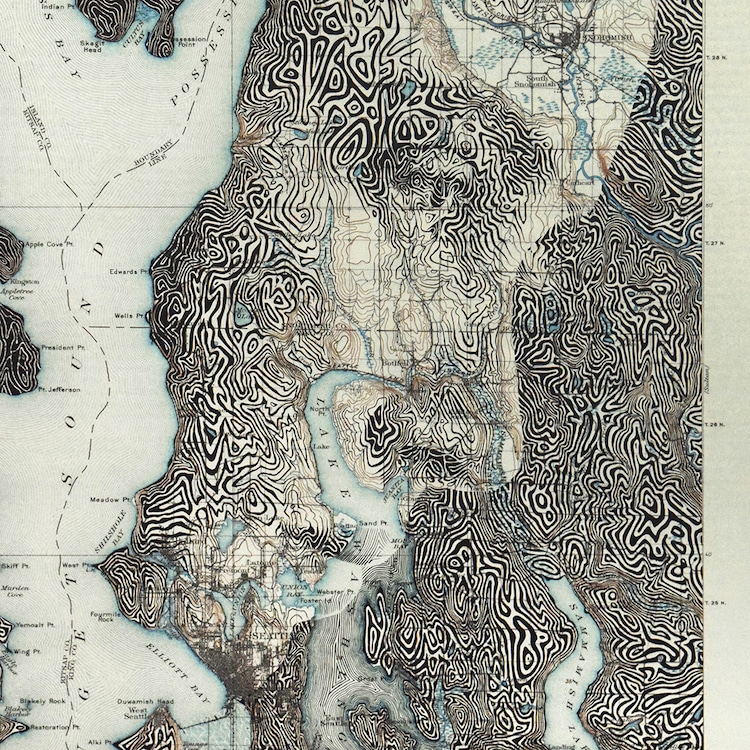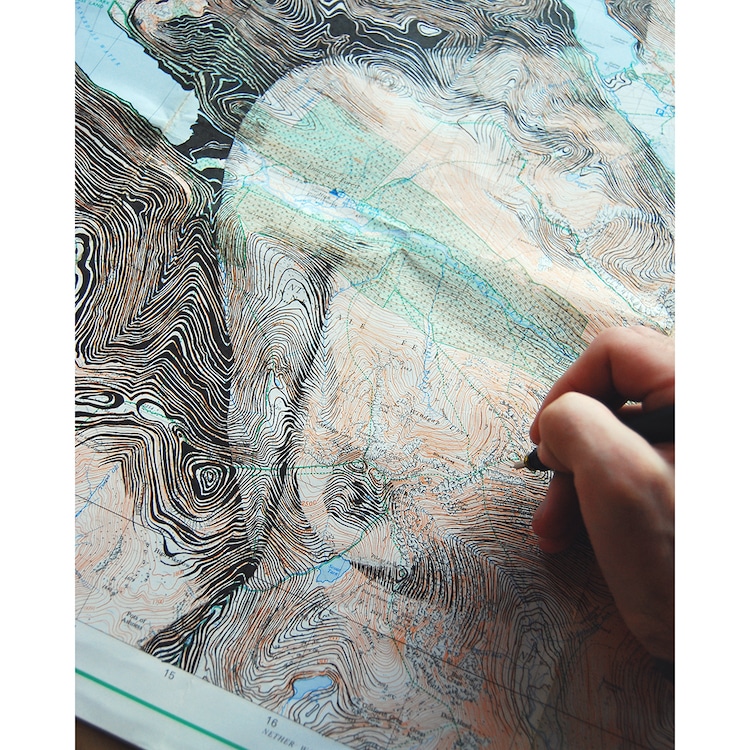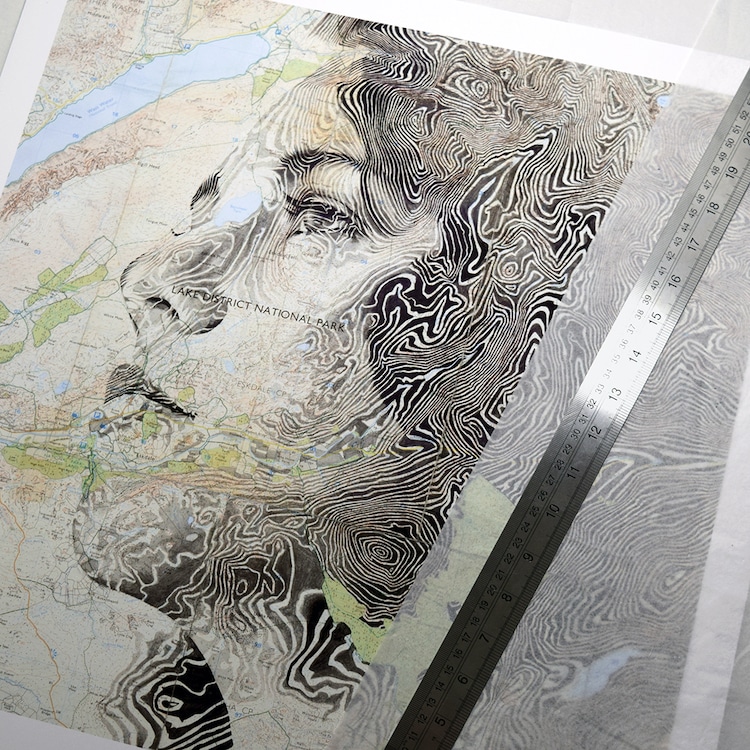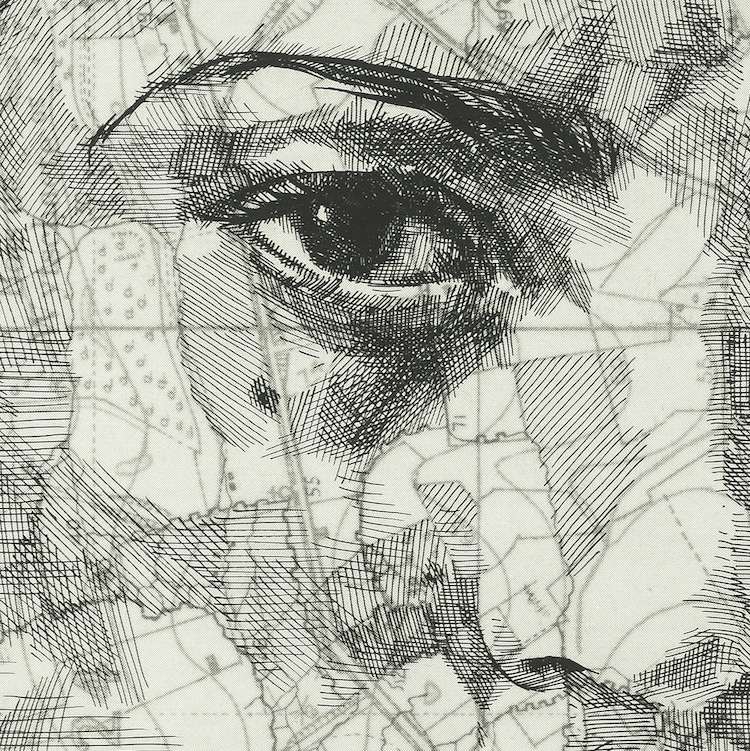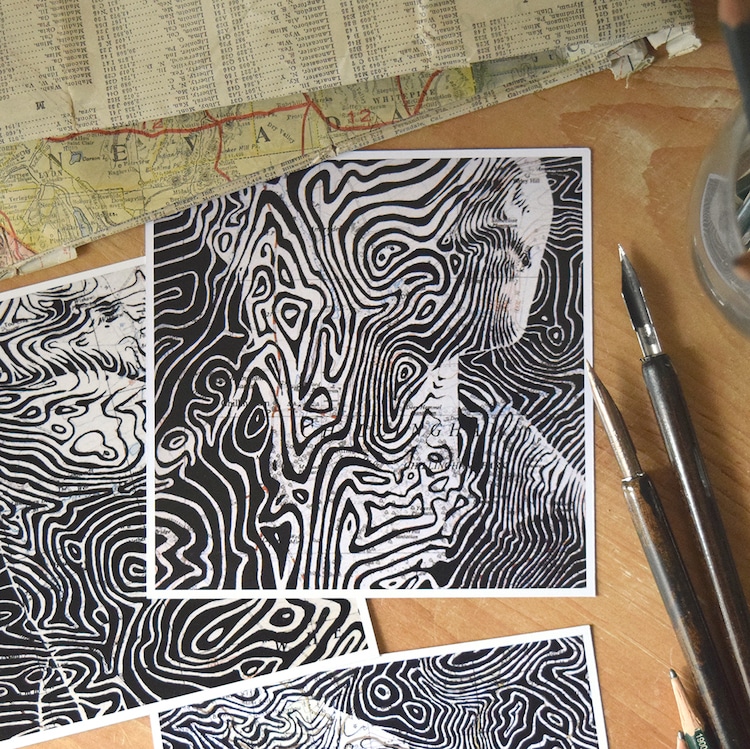 Ed Fairburn: Website | Facebook | Instagram
My Modern Met granted permission to feature images by Ed Fairburn.
Related Articles:
Artist Merges Cartography with Ink and Pencil Drawings to Create Beautiful Portraits
Stunning Ink and Pencil Drawings of Human Faces Emerge from Maps
Incredible Paintings on Maps Unify Countries
20+ Pieces of Modern Map Art Putting a Contemporary Spin on Cartography