Miming and photography might not seem to go hand-in-hand, but for Omar Z. Robles, a background in the former physical art has inspired a stunning series of still images with the dynamic elegance of any real-time staged show. Born in Puerto Rico but now based in New York City, Robles captures dancers poised gracefully against the city grit, performing pirouettes and pliés amid taxi traffic jams, sidewalk puddles, and other bustling urban scenes.
In an interview with Huffington Post, he explains, "Like mime theater, photography [is] an amazing nonverbal communication medium…Yet it allowed [me] to capture fleeting emotions and tell a story for a much longer time than mime theater could." In his stirring visual tales, ballerinas and ballerinos make the perfect protagonists. As he describes, "Ballet dancers make us feel as if their movements were truly effortless. This while pushing their bodies to the very extreme of what is humanly possible. It is that grace and elegance which mesmerizes us."
He works with dancers from the American Ballet Theatre, Dance Theatre of Harlem, Ballet Concierto De Puerto Rico, Alvin Ailey American Dance Theatre, and more, and their paused movements are indeed mesmerizing, particularly when paired with Robles' selections of surroundings. The men and women twist and twirl with elegance, encumbered by neither the city hubbub nor the harshest of natural elements. He's taken many of the portraits during pounding rainstorms, for example, with the dazzling drops swirling around long legs and arms like glitter; otherwise, he tends to seek sensational lighting conditions, whether using the beams of cars to create technicolor backgrounds, sourcing slices of heavy shadow in dim alleyways, or backlighting his subjects in the glow of the setting sun.
The continuously developing collection is stunning in its vibrant variety, rendering theatrics from ordinary sidewalks. This juxtaposition between ballet dancer and urban backdrop is all a part of Robles' vision: "to break the norm of the everyday, to shatter the monotony of our way of life and portray a world where we could move without the stiff rules of etiquette. To capture the idea of weightlessness, or hovering around town."
Special appearance by the legendary Bill Cunningham in the background.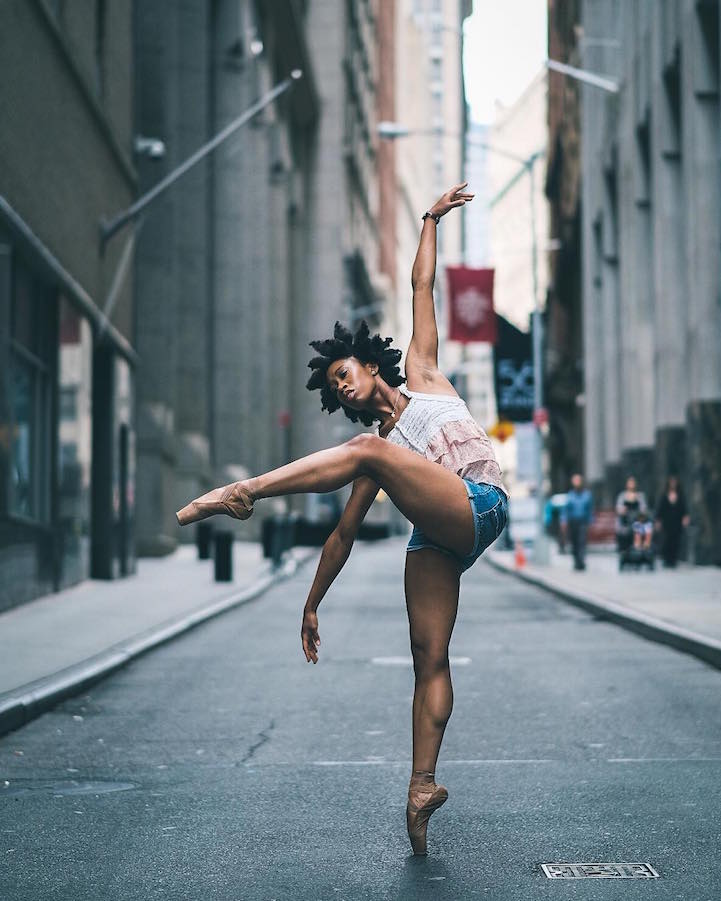 Omar Z. Robles: Website | Twitter | Instagram
via [Huffington Post]
All images via Omar Z. Robles.