By now, we all know that smartphones are capable of taking great images. In fact, more and more professional photographers are using their phones for work assignments. But Samsung is taking things to a whole new level with the announcement of the Samsung Galaxy S20 series. With these three full-5G smartphones, they're revolutionizing creative possibilities through a host of new features and a 108-megapixel sensor.
The Galaxy S20, Galaxy S20+, and Galaxy S20 Ultra were all designed with the modern user in mind. With a thin design and nearly bezel-less display, the phones are as sleek and beautiful as they are functional. Each features 8K video capabilities with still frame extraction, which means you can count on high-quality stills while filming. Another feature, single take, lets you take up to 10 seconds of ultra-wide/wide-angle footage and then uses AI technology to recommend video formats and spit out four video clips and ten still frames. This means you don't have to worry about retakes and still get different creative views of the same scene.
When it comes to still photography, nothing beats the Galaxy S20 Ultra's 108-megapixel rear-facing quad-cam. This leaves photographers open to incredible opportunities to crop and zoom photos without losing any detail. "Our most advanced zoom yet starts with 10x Hybrid Optic Zoom enabled by a revolutionary folded lens and high-resolution image sensor," states Samsung. "Couple that with Super Resolution Zoom enhanced by camera AI to get close up to the action and capture moments you might have missed." While the Galaxy S20 and Galaxy S20+ don't have 108 megapixels, their 64-megapixel rear-facing cameras can't be dismissed. Both allow for up to 3x Hybrid Optic Zoom and have dual pixel autofocus.
If you're worried about all the power and storage space you'll need to support such a powerful smartphone, Samsung has taken care of everything. Using AI technology, the Galaxy S20 series learns how you use your phone throughout the day and will adjust the power setting accordingly. In terms of storage, it includes up to 512 GB of internal storage, with the possibility to expand to 1 TB using a microSD. That should allow for up to 750,000 photos so that the delete button will become obsolete.
Check out more specs for each model below and get ready to pre-order your Samsung Galaxy S20 starting on February 21, 2020 at midnight EST.
Galaxy S20 Ultra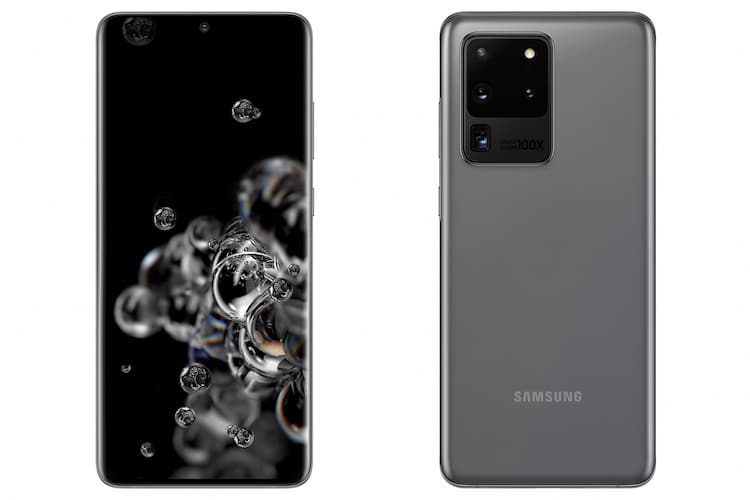 6.9″ Quad HD+ Dynamic Display
40MP Selfie Camera
12MP Ultra Wide Camera
108MP Wide-angle Camera
48MP Telephoto Camera
DepthVision Camera
Hybrid Optic Zoom 10x
Super Resolution Zoom up to 100x
Optical Image Stabilization
8K video recording at 24 fps

(7680×4320)

Scene Optimizer
Shot suggestions
Flaw Detection
13 different camera and video modes
5000mAh battery
16GB RAM (LPDDR5)

with 512GB internal storage

12GB RAM (LPDDR5)

with 128GB or 256GB internal storage
Galaxy S20+
6.7″ Quad HD+ Dynamic Display
10MP Selfie Camera
12MP Ultra Wide Camera
12MP Wide-angle Camera
64MP Telephoto Camera
DepthVision Camera
Hybrid Optic Zoom 3x
Super Resolution Zoom up to 30x
Optical Image Stabilization
8K video recording at 24 fps

(7680×4320)

Scene Optimizer
Shot suggestions
Flaw Detection
13 different camera and video modes
4500mAh battery
12GB RAM (LPDDR5)

with 128GB, 256, GB or 512GB internal storage
Galaxy S20
6.2" Quad HD+ Dynamic Display
10MP Selfie Camera
12MP Ultra Wide Camera
12MP Wide-angle Camera
64MP Telephoto Camera
Hybrid Optic Zoom 3x
Super Resolution Zoom up to 30x
Optical Image Stabilization
8K video recording at 24 fps

(7680×4320)

Scene Optimizer
Shot suggestions
Flaw Detection
13 different camera and video modes
4000mAh battery
12GB RAM (LPDDR5)

with 128GB internal storage
Related Articles

:

iPhone 11 Pro and iPhone 11 Pro Max Are Apple's Most Powerful Smartphones Yet

Motorola Revamps Classic Razr as Cutting-Edge Foldable Smartphone

Google's New Night Sight Lets You Take Photos in Virtual Darkness

Samsung Patents "Smart Contact Lenses" with Built-In Camera Controlled By Blinking