South African street artist Sonny, known for his large animal murals, goes inside the gallery for an exploration of the precarious balance between mankind and the animal kingdom. For To the Bone, Sonny has created a series of paintings and sculptures to explore the possible extinction of beloved animals around the globe.
Each individual portrait, from gorilla to panda, elephant to rhino, is an intimate look at the emotional, cultural, and economic price we'll pay should we let these animals fall into extinction. With half of their faces stripped down and decorated with the pattern of the tribes local to each species origin, and gold highlighting the body part prized by poachers, in one canvas Sonny strikes at the heart of this urgent issue.
In addition to the canvases, Sonny produced a set of hand-painted sculptures. Each canvas is paired with a skull replicas as a haunting reminder of what will remain if we don't put an end to the poaching and environmental acts that place the animal kingdom at risk. As an artist, Sonny is not only letting his creativity speak to important issues, but he's also helping raise funds. A limited set of hand-finished prints will be available during the exhibition, with proceeds benefitting Project C.A.T. The organization, which is a collaboration between Discovery and the World Wildlife Foundation, helps conserve almost 2 million acres of land in India and Bhutan in order to ensure a healthy habitat for tigers.
In advance of To the Bone, which runs from May 17 to May 19, 2018 at 393 Broadway, New York, NY, we spoke to Sonny about his concept for the project and what it means for him to use his art to promote charitable causes. Read on for our exclusive interview.
What is it about animals that attracts you as an artist?
I find it incredible how each species is so unique and different. Studying them and painting them keeps me constantly intrigued.
How did the concept for To the Bone come about?
Living in South Africa and spending time in the bush quickly made me fall in love with these wild animals, and I soon began learning more about the issues they're facing that are driving many of these species to the brink of extinction. Around the same time, I was playing with the idea of creating a new body of work for a solo show and decided to use this work to raise awareness and funds for animal welfare.
How did you go about selecting the animals featured?
I started by focusing on animals close to home, but then realized that as it's such a global issue, the animals in the series should reflect that. I wanted everyone to be able to relate to the work and the issues it speaks to… So, I decided to showcase a selection of endangered animals from around the world – a tough task to narrow down the list down to just ten considering how many species are in serious trouble!
Can you explain the significance of the inclusion of local tribal patterns on each animal?
I don't think people fully realize the impact that losing these animals will have on us, as humans. These animals are so much a part of our culture and our heritage, and when they disappear, we will be losing a part of ourselves too. The native patterns represent this…
Painting a mural and painting a canvas use different skill sets. What is the most interesting part, as a street artist, of tackling a gallery show as opposed to an outdoor mural?
It seems counter-intuitive, but painting a canvas actually takes much longer than painting a mural… well for me at least. As this is the first canvas work I've created, this was something that caught me completely off-guard. Where murals are physically challenging, being in the studio for over a year working on this body of work was one of the most mentally challenging (and rewarding) things I've ever done. I feel really privileged to be able to work in the studio and on the streets; the two give me a lot of balance and keep me excited!
Why was including a charitable aspect to the initiative important to you?
The murals were all about raising awareness and starting conversations around the extinction crisis. For the gallery show, I wanted to focus on raising funds, particularly for tigers which are my favorite animal and are critically endangered. I wanted the work to make a real impact in every way possible. It's why I'm donating 10% of artwork sales to Discovery's Project C.A.T., with one painting being auctioned—the tiger—to support the global effort to double the number of tigers in the wild by 2022.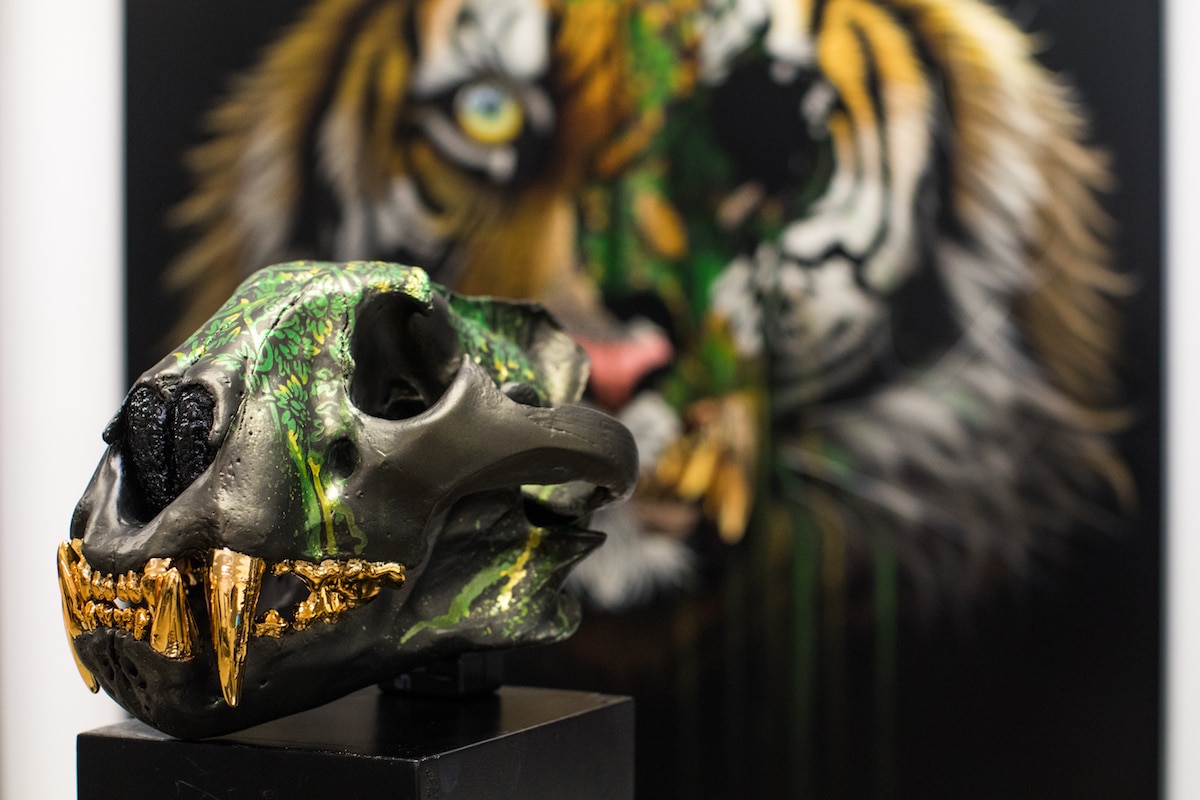 What do you hope that people take away from the work?
In terms of my message, the intention with the project was always to inspire action, even if that action is as simple as a shift in mindset or being more conscious about how our daily habits and choices impact the world around us and all its creatures. I hope that people will appreciate the beauty of the animals in the paintings, and in doing so, realize that this beauty needs to be protected. In terms of the artwork, I've worked hard to create something that I hope is both unique and impactful. I want people to come away feeling that they have seen something new and exciting, something they've never seen before.
My Modern Met granted permission to use photos by Sonny.
Related Articles

: