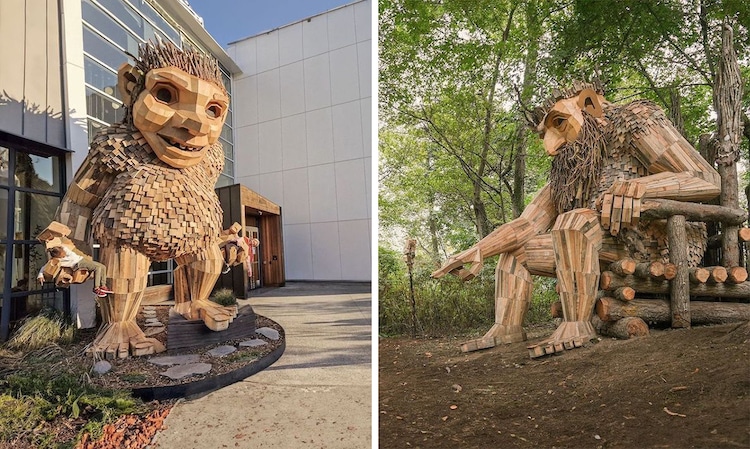 For the past several months, artist Thomas Dambo has been traveling from the East Coast to the West Coast of the United States and installing massive sculptures. The series is called The Way of the Bird King and uses thousands of discarded palettes to form something new. By upcycling, Dambo created 10 massive troll sculptures across numerous states. Recently, he wrapped up the final two works in the Seattle area of Washington, bringing the series to a close.
The penultimate piece was erected outside of the Nordic Museum in the Ballard neighborhood of Seattle. Frankie Feetsplitter is its name, and it stands at the entrance of the building with its hands in half-formed fists, and one of its large feet crushing a box (hence the name). Like the other pieces in the series, Frankie was constructed with the help of 22 assistants, using an array of discarded wood materials.
Afterward, Dambo moved on to the final sculpture of the series. For this project, he traveled to Vashon Island, which is about a 20-minute ferry ride from Seattle. There, he went to work on the series' namesake Oscar, The Bird King. This gentle giant wears a crown made of tree branches and sits upon a large throne, enhancing his royal appearance. Dambo even provided a background story for him: "He swam here from the island, where his mother once had birthed him; he walked across the mountains til his giant feet started hurting. He spoke a crow, a little girl, the orcas he heard him sing; he used to be a little troll, now Oscar is The Bird King."
The entire series took Dambo and his team 100 days to complete. "Together with my crew and hundreds of volunteers, we built 10 amazing recycled wood trolls, drove around 6,000 miles, and worked hand in hand for 100 days to make The Way of The Bird King come true," Dambo writes. "I couldn't be more grateful and happy."
Now that the tour has concluded, the trolls will remain on site for three years. After that point, it will be up to the locals whether they want to keep their unusual guests. You can keep up to date with Dambo's latest work by following him on Instagram.
Months ago, Danish artist Thomas Dambo embarked on a series called The Way of the Bird King.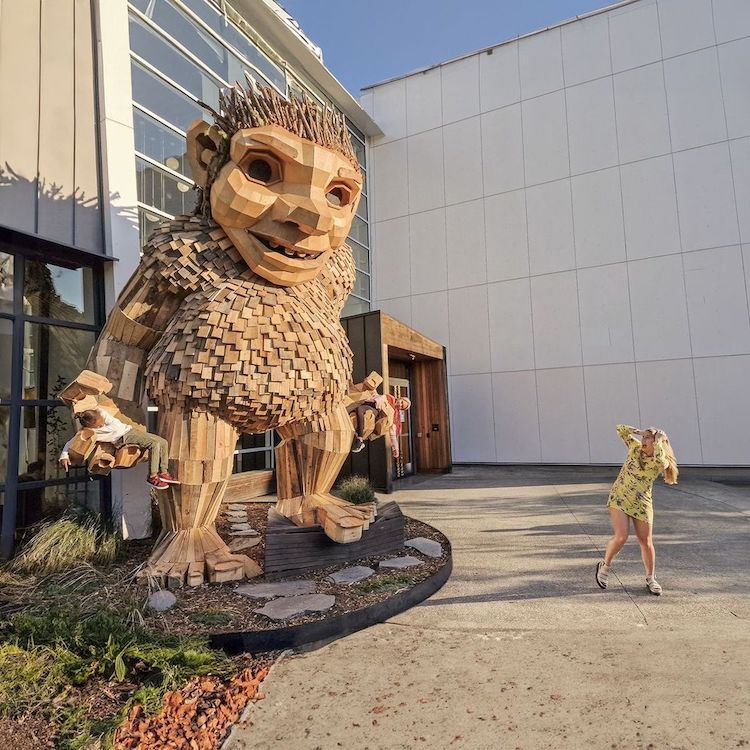 He's been erecting large-scale sculptures of trolls across the U.S. for 100 days.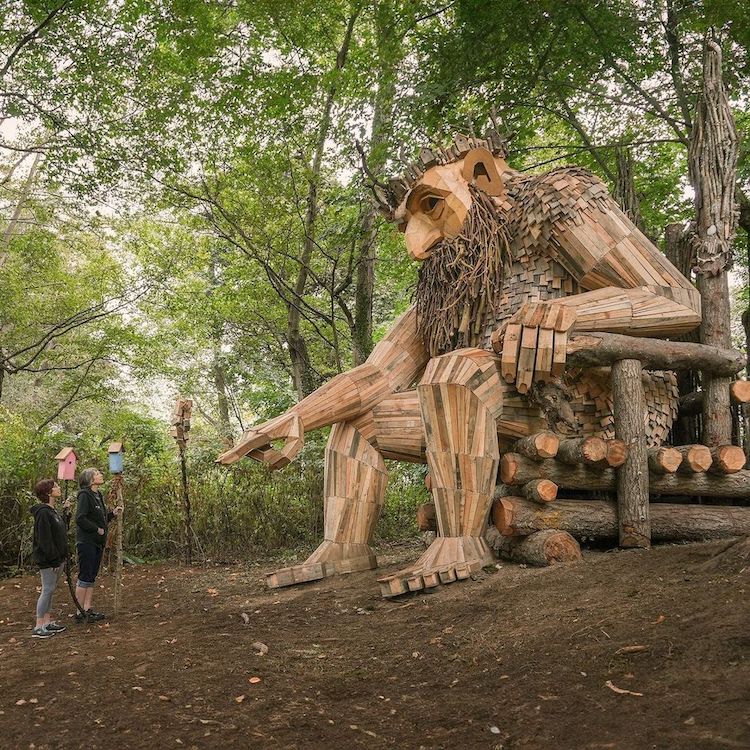 Dambo uses recycled materials to create these whimsical installations.
View this post on Instagram
View this post on Instagram
The last trolls were installed in Ballard, Seattle, and Vashon Island in Washington.
View this post on Instagram
Watch this video to learn more about the final sculptures:
My Modern Met granted permission to feature photos by Thomas Dambo.
Related Articles:
From New Jersey to Washington State, Massive Wooden Troll Sculptures Are Cropping up Across the U.S.
Artist Hides Giant Wooden Troll Sculptures in Western Australia for Everyone To Find
Giant Troll Sculptures Made of Recycled Wood Greet Visitors in the Great Outdoors