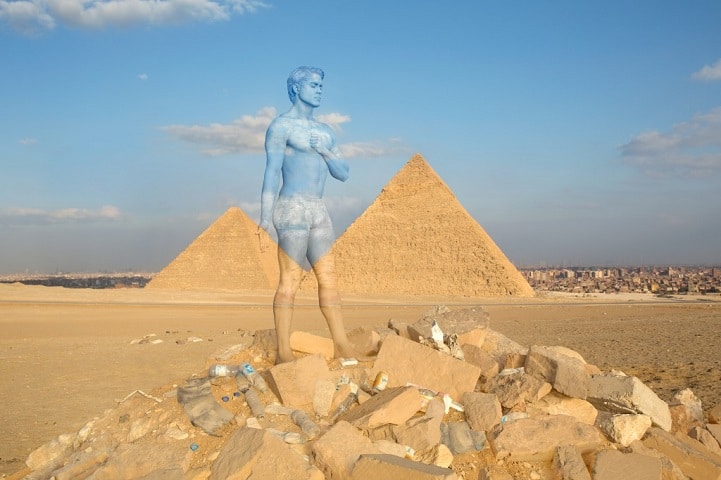 Trina Merry is best known for her unique style of conceptual art that combines painted models with photography. We've previously featured some of her artwork that mimics astrological signs and blends human figures into scenes around New York, but her newest collection of images take a trip around the world. The artist had her subject, UK model Kyle James, fully painted and posed in front of several modern Wonders of the World for a series titled Lost in Wonder. With a colourful and abstract perspective, Merry's photography examines the impacts of tourism, "methods of memory- making and the ways these are digitalized globally" using the painted human body as a canvas and the famous sites as a backdrop.
Merry specifically chose to incorporate the idea of "wonder" into the creative process when planning these pieces. She and her model would visit each location, and explore the architecture, often with a guided tour, taking time to soak in the atmosphere surrounding the ancient structures. In her opinion, "many photographers say they 'take' a picture. At major tourist sites like these, there are masses of visual consumers 'taking' from this environment without really appreciating the space or the history and culture of the people who made these structures. Artists are culture makers so I couldn't approach this trip the same way- we 'made' a picture and gave energy back to these places." The resulting snapshots celebrate the wonders while at the same time acknowledging the human aspect of the architectural sites.
Merry's avant-garde style of photography and body art pushes the boundaries, asking questions and exploring larger conceptual ideas.
Above: Great Pyramid of Giza in Egypt
Chichen Itza in Mexico
Easter Island- Ahu Tongariki
Easter Island- Ahu Tongariki 2
Stonehenge in the UK
Colosseum in Italy
Easter Island- Ahu Akivi
Petra in Jordan
Great Wall of China
Trina Merry: Website| Instagram | Facebook
My Modern Met granted permission to use photos by Trina Merry.