Few people can name the moment when their life completely changed, but Fordham University professor and social worker Lyn Slater can recall the date. In September 2014, she was waiting for a friend near Manhattan's Lincoln Center to see shows at Fashion Week. While standing on the street, foreign photographers mistook the 63-year-old for someone much more famous—they thought she was a fashion icon! They then began to snap photos, and the flurry of flashes attracted the attention of tourists passing by, who also started to take pictures. It was the start of something big.
Slater had always enjoyed fashion and used her outfits as a form of self expression. Prior to the serendipitous encounter, she had started a blog called the Accidental Icon, which chronicles her exploration into personal style. As an academic, it also considers the field as a serious area of study and worthy of consideration. "The more I research fashion," Slater told Fordham News, "the more I realized it's a powerful force. We talk a lot about how it's oppressive, or how it promotes ideal body types, but we don't talk about how it can be productive." Aside from stunning style, Slater writes short personal essays about her relationship to fashion.
Barely a month after starting Accidental Icon, the case of mistaken identity happened. The encounter put her photo in Downtown Magazine and was a boon to Slater's blog. Since then, her influence has only grown, and it jump started a new career path as a senior model. Slater has since appeared in editorial fashion campaigns, as well as projects that shatter the stigma of growing older. "There aren't age parameters in fashion. My motto has become, 'Don't tell me there are rules.'"
In September 2014, Fordham University professor and social worker Lyn Slater was at New York Fashion Week when a case of mistaken identity happened.
Foreign photographers thought she was some sort of fashion icon and started to snap her photo. Soon, tourist joined in.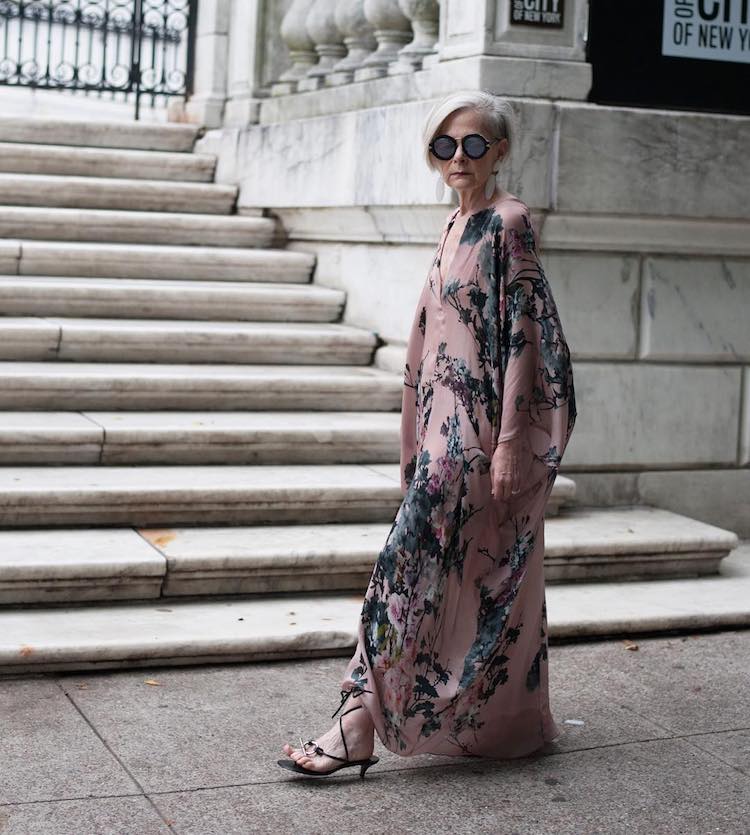 The serenptious moment changed Slater's life. A picture of her ended up in a magazine. It was the start of a career as a mature model.
Now, Slater is helping break the stigma of growing old in fashion. Through editorial campaigns and her own blog, Accidental Icon, she proves that you can rock stylish looks at any age.
Lyn Slater: Website | Instagram
h/t [Brightside, Bored Panda]
All images via Lyn Slater.