From now until February 2024, the Ashikaga Flower Park in Japan will be a spectacular display of lights. Over 5 million LED bulbs have been used to create a garden of glowing wisteria, cherry blossoms, and other flora. Visitors can wander the grounds and immerse themselves in a nighttime exhibition that changes theme three times over the duration of its installation.
Between October and mid-November, the Flower Garden of Lights ~Flower Fantasy 2023~ installation follows the Lights and Amethyst Sage theme. Some of the must-see sections of this transformed space include curtains of glowing ofuji, or great wisteria which are animated through their life cycle, and an LED water lily pond. Additionally, a new exhibit called Hometown of the Heart includes a projection of cherry blossoms floating over a tranquil rock garden. There is also the Flower Castle, featuring an array of LED fireworks and a garden of rainbow blooms.
Throughout December, the installation shifts into the Christmas Fantasy theme. While many exhibits remain the same, additional festive displays are added to the site, including Christmas trees and reindeer. There are will also be visits from Santa Claus, and special gifts for children. Lastly, from New Year's Day to Valentine's Day, the installation transforms into the Lights and Winter Peonies theme. During this time, visitors can witness colorful winter plum blossoms and wintersweet flower lights.
Scroll down to see more photos from this incredible installation, and be sure to follow Ashikaga Flower Park's Instagram for more updates.
Ashikaga Flower Park opened its Flower Garden of Lights ~Flower Fantasy 2023~ installation in October.
The immersive display features over 5 million LED bulbs.
There are several settings including a projection of cherry blossoms, and an animation of the cycle of wisteria flowers.
From October to mid-November, the installation will follow an Amethyst Sage theme.
The Flower Castle includes a vibrant garden and LED fireworks in the sky.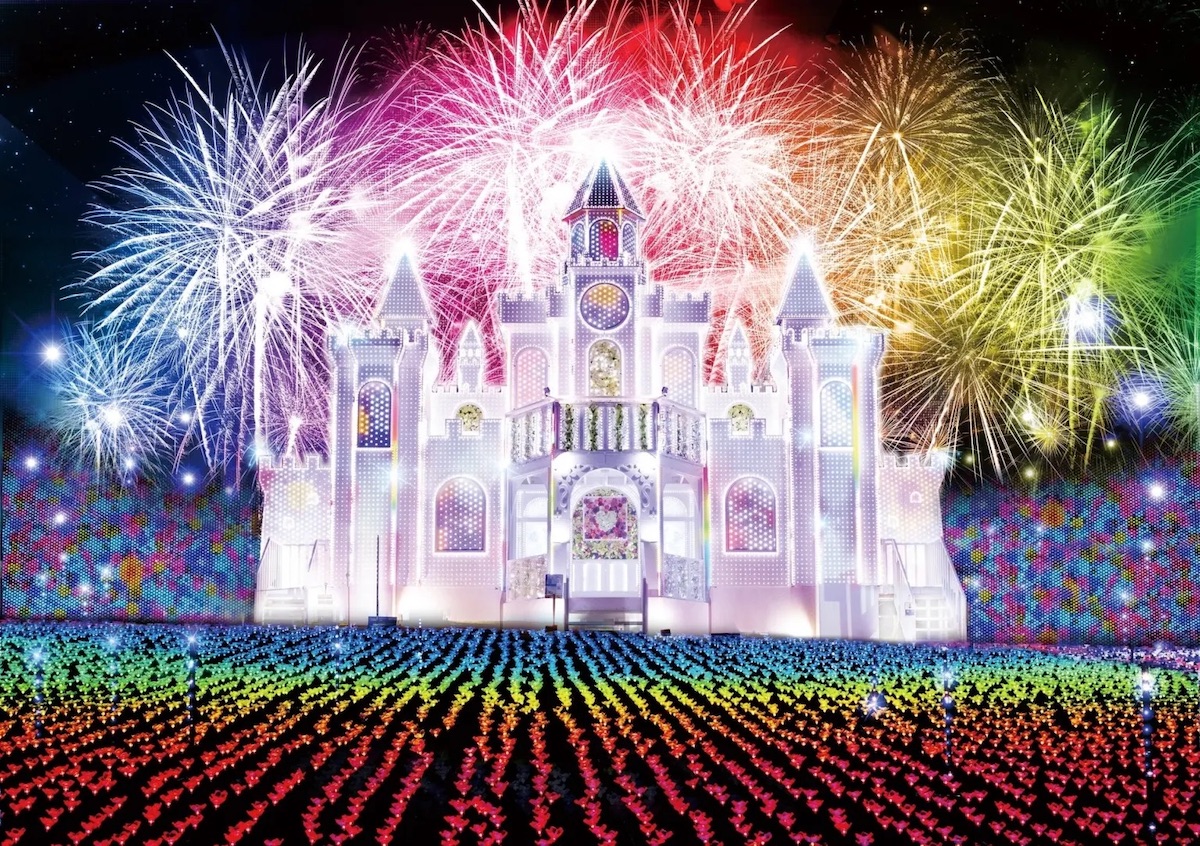 Throughout December the installation will change into a Christmas Fantasy theme.
Finally, between New Year's Day and Valentine's Day, the installation will transform into the Lights and Winter Peonies theme.
My Modern Met granted permission to feature photos by Ashikaga Flower Park.
Related Articles: