Jewelry and Accessories
Chaninapat Pongphetbundit
Thai jewelry designer Chaninapat Pongphetbundit launched her brand Mary Lou in 2009 as a vehicle for her handcrafted accessories. After starting to sell her jewelry at local flea markets, Pongphetbundit was able to expand her business while still designing and manufacturing pieces at affordable prices. Working primarily with gold-plated brass and enamel, Mary Lou is aimed at fun-loving, spirited, and fashionable women who have their own distinctive style. Her whimsical animal-themed jewelry is a hallmark of the brand, with her 3-piece animal rings being favorites—a selection of which is now available on My Modern Met Store.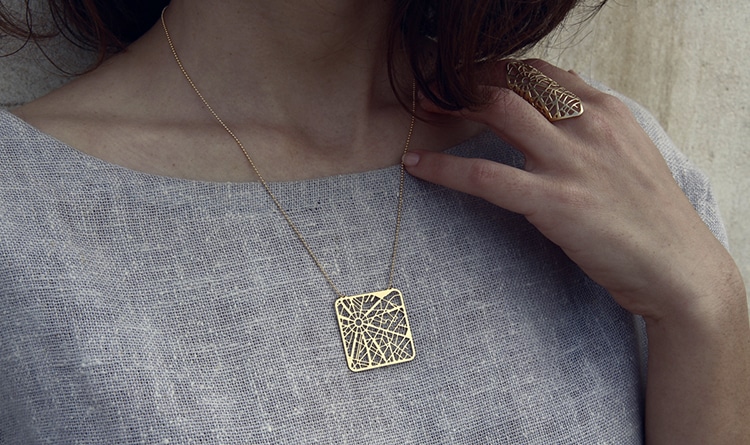 Talia Sari
By utilizing her industrial design background, Tel Aviv-based jewelry designer Talia Sari produces stunning minimalist jewelry for the modern woman. As an adept goldsmith, Sari handcrafts each piece in her studio, which gives her complete control over the final product. Sari is particularly known for her map jewelry, which draws from the topography of well-known cities to create pendants, rings, and brooches. You can shop Sari's map necklaces on My Modern Met Store and see more designs on Etsy.
View this post on Instagram
Sakae
Japanese artist Sakae creates delicate floral hair accessories using resin and wire. Traditionally known as Kanzashi, these hairpins are worn with kimonos during special occasions. Sakae forms her elegant accessories by molding wires into the desired shapes and dipping them into colorful resin. The individual elements are then bound together to create beautiful blooms. For now, the fragile hair pins are sold only in Japan via Yahoo Auctions, which are posted to Sakae's Facebook page.
Woodwork
Greg Klassen
Artist and designer Greg Klassen crafts furniture inspired by the Pacific Northwest's landscape by combining wood and blue glass. His furniture evokes the aerial view of rivers and lakes, with the pieces formed from wood gathered by the designer along the banks of the Nooksack River. He then takes hand-cut glass and embeds it into the design in order to form the "rivers," giving each piece of furniture a unique look. His coffee tables, consoles, and end tables are functional pieces of sculpture that are a tribute to his creativity and technical skill. Greg Klassen's River Collection furniture is available to purchase via his website.
Kate Chesters
Artist Kate Chesters combines colorful resin pours with different types of wood to create stunning cutting boards. From bamboo to olive wood, the rustic charm of the wood is offset by the natural swirling patterns of colorful resin. Chesters, who is based in Liverpool, England, takes inspiration from nature and her resin pours often resemble crashing waves or cloudy skies. While Chesters always begins with a pattern in mind, she allows the non-toxic epoxy resin to work its magic, which makes each cutting board its own unique piece of art. Chesters sells her cutting boards and cheeseboards via Etsy
Related Articles

:

Handmade Pillows Embroidered with Silhouettes of People Sleeping

Lovely Handmade Animal Vases Perfectly House Petite Plants and Flowers

Handmade "Book Bags" Designed to Always Carry Your Favorite Novel With You

Artist Quits Job to Craft Beautiful Handmade Fairy Tale Book Covers