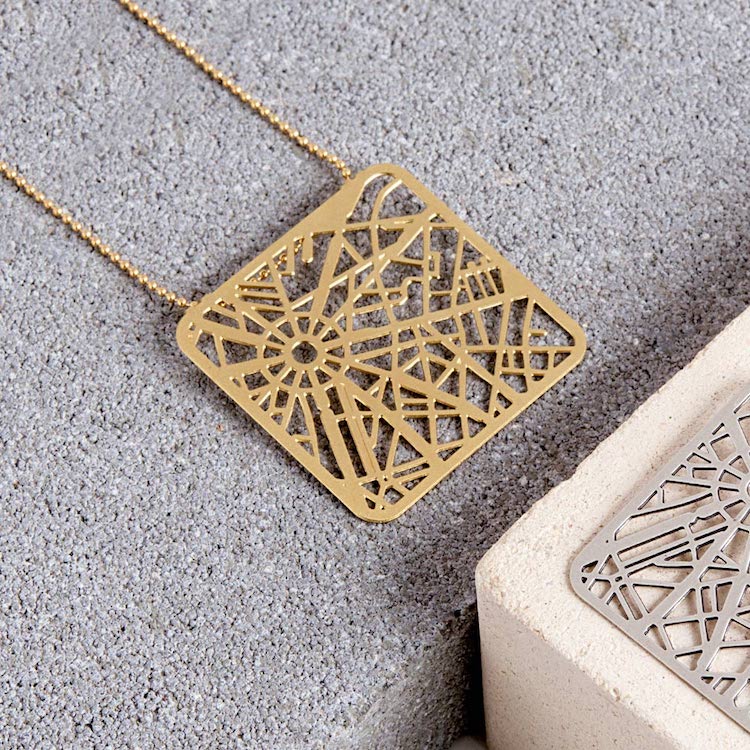 The famous line, "We'll always have Paris," is iconic for more than its inclusion in the classic film Casablanca. It also captures the feeling that you have after visiting the City of Light—that the memories made there will sustain you long after you've left its historic streets. There are many ways to remember these special experiences, and they don't have to involve snapping a photo.
Designer Talia Sari has created a token of Paris that can symbolize the best things about the city. Her Paris map jewelry is a gold-plated pendant that features an abstract representation of the romantic locale.
For those familiar with Paris, you'll know that the radiating design represents the city; but for others, it appears as simply a striking geometric design. The minimalist approach is both stylish while allowing you to attach your own meaning to the necklace. It is not clouded by someone else's pictures or illustration—like being in Paris, the adventure is truly your own.
The Paris map necklace is now available in the My Modern Met Store. And if you're looking to venture elsewhere, Rome, London, and New York City are all waiting for you.
With Paris map jewelry by Talia Sari, you'll always have the romantic locale around your neck and close to your heart.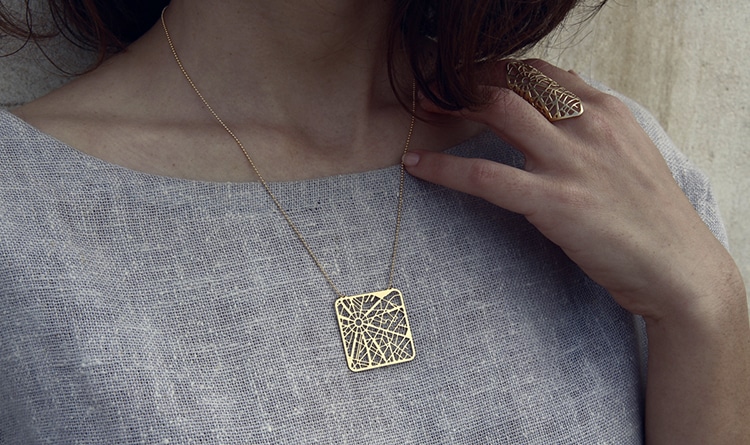 Talia Sari: Website | Shop | Instagram | Facebook
All images via Talia Sari.
Related Articles:
My Modern Met Store: Creative Products From Today's Best Contemporary Artists and Makers
Modern Paris Seen Through Retro Porthole Windows of 'Tours Aillaud' High-Rises
Colorfully Decorative Storefronts Reveal the Story of Paris
Photos Taken 100 Years Ago Capture Rare Look at Paris in Color