The "first look" is a special time for any couple getting married. Usually captured by a wedding photographer, this fleeting moment often shows a teary-eyed groom overwhelmed by the emotions they're experiencing. What's less common, however, is that the moment brings tears of laughter! This is exactly what happened to groom Jake VanSickle on his wedding day; as he turned to meet his bride, he was instead greeted by his best friend Tayler Koyl donning a white dress.
The entire wedding day prank was chronicled by photographer Rebekah Lehman of Kindred Photo & Design in Marshall, Michigan. The sequential images show VanSickle as he awaits his bride, unaware that Koyl is grinning in the background. Eventually, the groom turns around and cracks a huge smile upon seeing his buddy. Unable to stifle his laughter, the following shots feature the two men going along with the prank and pretending to run off together.
The bride, Faye Lorraine VanSickle, was the mastermind behind the hilarious stunt. Lehman recalls how Faye organized the prank without Jake being any the wiser. "The first time I met with them to cover the details for their wedding," she recalls, "I remember the bride running back into my studio as they were leaving to quickly fill me in on the plan. We both laughed as Jake stood off in the distance probably thinking we were crazy! He had no idea!"
Faye and her bridesmaids were able to see the entire moment unfold and shared in the laughter of the prank. It undoubtedly calmed any nerves that came from the important day.
Photographer Rebekah Lehman of Kindred Photo & Design captured this funny wedding day prank.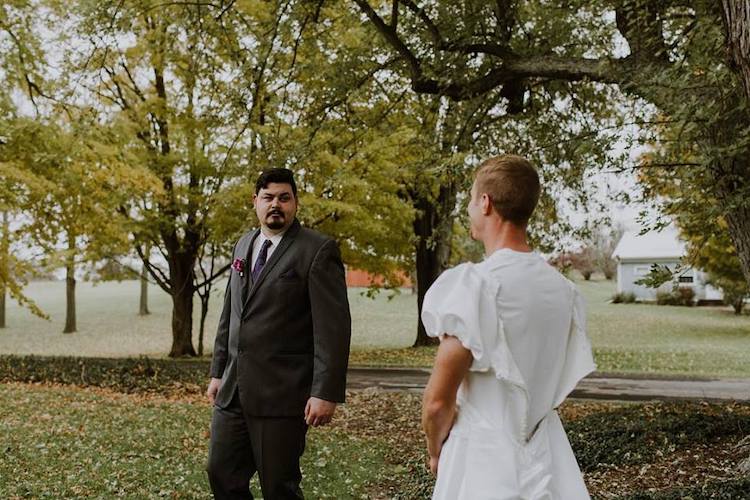 For the "first look" photos, groom Jake VanSickle was greeted by his best friend in a wedding dress—instead of his bride.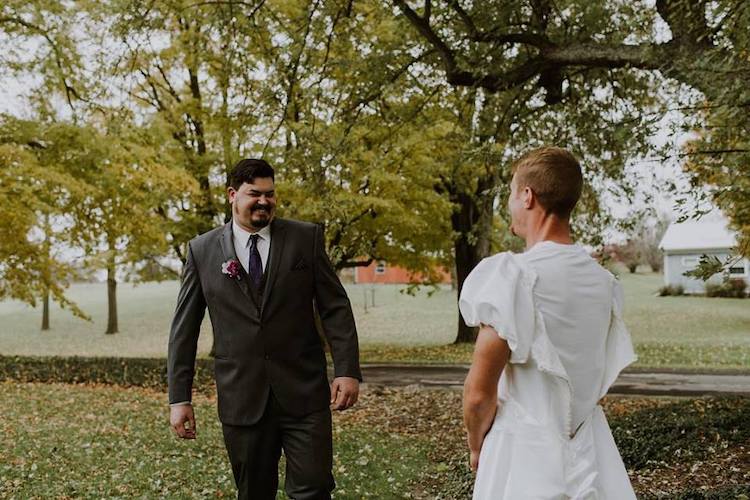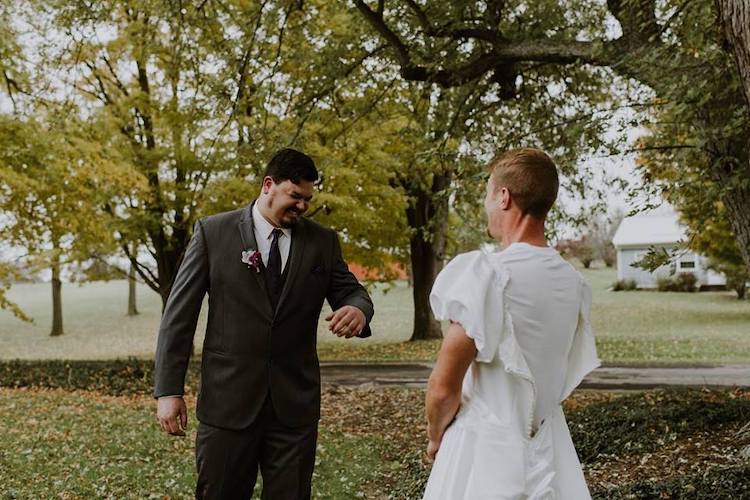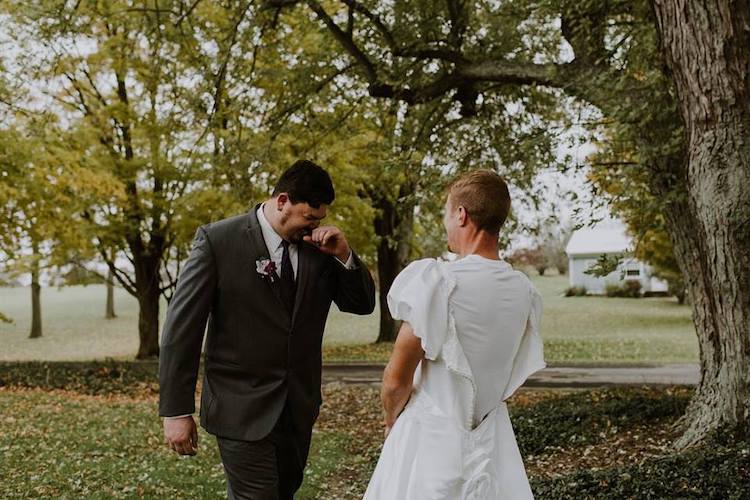 VanSickle had a good attitude about the joke and even played along!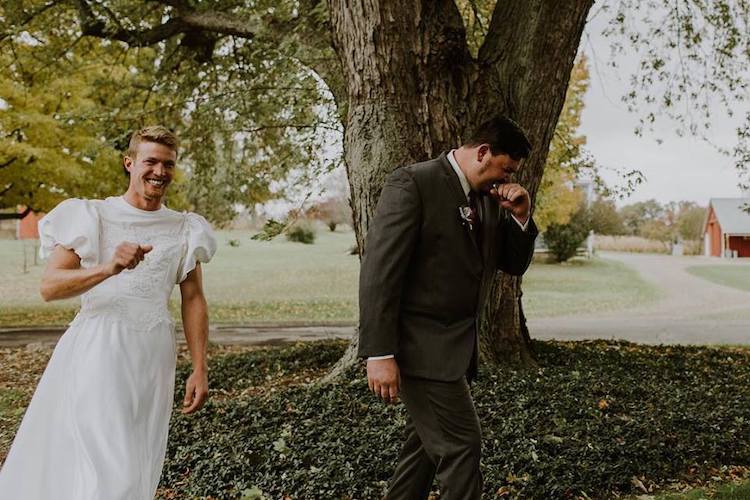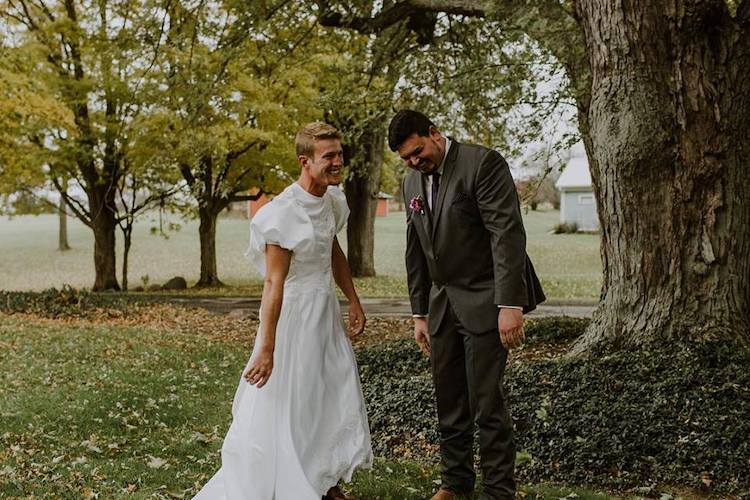 Here is VanSickle with his wife, Faye, on their wedding day.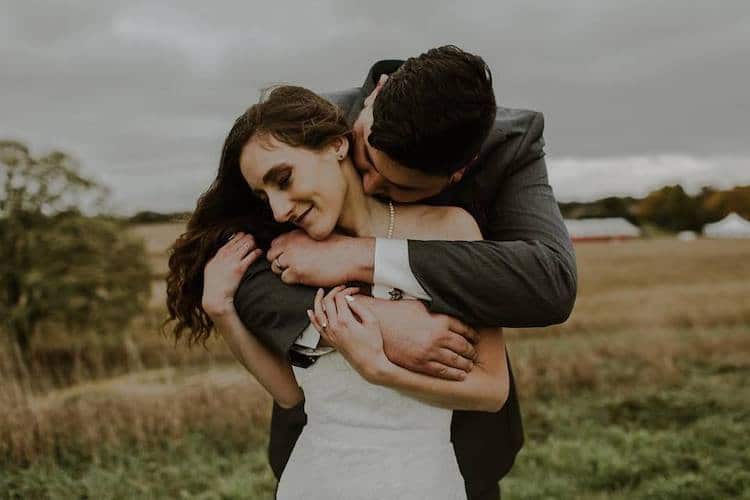 Kindred Photo & Design: Website | Facebook | Instagram
My Modern Met granted permission to use photos by Rebekah Lehman.
Related Articles:
Winners of International Wedding Photography Contest Capture the Art of Love
Newlyweds Are Having Sweet Post-Wedding Photos Taken with Their Favorite Felines
You Can Now Invite Adorable Llamas and Alpacas to Your Wedding