Whether it's blown, cast, cut, or colored, glass has endless artistic possibilities. The material was adopted by ancient Egyptians who used it to create trinkets and colored beads. From the 1st century onwards, the Romans used glass to create decorative vessels and mosaics. However, it wasn't until the Middle Ages that artisans began painting the transparent material with colorful pigment to create vibrant stained glass designs.
Traditionally used to decorate the windows of European cathedrals, the art of glass painting has come a long way since its early beginnings. Today, artists are still practicing the age-old craft—often with their own modern twist.
A Brief History of Glass Painting
First developed in Germany during the 9th century, stained glass art was predominantly found in churches. By the 17th century, the demand for colored glass increased dramatically, as many Gothic cathedrals adopted the art form as a way to illustrate scenes from the Bible to an illiterate crowd. The very first motifs were abstract and comprised numerous pieces of colored glass, as the artists lacked the tools needed to create figurative forms. However, by the middle ages, stained glass artists had mastered the craft and paintings on windows became bigger and more elaborate.
In the 16th century, special enamel pigments gave birth to the type of glass painting that we know today. Colors could be mixed and applied just like any other paint, allowing for greater creativity. Today, artists working with glass can choose from a multitude of water and oil-based paints and an array of tools. Not only that—but they are choosing to paint on much more than flat windows, and their subjects expand beyond religious symbolism. Contemporary glass painting artists are transforming three-dimensional objects such as wine glasses and other items into beautiful, decorative objects that feature all kinds of designs.
Contemporary Glass Painting Artists
Vitraaze
Ukrainian glass painting artist Vita (of Vitraaze) creates vibrant mugs, teapots, wine glasses, and more that are hand-painted with nature-inspired motifs. Each piece not only looks pretty, but is also made with non-toxic paint and then heat-set so the designs don't come off when washed, making them highly functional too! "I love the idea that I am not only creating something beautiful but also useful," says Vita. "I hope that my works will be used and loved and bring lots of positive energy and smiles into your lives."
If you love this artist's colorful glass art creations, you can buy her unique tableware on Etsy.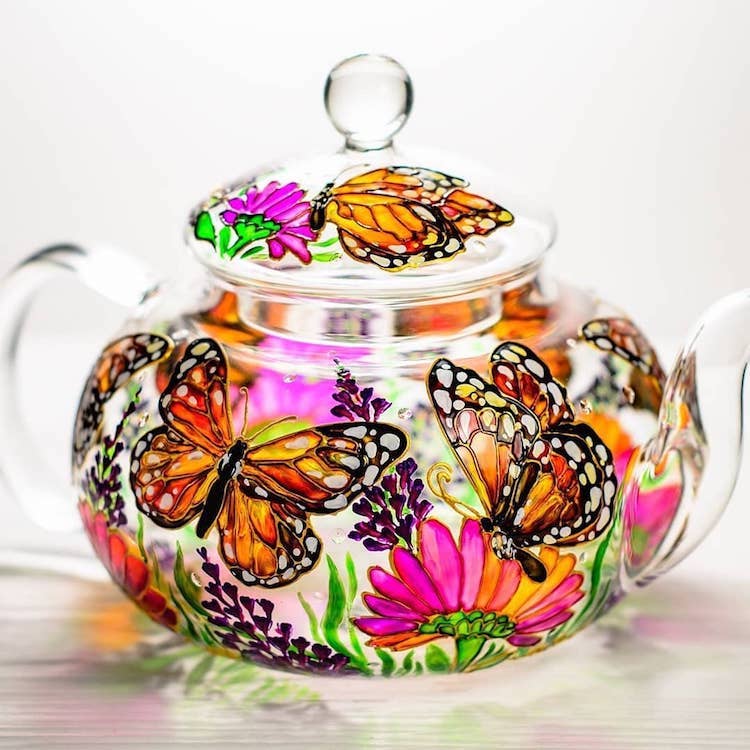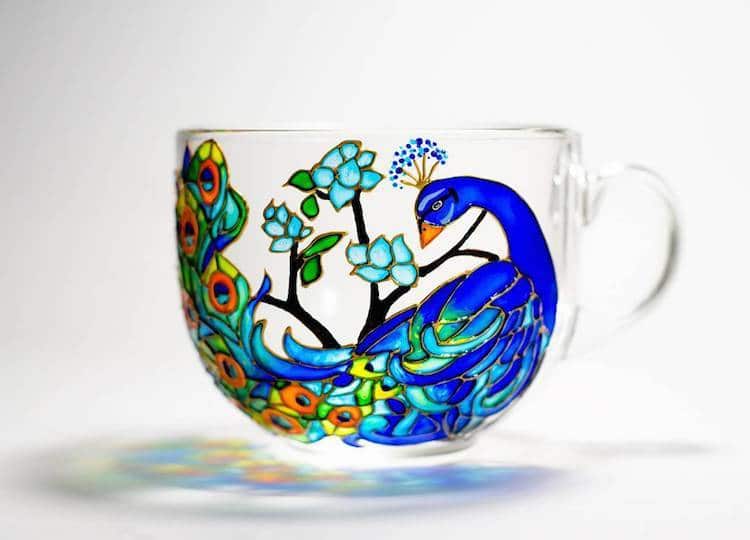 Milica Dimitrova
Bulgarian artist Milica Dimitrova started working with glass in 2010 when she was inspired to create a decorative design for her own living space. "I was greatly impressed by the elegance of this material," she says. "Its deep and transparent qualities; its profound sophistication and diversity; and its inherent ability to convey a meaningful message through a beautiful array of colors." Today, she creates incredible hand-crafted glass clocks that are painted on both sides using acrylic glass paint. Inspired by nature, her eye-catching designs often celebrate the 4 seasons.
You can purchase your own clock from her collection on Etsy.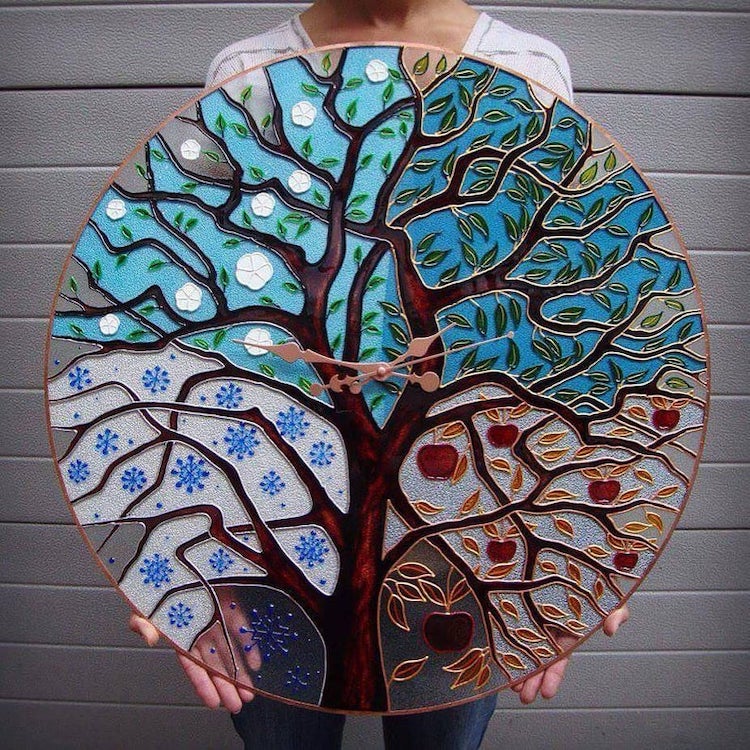 Sun Art Glass Gallery
Inspired by the way sunlight interacts with colored glass, Ukrainian artist Nata (aka Sun Art Glass Gallery) hand-crafts vibrant glass art designed to hang next to a window. "I get excited about working with it because these color gradients are beautiful," says the artist. "And I am incredibly happy to know and imagine that my creations hang in your homes." From birds to flowers, Nata's ever-growing portfolio celebrates her love of Mother Nature.
You can buy Nata's beautiful "suncatchers" on Etsy.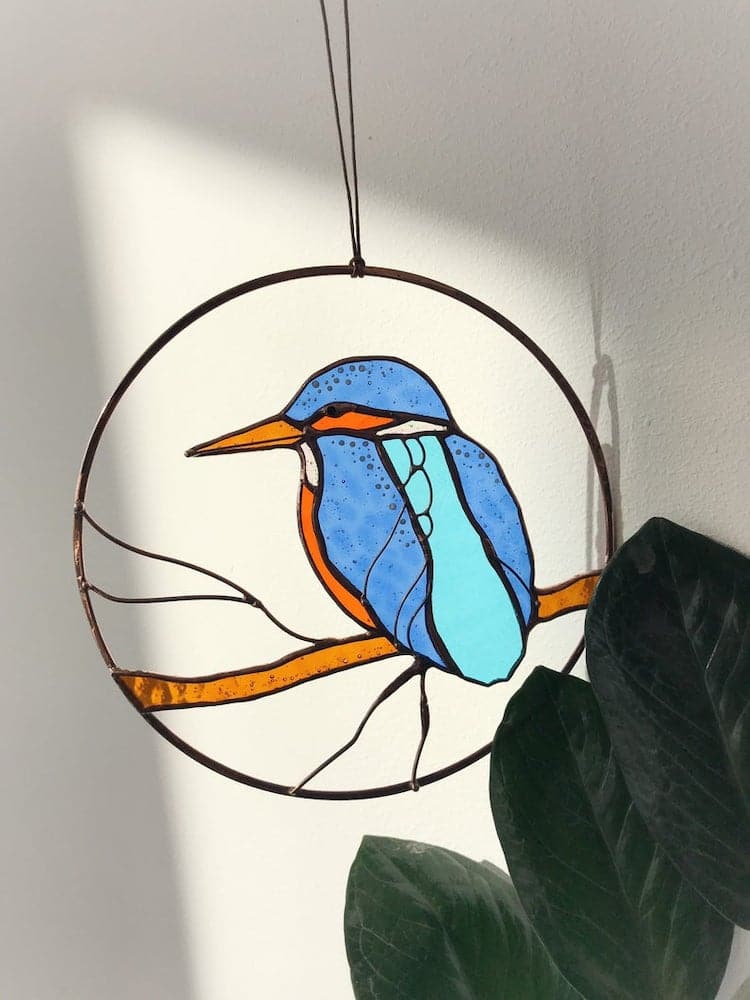 Dobriela Koeva
Bulgarian stained-glass artist Dobriela Koeva creates colorful, nature-inspired wall hangings that celebrate her love of nature and the time-honored craft of glass painting. Each of her pieces are packed full of beautiful details and has its own story to tell.
Koeva's handmade glass art is currently available on Etsy.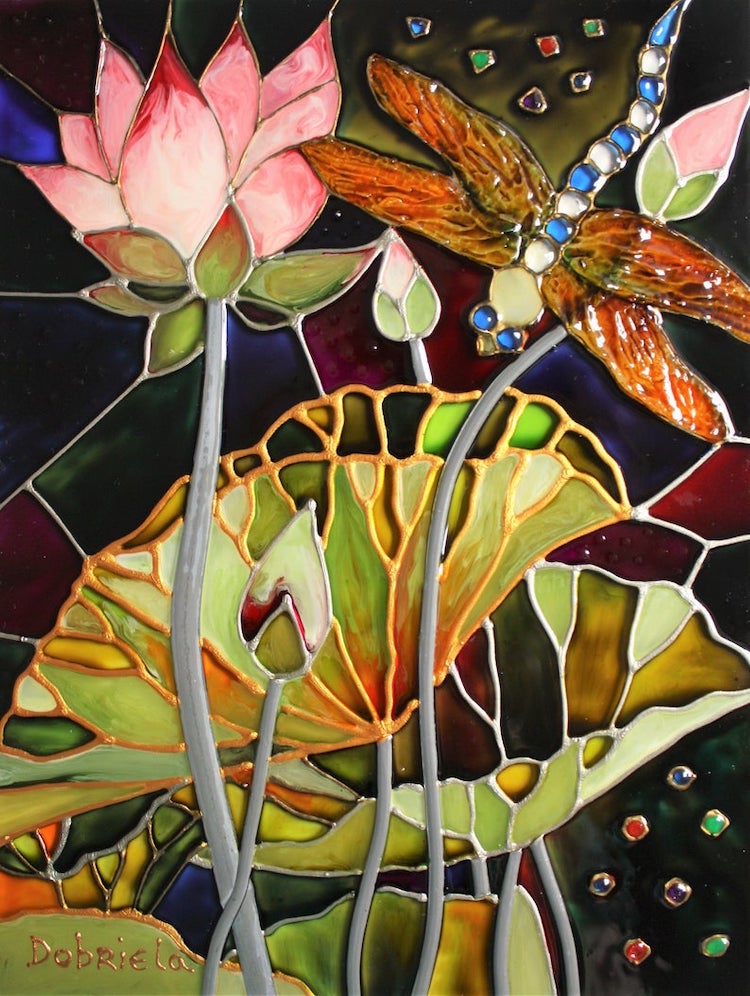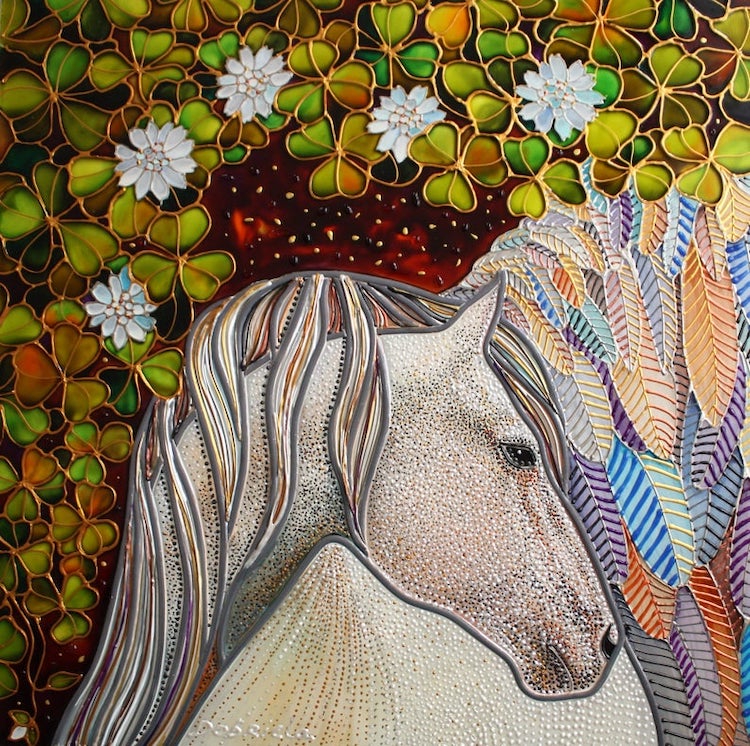 Artanett
Russian artist Artanett transforms ordinary objects such as wine glasses and baubles into decorative works of art. Each nature-inspired design is delicately hand-painted using colorful, non-toxic pigment. Find more from her portfolio on Instagram.
View this post on Instagram
View this post on Instagram
ISAURE
20-year-old French artist ISAURE uses glass as her canvas to paint her expressive portraits. She first experimented with painting on the clear, glossy surface when she was stuck in quarantine without any traditional canvases. The resourceful artist now favors glass and oil paint for her close-up facial studies. Find more of her work on Instagram.
View this post on Instagram
View this post on Instagram
Related Articles:
Hand-Painted Glass Mugs and Teapots Look Like Beautiful Stained Glass Art
8 Contemporary Stained Glass Artists Who Are Redefining the Ancient Craft
Stained Glass: The Splendid History of an Ancient Art Form That Still Dazzles Today
Tiffany Lamps: The Illuminating History of the Iconic Stained Glass Fixtures