Mixed media artist Hollie Chastain explores the narrative potential of found objects in her energetic collages. These textured pieces are created from layers of old photographs, books, and scraps of paper that the artist binds together in new stories of her own invention. Chastain states that she is an "illustrator at heart," which is what motivates her creative decision making in these dextrous compositions.
Based in Chattanooga, Tennesse, Chastain has both graphic design and classical art backgrounds. In fact, the artist did not begin making collages until 2008. "I was looking for a fresh start in the studio and I had never experimented with collage at all," she explains to My Modern Met. Chastain used her pre-existing collection of paper ephemera and vintage books as the base materials for her creations. As she continued to create collages, the artist fell in love with the visual history latent in particularly old books—like stamps as library and school identification—which she repurposes in her artwork.
Chastain finds the "characters" for her collages through the image-heavy supplies of National Geographic magazines from the 60s and 70s. Due to the strong storytelling drive in her pieces, however, it can take a while for them to be used. "I have a stack of cut out characters on my desk waiting for their perfect scene to come along," says Chastain.
The artist is constantly finding new ways to create her collages. Some of her standout pieces include utilizing the library card pocket as a balcony for characters and the ripped edges of torn papers as abstract mountains or waves. Recently, Chastain has also taken up weaving to unite her various paper elements with thread.
For those interested in learning the art of collage, Chastain has recently published an instructional book about collage-making, called If You Can Cut, You Can Collage. You can also keep up to date with the artist's latest creations by following her on Instagram.
Mixed media artist Hollie Chastain creates dynamic collages using found photographs and books.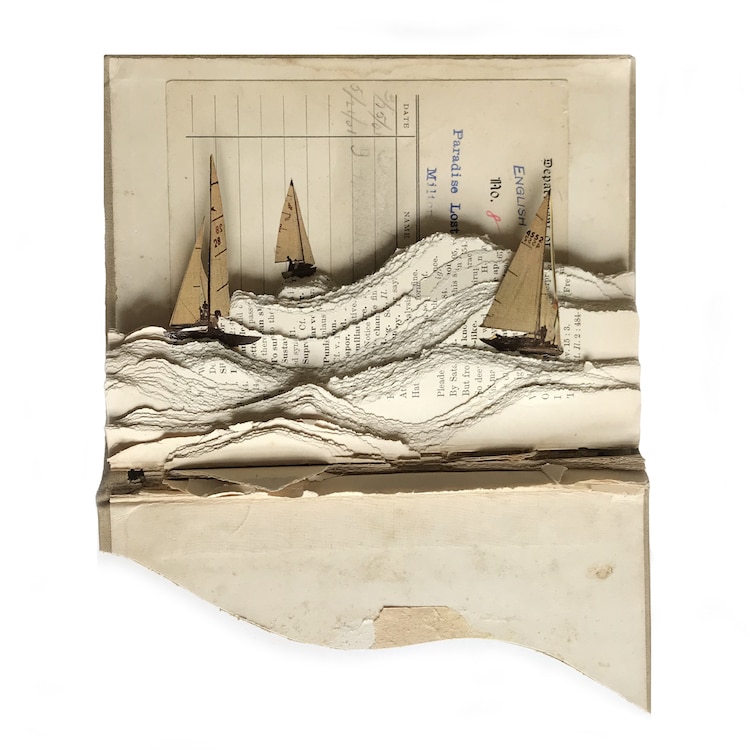 Chastain utilizes her various vintage materials to create new narratives.
Hollie Chastain: Website | Instagram | Twitter
My Modern Met granted permission to feature photos by Hollie Chastain.
Related Articles:
Delicate Nature Collages Held Together by Thread Reflect a Time of "Ecological Mourning"
Learn How People Are Creating Collage-Like Fabric Art Using Appliqué
Clever Artist Uses Pasta Maker to Create Duplicate Collages From a Single Photo