If you're now experiencing scorching summer temperatures, it's a safe bet you've packed away your boots and opted for something a little cooler on your feet. For this, flip flops are an obvious choice. With their streamlined design, however, it doesn't seem like there's a lot of opportunity to try something new. But as the Japanese brand Nyarageta shows, you can improve on a classic. They've created cat sandals that go beyond playful colors or prints and transform the footwear base into the shape of a feline.
The name Nyarageta has significance to the product itself. It's a combination of three words: nya, which translates as meow; Nara, the city where the flip flops are produced; and geta, the traditional wooden Japanese sandal. The cat flip flops are a comfortable alternative to the geta that women wear with their summer kimonos (yukata). Rather than wood, they're made from EVA, a lightweight foam that's easy on the feet.
The quirky cat flip flops are available in three different colors. Although they're designed with a yukata in mind, their versatile style ensures that they'll look good as part of everyday attire. They are sold through the online shop Village Vanguard with a delivery time at the end of June.
Japanese brand Nyarageta has a creative take on the traditional flip flop with their cat sandals.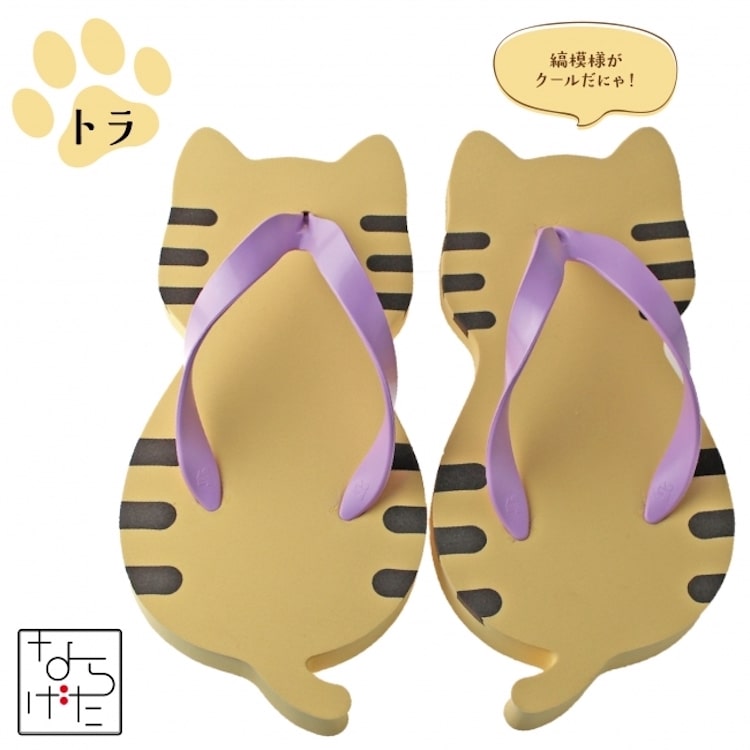 Meant to wear with a summer kimono, the foam cat flip flops come in three different designs.
Nyarageta: Website
h/t: [RocketNews24]
All images via Nyarageta unless otherwise stated.
Related Articles:
Adhesive Foot Pads Let You Ditch the Flip Flops with Flexible Feet Protection
Realistically Printed Socks Transform Your Feet into Furry Animal Paws
Antique Kimonos Elegantly Transformed into Contemporary Wedding Dresses