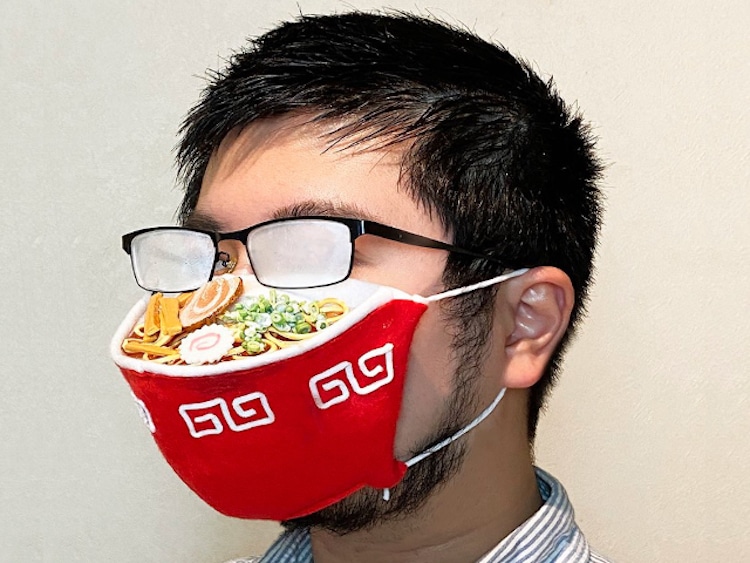 By now, most of us around the world are getting used to wearing face masks in public to help curb the spread of COVID-19. And although many people are opting for simple cloth coverings, others are using the opportunity to get creative. From a custom face covering printed with your own face to a magical Harry Potter-themed mask that changes when you breathe into it, there's some pretty unusual alternatives to plain or patterned face masks. The latest to catch our eye (and whet our appetite) is this 3D mask by Japanese artist Takahiro Shibata that looks like you're wearing half a bowl of ramen on your face.
It's unclear exactly what specific materials Shibata used to make his ramen mask, but the artist definitely put a lot of thought and effort into its design. It features model replicas of everything you'd expect to find in the perfect bowl of ramen. There's menma bamboo shoots, chashu braised pork, finely chopped scallions, a slice of fu wheat gluten, noodles, and glistening broth. However, the real surprise is revealed when you put the unusual mask on. Designed specifically for people who wear glasses, the trapped air from the user's mouth seeps up to fog up their lenses, creating the appearance of steam.
You might be wondering if anyone would actually want to wear a bowl of ramen on their face—especially one that impairs their vision. It turns out the answer is yes. Shibata's quirky creation quickly went viral on Twitter after he posted photos of it earlier this week, with many people commenting on how much they love it. One Twitter user wrote, "Excellent way to work with the problem of fogged-up glasses rather than fight against it!" Another person suggested, "You should get a ramen store to sell these as souvenir items! They'd sell out immediately!"
Check out Shibata's ramen mask below and find more of his weird and wonderful designs on Twitter.
This 3D face covering by Japanese artist Takahiro Shibata makes it looks like you're wearing half a bowl of ramen on your face.
眼鏡の人専用マスクをつくりました。
眼鏡が曇るほど、ラーメンが熱々にみえます。

使いにくさ、この上なし。 pic.twitter.com/rSV0tmlleA

— しばたたかひろ | Takahiro SHIBATA (@iine_piroshiki) July 13, 2020
Takahiro Shibata: Website | Twitter
h/t: [SoraNews24]
All images via Takahiro Shibata.
Related Articles:
Bill Nye Explains Why We All Need to Wear Face Masks in Public
World's First FDA-Registered Transparent Face Mask Shows Your Smile While Keeping You Safe
Artists Are Covering CDC-Compliant Face Masks in Their Art for a Good Cause
You Can Get a Custom Mask of Your Own Face So It Looks Like You're Not Wearing One