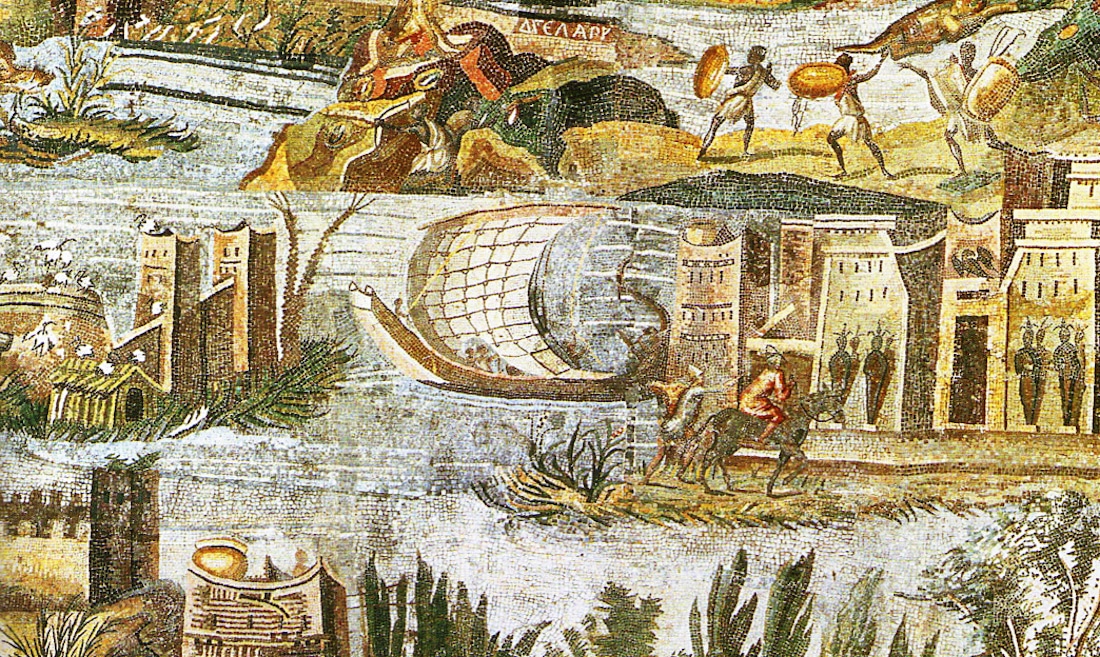 Art has existed for tens of thousands of years. Given its long and lasting history, it is only natural that it would see undulating trends. Time and time again, artists around the world have returned to age-old models, with the seascape making waves in many of art history's most important movements.
Like other prevailing practices—including still-life painting and portraiture—maritime art dates back to ancient times. A nautical approach to the equally enduring landscape genre, this type of art is defined by a focus on the sea. Whether emphasizing the ocean's natural beauty, exploring seafaring customs, or a mix of both, seascapes can immerse viewers in another world, making them one of art's most sought-after treasures.
Set sail on a journey through the history of maritime art with these 9 important seascapes.
The Gobustan Petroglyphs
The earliest known work of maritime art can be found in Azerbaijan's Gobustan National Park. Once located at the shores of the since-expanded Caspian Sea, this reserve boasts myriad archaeological monuments, including a world-famous collection of over 6,000 rock carvings.
Created by ancient hunter-gatherers between 5,000-20,000 BCE, these inscribed designs feature a range of subject matter, including weapon-wielding warriors, celestial bodies, and ancient reed boats, which were vessels made from grass-like plants that grow in wetlands.
The Siren Vase
In Ancient Greece, artisans focused less on everyday life and more on mythology. Still, references to the sea are present in folklore-focused art, like The Siren Vase, a red-figured stamnos (a liquid-storing container) from the 5th century BCE.
This piece of pottery depicts one of Greek mythology's most famous scenes: when Odysseus, the "wreathed and bearded" protagonist of Homer's The Odyssey, has his crew bind him to the mast of his ship so he can resist the enchanting songs of the alluring sirens.
Nile Mosaic of Palestrina
The ocean is not the only body of water featured in Classical maritime art. In 100 BCE, ancient Roman artisans crafted the Palestrina Mosaic, a pieced-together portrayal of Egypt's Nile River. This dazzling depiction is among the best-preserved and largest surviving mosaics from the Ancient Roman Empire.
Featuring an arched silhouette, it likely originally adorned a grotto—a rock niche that naturally or artificially features water—making its aquatic emphasis particularly pertinent.
The Bayeux Tapestry
Completed in the 11th century and celebrated for its craftsmanship, the 230-foot-long Bayeux Tapestry typifies art of the Middle Ages on a grand scale. This colossal work of wool-on-linen embroidery colorfully details the events surrounding the Normans' conquest of England in 1066.
Within its many crowded and chaotic scenes, fleets of ships floating on serpentine stitches can be found, illustrating the strategic importance of the sea during the Battle of Hastings.
The Storm on the Sea of Galilee by Rembrandt
Painter, printmaker, and draftsman Rembrandt is renowned for his prolific collection of self-portraits. His own likeness, however, is not the only subject that the Old Master explored. His portfolio also comprises group portraits and biblical scenes—both of which can be found in one very special seascape: The Storm on the Sea of Galilee (1633).
Depicting a gospel story that describes a miracle performed by Jesus, this powerful painting comes to life thanks to the bold treatment of light and dramatic theatricality that have come to symbolize the artist's work.
Unfortunately, this painting was stolen from the Isabella Stewart Gardner Museum in 1990 and remains missing today.
The Great Wave off Kanagawa by Hokusai
Stylized portrayals of the sea feature regularly in Japan's ukiyo-e ("pictures of the floating world") woodblock prints. In true ukiyo-e fashion, many of these nautical scenes imagine the ocean as a body of bright blue swirls—an aesthetic that reaches its crest with Hokusai's The Great Wave off Kanagawa.
A yoko-e (landscape-oriented) print, The Great Wave is the first piece in Thirty-six Views of Mount Fuji, a series showing Japan's tallest peak from different perspectives. While this collection claims to focus on the mountain, the swell in The Great Wave dominates the canvas, dwarfing everything in its path and proving the power of the sea.
The Slave Ship by J. M. W. Turner
Joseph Mallord William Turner was an oil painter, watercolorist, and printmaker famous for his sublime views of the natural world and studies of modern machinery. At the start of his career, Turner toured continental Europe in order to perfect his artistic practice. It is during this trip that Turner gained a lifelong appreciation for landscape painting and began experimenting with chromatic color and loose brushwork.
This modern approach to painting is particularly evident in Slave Ship (1840), a sunset seascape inspired by a grim, real-life event: the mass murder of 133 slaves on the slave ship Zong in 1781.
Impression, Sunrise by Claude Monet
In 1872, French artist Claude Monet visited Le Havre, the seaside town where he spent his childhood. During this holiday, he completed a series of six paintings depicting Le Havre's port in the daytime and nighttime, as well as at dawn and dusk. This series includes Impression, Sunrise, a painting that explores the sunlight's ephemeral effects on the water.
While this seascape features the hazy silhouettes of rowboats, ships, and smokestacks, Monet opted to place the emphasis on the breaking sunlight and its impression on the undulating waves—a focus that inspired not only the piece's title but the name of the Impressionist movement itself.
Seestück

(Seascape)

by

Gerhard Richter
"Since there is no such thing as absolute rightness and truth, we always pursue the artificial, leading, human truth," German contemporary artist Gerard Richter once said. "We judge and make a truth that excludes other truths. Art plays a formative part in this manufacture of truth." This belief is central to Richter's body of work—especially his signature photo-paintings, like the Seascape (Seestück) series.
Though painted entirely by hand, these works evoke the look and feel of a photograph, placing the age-old art of the seascape within a contemporary context.
Related Articles: