The street art world is full of artists who use different techniques, from freehand spray paint to elaborate installation art. But perhaps no other technique is so tied to its practitioners like the stencil. Stencils are nothing new—they originated over 35,000 years ago when pre-historic man held their hand to the wall and blew pigment on it. Widely used in industrial settings and the military as a quick and effective means of communication, aerosol stencils naturally bled their way into the street.
It's this ease of use and ability for replication that makes them attractive to stencil artists, making it possible to dodge in and out, throwing up art quickly and effectively. It's no wonder that artists like Banksy and Shephard Fairey are known for their use of the stencil. In fact, Fairey's inspiration came from government propaganda, which he then manipulated into his Obey empire.
The stencil is also a democratic technique. Everyone from grandmothers practicing arts and crafts to bakers decorating cakes employ stencils to facilitate intricate designs. There's also overlap with screen printing and many stencil artists also work in printmaking. But who are some of the street artists who also declare themselves stencil artists? And how have they pushed the limits of the technique? Take a look at our list of 10 stencil artists you need to know in order to understand how stencil art is changing the urban landscape.
John Fekner
Throughout the 70s and 80s conceptual artist John Fekner created over 300 anonymous street pieces by stenciling words, letters, and numbers across New York, Canada, Germany, and England. Using these bold statements to call attention to urban neglect, political crisis, and environmental causes. His project Warning Signs highlighted the hazardous conditions of New York in the 70s. Fekner's work has only grown in importance over time. "For us, John Fekner's pioneering stencil work is as important to the history of the urban art movement as the work of artists like Haring, Basquiat. It was artists like Fekner, Leicht, Hambleton and others who truly held down the scene back in the early 1980s," writes The Wooster Collective.
Blek le Rat
Sometimes called the "father of stencil graffiti," Blek le Rat was one of the first street artists in Paris. He started by painting rats on the streets of Paris in 1981, he was influenced by graffiti in New York, but adapted it to suit his purposes in Europe. He spent 10 years incognito until the French authorities arrested him while stenciling a work whose style gave away his identity. Still active today, Blek's work has had a clear influence on Banksy, whose early career was defined by two-layer graphic stencils.
Nick Walker
Irreverent stencil artist Nick Walker hails from Bristol, England and was part of the graffiti movement in the 80s that was an inspiration to Banksy. He often works with recurring characters, such as a vandal sporting a bowler hat and his humorous Moona Lisa, a play on Da Vinci's work showing the main figure flashing the public. Walker has collaborated with musicians and members of the film industry, making him part of the first generation of street artists to break into the high end gallery scene.
Evol
German artist Evol made his name by using stencils to cover public utility boxes, transforming them into grimy apartment blocks. The street artist is able to create a convincing optical illusion, even adding graffiti to mimic the urban concrete jungle. His work speaks to themes of gentrification, as the working class housing blocks he depicts are being increasingly swept aside for luxury high rises around the globe. In his hands, what can be seen as ugly and imperfect, transforms into a work of art.
READ MORE: Artist Stencils Miniature Apartment Buildings on the Street
C215
Christian Guémy, or C215, is a French artist who has been described at "France's answer to Banksy." He primarily focuses on small scale stencils, which have moved from monochromatic to increasingly colorful throughout his career. He often collaborates with photographers, creating stencils after their work. Street photographer Lee Jeffries' images of homelessness have been a source of inspiration for his work—by placing the portraits back into the streets, C215 gives them a new voice. Recent work includes several series inspired by Renaissance Italian painting and pop culture icons from Grace Jones to Iggy Pop.
READ MORE: Street Artist Inspired by Old Italian Painter
Logan Hicks
Logan Hicks is known for his intricate photorealistic multilayer stencils of urban environments. Originally from Baltimore, and now based in New York, Hicks is a leader in the photorealistic stencil technique, meticulously hand cutting layer after layer to build up the light, shadow, and highlights of the natural world. Hicks ran a screen printing business for several years before dedicating himself to street art. In early 2017 he tackled the Bowery Wall in New York City, painting an immense work composed of 1,050 stencils. Titled Story of My Life, it captures the friends, family, and supporters who have helped Hicks along his artistic career in New York.
M-City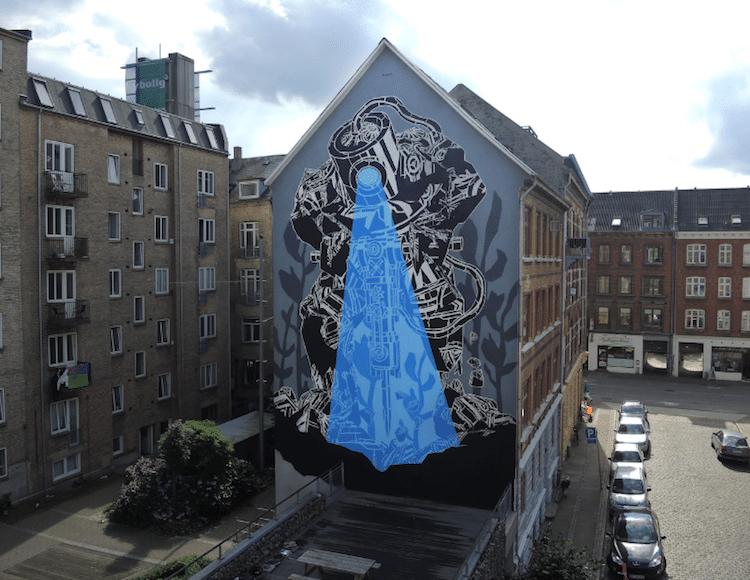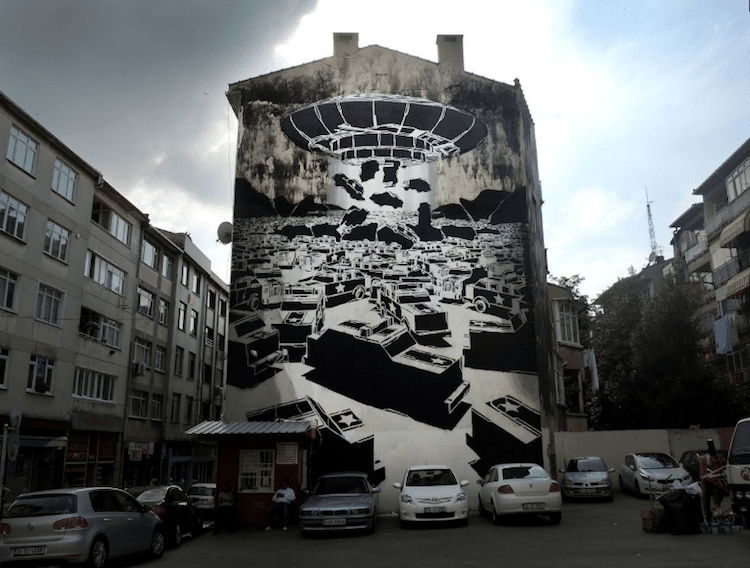 Polish street artist M-City, whose real name is Mariusz Waras, has long been fascinated by industrial spaces. His large-scale work, which require multiple stencils pieced together for the final composition, are typically monochromatic cityscapes that show a mechanized world. As dark and foreboding as they are rhythmically complex, his compositions seem ripped from the pages of a science fiction novel. M-City also works as an assistant lecturer at the Academy of Fine Arts in Gdansk, where he continues to inspire generations of Polish street artists.
Lady Aiko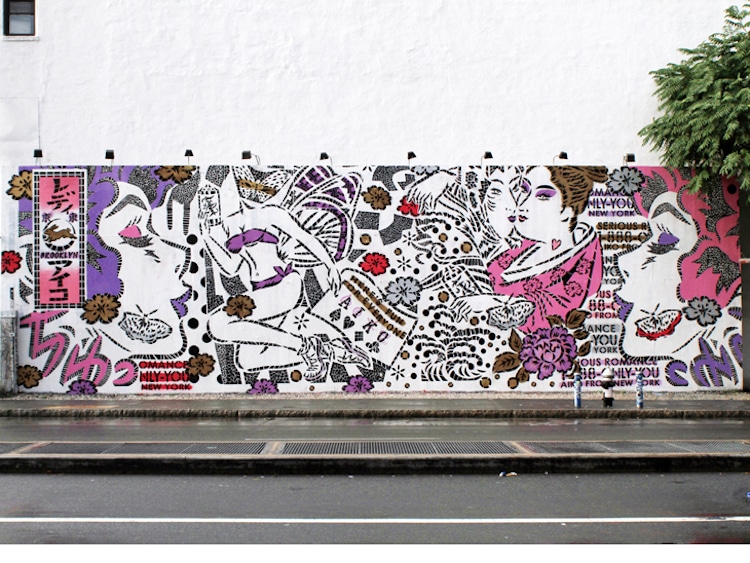 Lady Aiko was born and raised in Tokyo, Japan, but moved to New York in the 90s to apprentice with Takashi Murakami's studio. She is a female pioneer in the street art world, being the first female street artist to paint the famed Bowery Wall. Her aesthetic is influenced by Japanese woodblock prints and she uses her stenciling to mimic the graphic effect. Aiko was also one of the founding members of the FAILE collective, whose early years are defined by their graphic, monochromatic printing style.
Above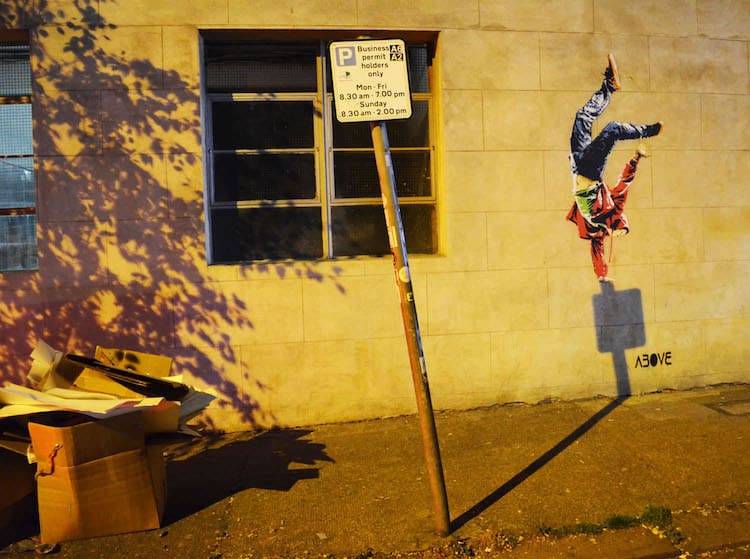 Tavar Zawacki, also known as Above, is an American artist based in Berlin. He's known for his innovative street art that incorporates the urban environment. His strategically placed stencils give layered context to the city, making a commentary of political issues or simply creating clever illusions by honing in on the perfect spot for his stencils.
READ MORE: 15 Street Artists Who Use the World as Their Playground
Sten + Lex
Sten + Lex are an Italian duo based in Rome who became recognized for their innovations in stenciling. They began their career in the early 2000s with a pioneering technique known as "Hole School," which incorporated mezzotint printing processes from the 17th century. Using hatching or small circles, their figurative work appears abstract, only taking shape when viewed from a distance. Over the last 10 years, they have also innovated the "stencil poster," and have moved toward increasingly abstract work. By placing a poster on the wall and strategically cutting and painting in negative space, they create an artwork that is a living entity, slowly decaying over time.
Want to learn how to make your own stencils? These books and online classes are a good start.
Cut & Paint: Street Art Inspired Stencils, Skillshare online class
Designing Stencil Art: From Photo to Painting, Skillshare online class
Street Art Cookbook: A Guide to Techniques and Materials by Benke Carlsson and Hop Louie
Stencil 101: Make Your Mark with 25 Reusable Stencils and Step-by-Step Instructions by Ed roth
All photos via the respective artists except where noted.
Related Articles:
10 Street Artists You Should Know
Shadows Give Illusion of Figures Walking on School Walls
Banksy's Top 10 Most Creative and Controversial NYC Works
100 Street Artists Take Over a Nine-Story Building in Paris
Splashes of Graffiti Colorize Classic Grey Artworks
Gorgeous Mural of Angel Wearing a Gold Leaf Mask Pops Up in Los Angeles