When we first met food photographer Michael Zee in 2014, he explained that the exquisite meals he cooks each morning for himself and his boyfriend, Mark, are an act of devotion. "People wonder if I'm crazy or obsessive," he said, "but it is a declaration of love, really. I'm dedicated—both to breakfast and to Mark." It seems that his commitment hasn't waned: several years later, he continues to begin each day by preparing symmetrical, side-by-side platefuls of lavish food. Each duo of mouthwatering meals is served at the home the twosome share, while also offering a visual treat for admiring Instagram followers—nearly 600k of them.
Every photo takes a familiar form, always shot from above with one plate mirroring the other, often paired with parallel cups of juice or mugs of coffee. However, though the arrangement of the dishes is straightforward and consistent, the breakfasts themselves are wildly inventive. Zee experiments with unexpected concoctions both sweet and savory, inspired by staples from all around the globe. One morning, the twosome are slicing into sumptuous banana split waffles, and the next, they're noshing on elegant asparagus with perfectly poached eggs. The orderly balance in the photo styling elicits a soothing sense of calm, while the vibrant and diverse food sparks intrigue (and, oftentimes, salivation)—the perfect recipe for a nourishing feast for the eyes.
In August, Zee will release a cookbook brimming with inspiration for others with a taste for both good food and aesthetics. Perhaps the pages might inspire the rest of us to show love for our partners via extra time at the stovetop each morning, or at least rouse us to reconsider a broader expanse of options for our first meal of the day.
Above: "A homemade rainbow fruit tart with puff pastry, crème pâtissière"
"Galette de Sarrasin with egg, smoked salmon and avocado"
"Cassava Porridge with fruit, cinnamon, tea and juice. Eaten all over the world in particular West and Central Africa (Cassava, also known as yuca, manioc or tapioca looks a bit like a potato and is full of nutrients. Some care is needed in preparing and cooking to avoid the risk of poisoning yourself!"
"Nutty Slack, the greatest granola in the world, with yoghurt, fruit and a cup of Emperor's Breakfast tea."
"An Ulster Fry! Homemade potato farls and soda bread, sausage and bacon from @gingerpigltd, roast cherry toms, black pudding (a type of Blood Sausage) egg, beans on the side (a contentious issue with all cooked breakfasts, I'd like to hear your thoughts) and a cup of tea"
"Pressure Cooker Coconut Rice with mango, raspberry and fresh Moroccan mint from the garden"
"Apple and custard rose tarts with some fresh fruit and a little cortado coffee"
"Fairy bread – multicolored sprinkles on buttered bread (although traditionally it's margarine) with the crusts cut off"
"Homemade black sesame steam buns filled with crème pâtissière and a cup of wild South African rooibos tea"
"Scotch Woodcock – a Victorian after dinner classic of scrambled eggs with salty anchovies and toast"
"Melon bowl with seeds and beetroot coconut yoghurt (two beets and yoghurt in a blender!), blueberries, dragonfruit, passion fruit, tea and carrot juice"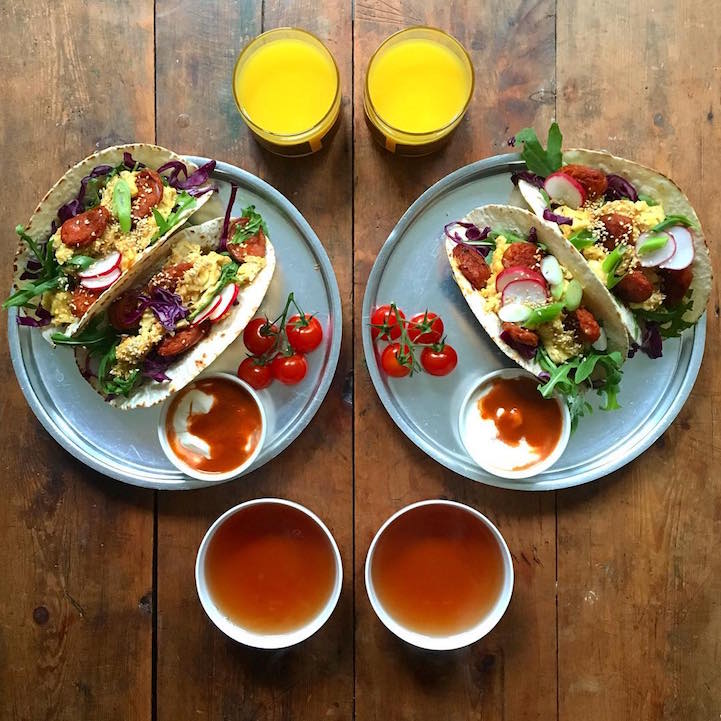 "Chorizo and egg tacos with fresh red cabbage, radish, rocket and a side of sour cream and hot hot hot sauce"
"Carrot Cake Pancakes with a coconut and cardamom creme, pomegranate jewels, pistachio and a cup of tea"
"Jalapeño corn fritters with avocado, tomato salsa and yoghurt"
"Breakfast in Monaco a lunettes a la fraise and a chocolate sablé with a macchiato"
"Matcha Crêpes with strawberries and Jersey salted caramel sauce"
"Zhoug eggs baked into a petit baguette, smoked salmon, capers, rocket and a cup of Cloud Tea"
"Truffle asparagus with breadcrumbed egg, sesame, shavings of Comté cheese and a cup of tea""Banana Split Waffles with my Achilles heel, squirty cream from a can…Roasted banana cooked into the waffle batter and of course a cherry to top it off"
"Firni, a traditional ground rice dessert from Pakistan and India and Iran and one of my favourites and wonderfully comforting. Served cold and topped with pistachio, mine is flavoured with kewra (pandan). With some glazed flat white peaches on the side and an espresso."
"Rose harissa chickpeas with egg, mint labneh a side of pomegranate seeds and a cup of tea"
"Tartines aux lardon et au Comté with an egg"
"Huevos Divorciados or Divorced Eggs from Mexico…Two eggs, one with salsa roja, the other with salsa verde made with tomatillo. The wall of refried beans separates the two from touching."
"Bacon, Fig and Honey Cornbread with a side of Greek yoghurt, beetroot powder…and a cafe latte"
"Waffles filled with egg, cheese and ham…little a pot of Tonkatsu sauce to dip, a raspberry, carrot and banana smoothie and a cup of English Breakfast Tea"
"Pão de Queijo Waffles, sliced avocado, fried cherry toms, Burford Brown egg, juicy juice and a cafe latte"
"A continental breakfast with butter from Ireland, cheese from The Netherlands and France, salami from Italy, ham from Poland, grapes from Spain and strawberries from the UK"
SymmetryBreakfast: Website | Instagram | Twitter
All images via SymmetryBreakfast.