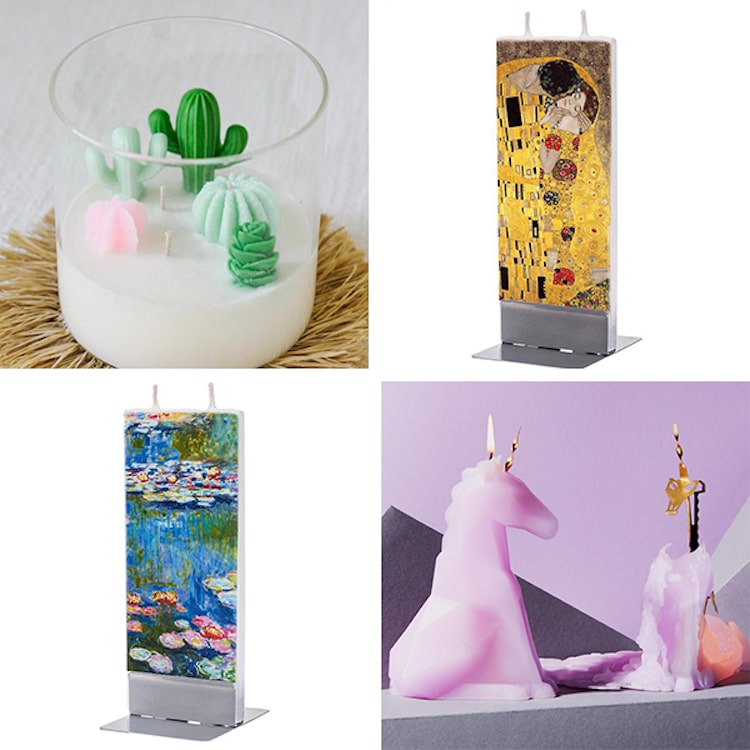 There are many ways to make your home feel cozy, especially in the cooler months. One of the easiest, however, is by lighting candles. Available in many shapes and sizes, these decorative pieces bring a bit of personality wherever they're placed. My Modern Met Store boasts a collection of creative candles that you'll be proud to display on your mantle.
Art lovers will appreciate the artisan craftsmanship in Flatyz candles. Each one is handmade in Europe and based on famous paintings, like Gustav Klimt's The Kiss, Monet's Water Lilies, and Vincent van Gogh's Starry Night. The double-wicks ensure that the candle melts down evenly. Not only that, but these candles are completely odorless and smokeless, too.
For those who are seeking something a bit more unusual, 54Celcius has you covered. The Pyropet Kisa Candle looks like a black cat at first, but as the wax melts, it reveals a striking metal skeleton underneath. The same can be said for the Einar Candle, which features a unicorn. Similarly, Zoet Candles bring a bit of flora into your home with their series of cacti and succulent candles.
Scroll down to see more unique candles, and head over to My Modern Met Store when you're ready to check out.
These unique candles will brighten up your mantle.
Starry Night Candle
Irises Candle
The Kiss Candle
Water Lilies Candle
Almond Blossom Candle
Large Three-Wick Cacti and Succulent Terrarium Candle
Cactus and Succulent Soy Container Candle
Cacti Soy Container Candle
PyroPet Kisa Cat Candle
PyroPet Einar Unicorn Candle
Related Articles:
26 Quirky Candles To Cast a Creative Glow in Your Home
These Whimsical Candles Reveal an Unexpected Surprise As They Melt
Adorable Soy Candles of Miniature Cacti and Succulents