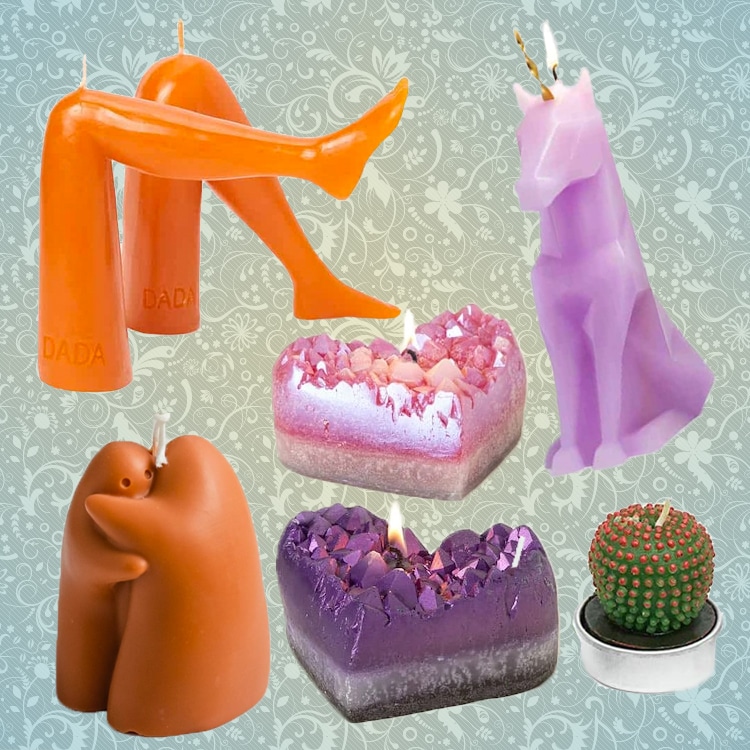 A candle is one of the easiest ways to add ambiance to your home. But just because they cast a soft glow in your living room, it doesn't hide the fact that they can look a bit banal. Luckily, there have been some clever candle developments over the past several years and otherwise ordinary balls of wax have been shaped into statement-making pieces for your home.
The Kisa Candle by PyroPet was one of the first cool candles to usher in this new era of illumination. When you begin to burn this candle, it seems as though it's a solid wax creature. But as it melts, a metal skeleton is slowly revealed. Once the candle is completely spent, you have the skeleton as a peculiar keepsake.
There have since been other candles that are quirkier than average, like vibrantly colored strawberry candles that look just like the real fruit, or even one that smells like fruity cereal. So, why settle for your average tea light? Check out some of our picks for unusual candles, below.
In the market for some cool candles? Here's a selection that's quirkier than your average tea light.
Black Cat Skeleton Candle
Hugging Friendship Candles
David Statue Bust Candle
The Kiss Candle
Peace Sign Hand Candle
Doll Head Candle
Fruity Cereal Candle
"Legs On Fire" Candles
Bubbles Candles
Curly-Wurly Candles
"Smells Like Timothée Chalamet" Candle
Collectible Book-Scented Candles
Macaron Candles
Bowl of Cereal Candle
Strawberry Candles
Balloon Dog Candle
Full Moon Candle
Geode Heart Candles
Cacti and Succulent Terrarium Candle
Flower Shaped Soy Wax Candle
Dip Dye Candles
Wiggle Taper Candles
Unicorn Candle
Bunny Candles
Succulent Cactus Candles
Rocky Mountain Candle
This article has been edited and updated.
Related Articles:
Intricate "Candle Carving" Forms Blooming Designs with Layered Wax
Louis XIV-Inspired Floating Chandelier Made of 91 Porcelain Candles