The arts and crafts movement is having a bit of revival recently, with many creatives adopting traditional crafts over digital or automated alternatives. From handmade ceramics to knitting your own accessories, there's something satisfying about being able to create your own unique objects, rather than buying mass-produced products. Chinese craftswomen Liziqi is someone who lives by this ethos, and she shares glimpses of her daily life on her farm in the Chinese countryside on YouTube. Among her vast portfolio of footage, she recently posted a short film that reveals her process for hand-crafting a floor-length wool cloak, in preparation for the harsh winter.
The 5-minute video follows Liziqi on her journey across the stunning mountainous landscape of the Sichuan province in China to collect wool from a neighboring farm. Once she returns to her home—where she lives with her grandmother—she begins preparing and washing the raw wool. Once dry, she spins the material into a yarn, and even dyes it purple using blueberries. She then plaits and knits the ensemble together, all the while accompanied by a super-cute tiny lamb and a couple of puppy friends.
Watching Liziqi's entire making process is both mesmerizing and relaxing, but her film is also a reminder of how much effort is put into garment production. Watch the entire video below and check out more of her fascinating films on YouTube.
Chinese craftswoman Liziqi recently published a short film that reveals her process her crafting a floor-length wool cloak by hand.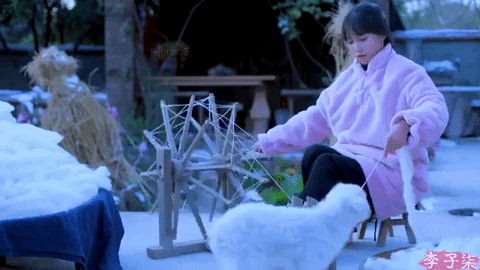 Check out her full, handmade process in this short video.
Liziqi: Website | Facebook | YouTube
h/t: [swissmiss, Kottke, Colossal]
All images via Liziqi.
Related Articles:
Artist Uses Handcrafted Silk Shoes as Canvas for Traditional Chinese-Style Illustrations
Artist Transforms Landfills Into Beautiful Chinese Landscapes
How to Crochet: Learn the Basics of This Time Honored Handicraft
Best of 2018: 12 Breakthrough Makers Who Got the World Excited About Arts and Crafts