The cure for cold toes and drab winter days is fun, artsy socks. Whether you're stomping in boots or curled up on the couch, it helps to see a little pop of color in your outfit. Fortunately, the studio behind the line of rainbow jewelry has started a series of creative socks for both women and men.
Based in San Francisco, Yellow Owl Workshop has garnered a loyal following for its "sophisticated yet playful aesthetic" in jewelry and accessories. Now, Yellow Owl Workshop has designed quirky socks with the same philosophy in mind. The Color Wheel Crew Socks have a black base that features an unexpected diptych—when you put your feet together the color wheel becomes whole. Alternatively, the Pop Art Crew Socks star a repeating, stylized print of Andy Warhol's bananas and soup cans in mint for the women's socks, and light yellow for men's.
Both pairs of novelty socks are made of soft cotton with long combed fibers for a "luxurious hand feel," with a reinforced heel, toe, and cuff for durable wear. Whether you wear these socks under tall boots or around the house, you'll get a kick out of their cheerful design.
You can find these colorful socks in My Modern Met Store.
These vibrant Pop Art and Color Wheel socks by Yellow Owl Workshop are an easy way to jazz up your wardrobe in cooler weather.
Women's Color Wheel Crew Socks
Men's Color Wheel Crew Socks
Women's Pop Art Crew Socks
Men's Pop Art Crew Socks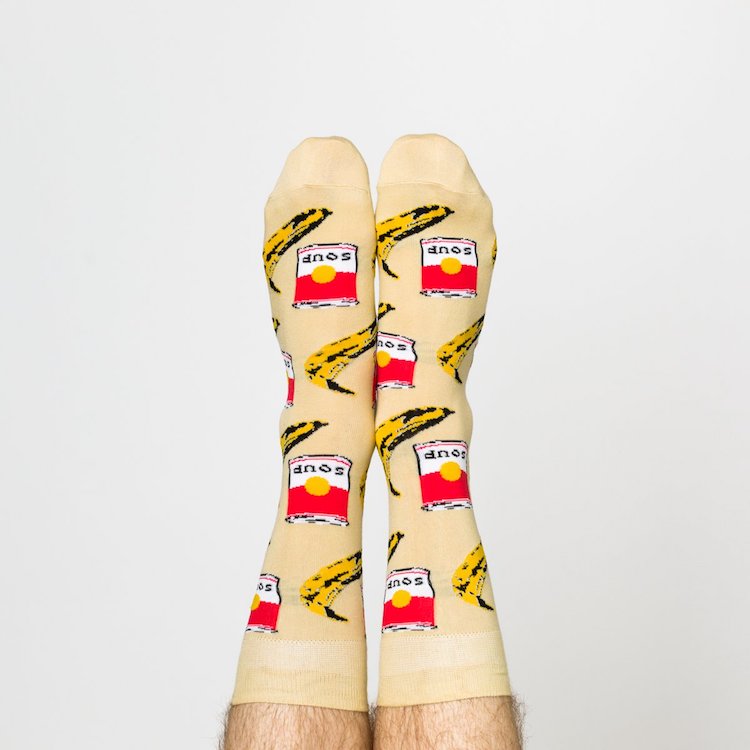 Related Articles:
Channel Frida Kahlo's Artistic Passion with These Quirky Earrings
25 Fun and Creative Gifts for the Artist in Your Life
These Rainbow Accessories Will Add a Creative Way to Brighten Up Your Outfits
Follow My Modern Met Store: Facebook | Instagram | Pinterest | Twitter
Subscribe to My Modern Met Store newsletter for updates!