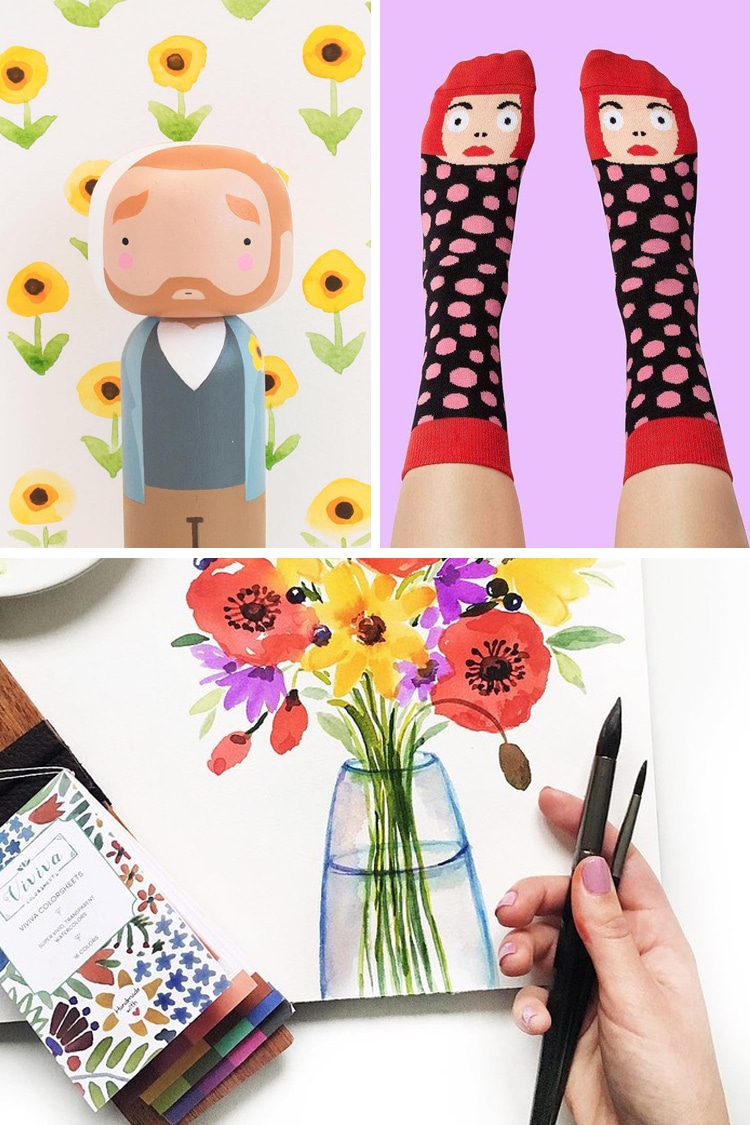 What are your earliest memories of art? Perhaps you recall scribbling on your walls with a marker or decorating your prized coloring book in a rainbow of hues. Whatever your experiences were, it's safe to say that your life has been touched by art—even if you don't consider yourself a creative person. And you're not alone; this is why art gifts are some of the most unique presents you can give someone. At My Modern Met Store, we've curated a selection of these types of items for those that love to create art as well as those who prefer to appreciate it.
Painting enthusiasts will want to try our best-selling Viviva Colorsheets. It's an innovative watercolor palette that's the size of a smartphone and comes equipped with 16 vibrant hues. Packaged in a small, thin booklet, the supersaturated colors are deposited on sheets of paper. To use them, simply run a wet brush over a hue and start painting. But if you know someone who is struggling with what to paint, give them some guidance with the Creative Block book. In it, 50 successful artists each suggest an exercise they use to move through their artistic barriers and back into creator mode.
If your gift recipient is someone who values artists and artwork, check out our selection of art you can wear. Enamel pins have proven timeless and popular—plus their cost won't break the bank, so you can easily pick up two or three! We have portraits of famous artists as well as a collection of pins in which iconic creatives (think Picasso and Van Gogh) have been transformed into charming kitties with punderful names.
Scroll down for some of our favorite art gifts and head to My Modern Met Store for our specially curated collection.
Know someone that would like an art gift? Scroll down for our curated selection from My Modern Met Store.
Brief History of Art Mug
Creative Block Book
Living Coral Pantone Mug, 2019 Color of the Year
Pablo Picatso Enamel Pin
Vincent van Gogh Kokeshi Doll
The KissCandle
Salvador Dalí Action Figure
642 Things to Draw Book
Frida Kahlo Enamel Pin Set
Dot Kokeshi Doll
Frank Lloyd Wright Paper Models Book
Viviva Colorsheets
Modern Artists Socks Gift Set
Bob Ross Enamel Pin Set
1000 Colors Jigsaw Puzzle
Starry Night Candle
Andy Warhol Sock Box Set
Related Articles:
15 Contemporary Art Gifts Inspired by Today's Top Artists
25+ Imaginative Gifts Inspired by Your Favorite Famous Artists
20 Fun & Artsy Gifts For the Van Gogh Fan in Your Life