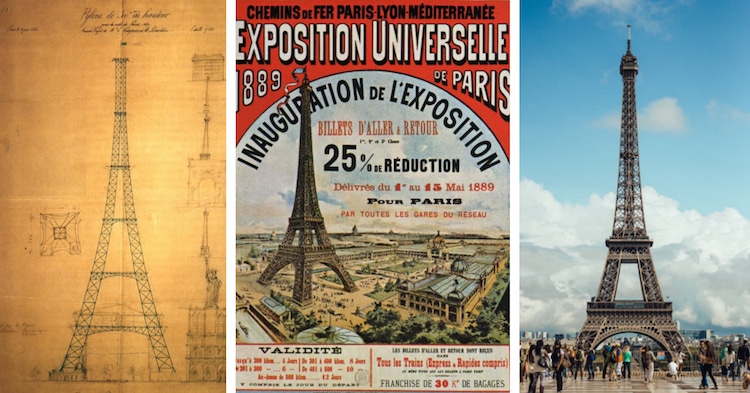 As one of the most visited cities in the world, Paris is continuously celebrated for the unique features that define it. In addition to love, light, and croissants, it is also renowned for the distinctive beauty of its buildings. From enchanting Art Nouveau entrances to its ethereal Gothic cathedrals, the capital city showcases French architecture at its finest—with, of course, the iconic Eiffel Tower at the forefront.
While most will recognize the Eiffel Tower as the unofficial emblem of Paris, not many are aware of its unique history and controversial beginnings. Here, we explore the story behind the one-of-a-kind edifice that has stood tall over the city for over 125 years.
Why was the Eiffel Tower Built?
Eiffel et Compagnie, a firm owned by French architect and engineer Alexandre-Gustave Eiffel, designed and constructed the iron tower for the Exposition Universelle, or World's Fair, in 1889.
Selected from over 100 entries, the tower would act as the entrance to the event, where people from around the globe gathered to experience its avant-garde attractions, including everything from theatrical performances and musical shows to innovative inventions and scientific findings.
Design
The basic design of the Eiffel Tower was introduced to Eiffel by Eiffel et Compagnie engineers Maurice Koechlin and Émile Nouguier. They imagined "a great pylon, consisting of four lattice girders standing apart at the base and coming together at the top, joined together by metal trusses at regular intervals."

This unprecedented aesthetic was depicted by Koechlin in an early sketch in 1884:

Eiffel agreed to build upon their vision. He, along with a team of top engineers and architects—including Koechlin, Nouguier, and Stephen Sauvestre, who designed the tower's signature arches—envisioned a three-leveled, 1,063-foot tower made of wrought iron.

In addition to showcasing his engineering skills, Eiffel intended to commemorate the French Revolution with his tower, as the World's Fair would fall 100 years after its onset. Thus, to Eiffel, the edifice was much more than an entrance; it was "an expression of France's gratitude."