Since then, artists have reclaimed the image, transforming the boy from a racist trope into something more appropriate and inspiring—like a king.
Clothing retailer H&M recently made a grave mistake in the eyes of many consumers by allowing a tone-deaf image to populate its website. The offending photograph featured a black boy wearing a hoodie that says "coolest monkey in the jungle" across the front. As a result, celebrities including The Weeknd and G-Eazy are cutting ties with the company, while people across the internet are urging others to boycott H&M because of the image's racist implications.
For a little context on why people had this reaction, we'll have to go back centuries. The act of comparing a monkey and a black person as one in the same (sub-human) has deeply racist roots. It was used as a justification for the enslavement and the continuing horrible treatment of black people (like Jim Crow laws). Sadly, it still remains today—in 2016, then-FLOTUS Michelle Obama was called an "ape in heels" by a former West Virginia mayor.
Since the backlash, H&M has issued an "unequivocal apology." Writing, "Racism and bias in any shape or form, conscious or unconscious, deliberate or accidental, are simply unacceptable and need to be eradicated from society. In this instance, we have not been sensitive enough to this agenda." They also state that they've removed the hoodie from sale and that it will be recycled.
With the image gone, artists from around the world have reclaimed it and completely transformed its original meaning. Their inspiring illustrations imagine the boy not as the so called monkey in the jungle, but as the king of the entire thing. Clad in the same green hoodie, its words are often changed to fit this narrative. Now, the kid is a symbol of optimism and confidence—something that's much more appropriate and empowering for black boys today.
If you want any more proof of how powerful this sort of reclaiming can be, just look at how the phrase "nevertheless, she persisted" became a rallying cry for strong women everywhere.
H&M boys recently came under fire for a picture of a black boy wearing a sweatshirt that said, "coolest monkey in the jungle" across the front.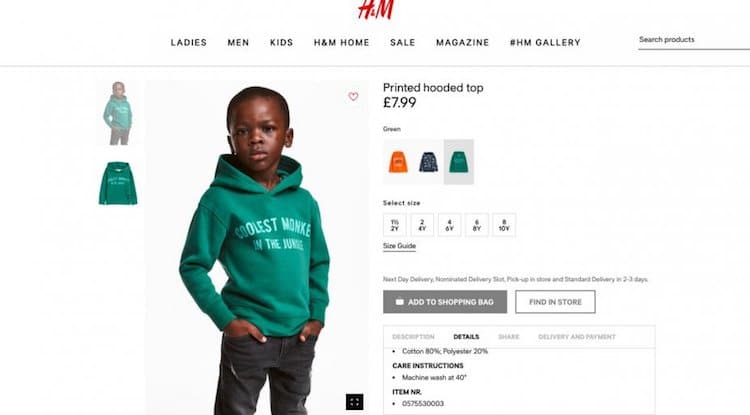 The backlash was swift, and many criticized H&M for being racist.
The company took down the shirt and tone-deaf image, issuing an apology.
h/t: [BuzzFeed]
Related Articles:
People Turn "Nevertheless, She Persisted" into Mantra for Celebrating Strong Women
Artist Gives Kids with Vitiligo Custom-Painted Dolls That Look Like Them
Powerful Photos Celebrate Families Raising Children with Rare Genetic Disorders
Street Barber Who Gives Free Haircuts to the Homeless Gets Gifted His Own Barber Shop