On the banks of the Persian Gulf, a new hospitality tower rises up in the sky. But this is no ordinary building. The Katara Towers cross like the two swords and are meant to pay homage to Qatar's national emblem. The building is shared by two luxury hotels, the Fairmont Doha and Raffles, with each taking up one of the curved towers. Located in the city's green district Lusail, Katara Towers opened to the public in January 2023.
The two hotels divide the 300,000 square meters of space within the building and both manage to pack high-end luxury into every corner. Raffles is an all-suite accommodation offering stunning views of the Gulf and downtown. Most of its 132 suites have an outdoor terrace, and each features a personal butler service that can help cater the experiences to guests' needs. Some suites have specific themes, such as a Parisian suite designed to look like a Haussmann apartment in Saint-Germain-des-Prés.
Sprawling over two entire floors, the Royal Suite is the epitome of luxury and is designed for visiting dignitaries and VIPs. With double-height domed ceilings, the suite includes a game room, cinema, and a personal spa with a hammam. But even if you can't quite afford the Royal Suite, there are plenty of public spaces to give you a taste of what it would be like.
The rooftop bar is filled with gold-veined marble as a contemporary nod to the Silk Route. Guests are invited to take in live music and sip on a cocktail on the outdoor terrace. Alternatively, you can grab a bite at the Italian restaurant helmed by Michelin-star chef Enrico Crippa or lounge in the art deco-inspired cigar bar, which is filled with rare editions of 6,000 literary classics.
Across the way at the Fairmont Doha, there's also no shortage of special experiences. This part of the tower takes design inspiration from its location on the water. Every room and suite was designed to make guests feel like they are staying on a luxury yacht. As such, the crisp, white decor gives a light and airy feel to the space.
There are 361 rooms and suites at the Fairmont Doha and those looking to be truly pampered can upgrade to Fairmont Gold. This hotel-within-a-hotel comes with perks like a dedicated butler service, as well as access to an exclusive pool and lounge. All guests will also have five innovative venues for dining and drinking to select from, as well as a cutting-edge fitness center and world-class space facilities.
For families, Fairmont Doha also provides daycare as well as a kids' club filled with activities. From ball pits and climbing walls to gaming areas and an arts and crafts center, there are plenty of activities for all ages.
Both hotels are managed by Accor and for the best rates, guests are encouraged to book directly with the hotels via the Fairmont Doha and Raffles websites.
Katara Towers is a new hospitality building in Doha, located in the Lusail district.
The design pays homage to the crossed swords that are part of Qatar's national emblem.
One tower is occupied by the 132-suite Raffles, which offers guests a luxury experience with personal butler services.
Each suite is meticulously designed, from vaulted-hand carved ceilings to spa-like bathrooms.

The Fairmont Doha, which takes its design inspiration from a luxury yacht, occupies the other tower.
It offers guests a vast array of amenities, including a luxurious spa, cutting-edge fitness center, and five dining and drinking venues.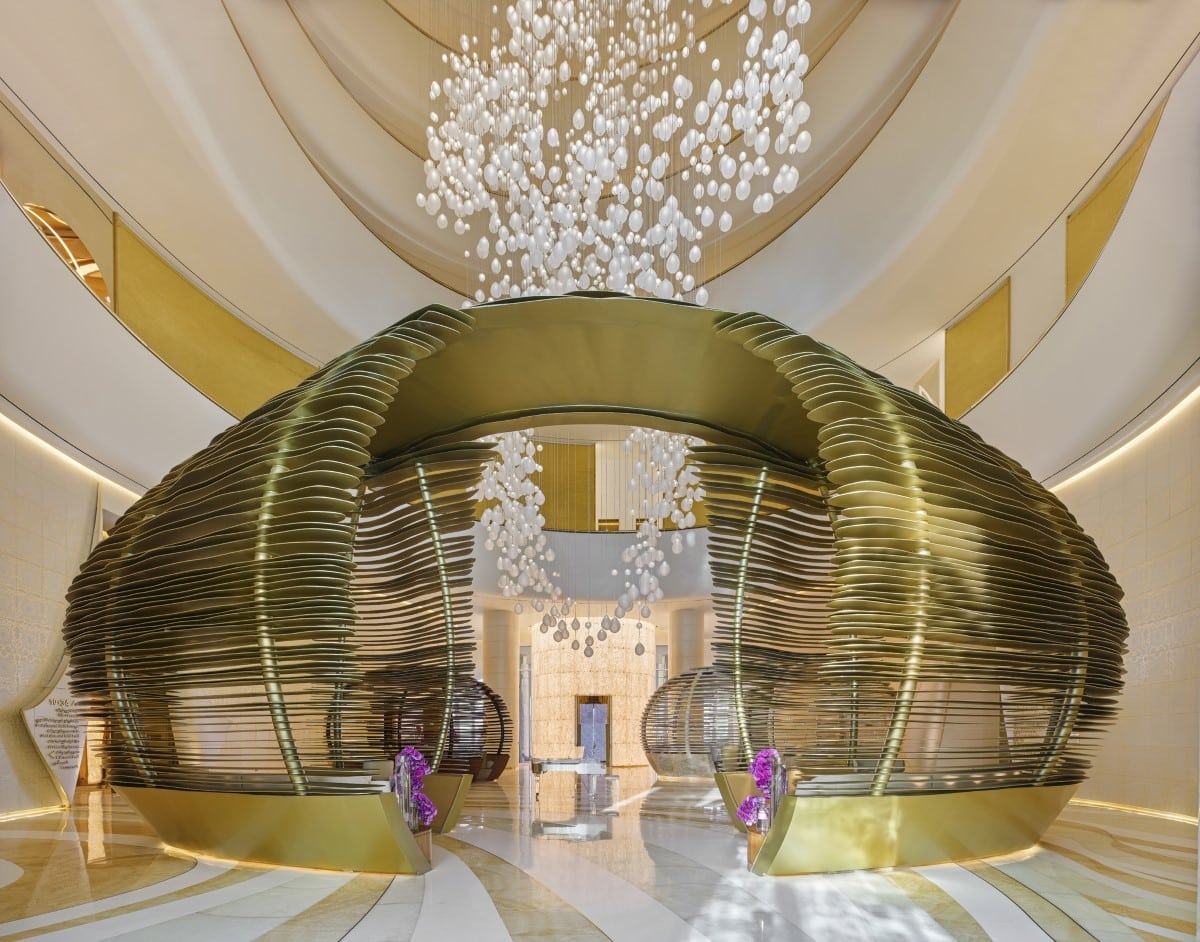 All images via Accor except where noted. My Modern Met granted permission to feature photos by Accor.
Related Articles

: