Gustav Klimt believed that "to tell the truth means to glow and burn." With an interest in expressing emotional authenticity in his work, it is evident that the Austrian artist even applied this approach to his glistening gold paintings, which magically appear to flicker before viewers' eyes. Inspired by the gilded glow of these masterpieces, Flatyz has crafted enchanting candles that highlight some of Klimt's most well-known works.
Flatyz's Klimt candles capture the luminescent look and feel of two paintings: Portrait of Adele Bloch-Bauer I, a famous portrait of a wealthy Jewish Viennese woman, and The Kiss, an ethereal painting of a couple embracing in a patch of wildflowers. Klimt completed both of these pieces during his Golden Phase, a successful and sparkly period typified by the artist's use of gold leaf.
In addition to eye-catching imagery, the shape and structure of these creative candles is what makes them particularly special. Rendered on a flat wax panel with two wicks, each scene has been hand-painted by the Flatyz team. This unique construction serves two purposes: it allows to the wax to burn evenly, and—much like Klimt's work itself—is dripping in modernity.
You can find The Kiss and Adele Bloch-Bauer I flat candles in the My Modern Met Store.
This pair of Klimt candles captures the golden glow of the Austrian artist's paintings, including Portrait of Adele Bloch-Bauer I…
And, of course, The Kiss.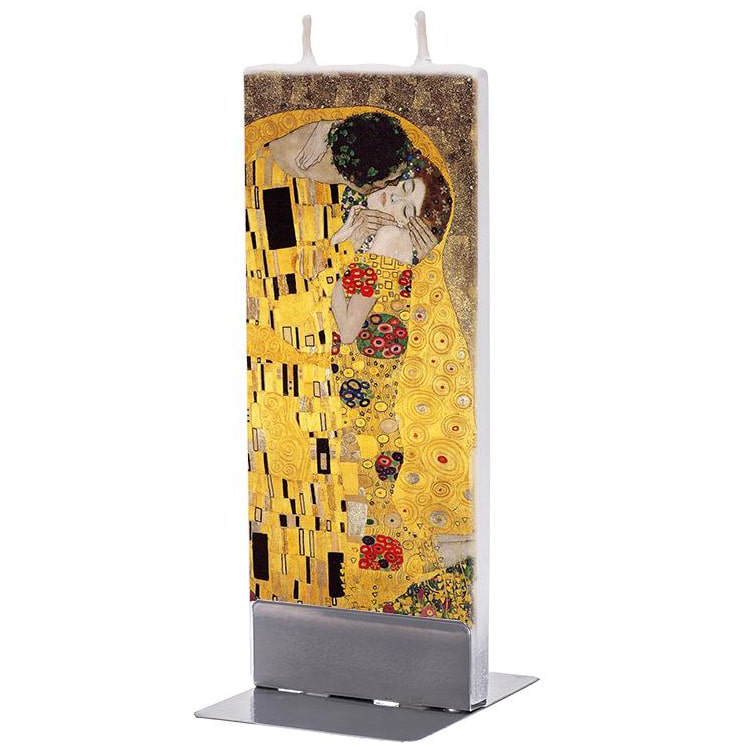 You can find these enchanting flat candles and more in the My Modern Met Store.
Related Articles:
Trade Your Avenger for an Artist With This Gustav Klimt Action Figure
Glistening Klimt Notecards Let You Write Messages That Are Good as Gold
Immersive Installation Transforms Empty Foundry with Projections of Iconic Klimt Paintings