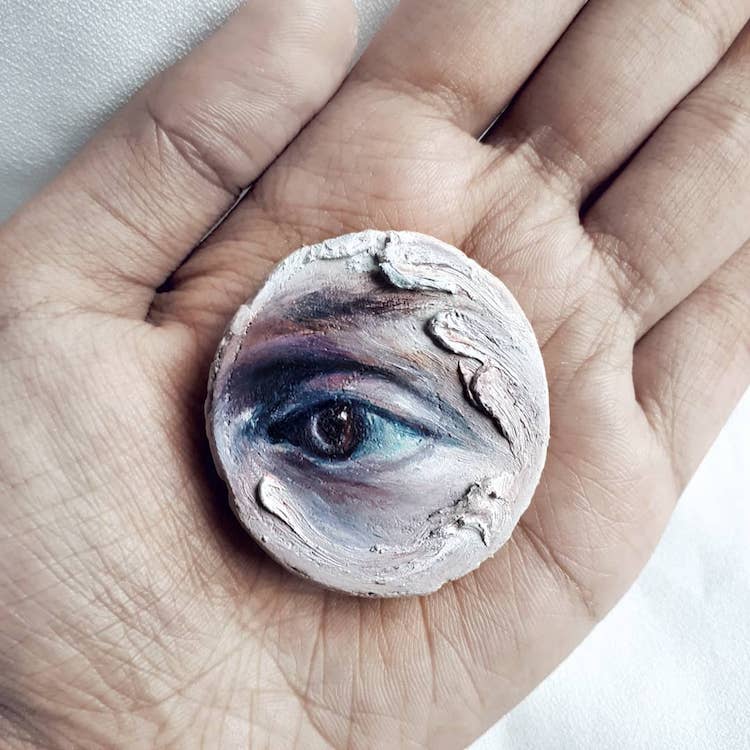 Maldives-based artist Maldha offers her interpretation of the saying "the eyes are the windows to the soul" in her series of miniature paintings. Each of her realistic oil renderings depicts one eye using expressive brushstrokes. The portrait of the eye dominates each round wooden panel, making these paintings an immersive experience.
"I want the eyes to be able to convey emotion without needing the entire face in the picture," Maldha explains to My Modern Met. "I felt inspired to paint just the eye because an expression can be interpreted a thousand different ways."
Although the 22-year-old artist assigns titles to each completed piece, such as Lust and Desire, she says that many of her viewers find different interpretations of the artworks. When seeing one eye "cropped," the imagination can muse on the rest of the human face and project different expressions.
"It excites me to paint (the eyes), as I try to make them as raw as possible, to give them depth and life," the artist says. Maldha uses a variety of brushstrokes and textures on the wooden panels, adding dimension to the small portraits. In many of the pieces, this thick application of paint "swirls" around the picture like an emotional current.
Scroll down to see more examples of Maldha's incredible eye paintings, and follow the artist on Instagram to keep up to date with her latest creations. You can find Maldha's original eye paintings for purchase via Return on Art.
Artist Maldha fills miniature wooden panels with immersive oil renderings of eyes.
Each small painting portrays a human eye with expressive brushstrokes and textures.
Maldha: Store | Facebook | Instagram
My Modern Met granted permission to feature photos by Maldha.
Related Articles:
Iconic Works of Art Are "Scraped Away" in Series of Illusionistic Paintings
Artist "Showers" Her Landscape Paintings With Realistic Raindrops
This Artist Creates Mind-Boggling 3D Paintings With Illusive Depth