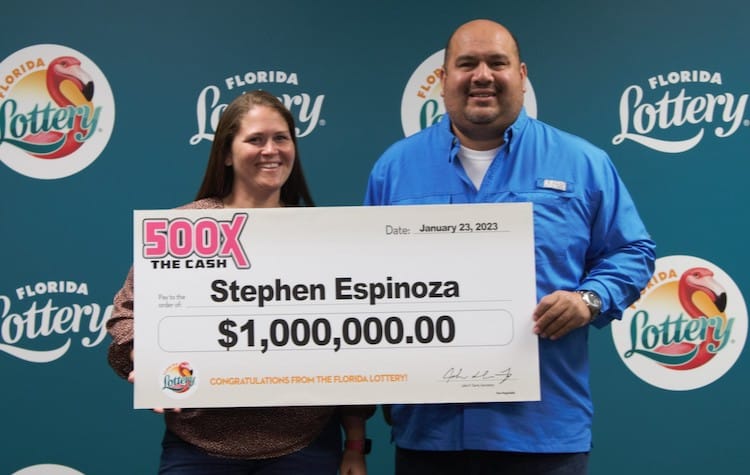 If someone cuts ahead of you in line, there's always the question of how to deal with it. Well, one man in Florida shows that sometimes, taking the high road pays off. Stephen Munoz Espinoza was waiting to use the lottery ticket machine at the Publix in Delray Beach, when a stranger jumped in front of him, taking his spot. Esponiza made the split-second decision to purchase a scratcher from the counter instead, and was floored when it revealed to be a winning ticket worth $1 million.
The 500X THE CASH Scratch-Off game has a 1-in-4.50 odds of winning, with the top prize being $25 million. Each ticket costs $50. "It was the end of a long day, and I was tired. I stopped at Publix and was about to buy a ticket at the machine when a man cut right in front of me," Espinoza recalls. "Instead of saying something, I decided I'd just buy a ticket at the counter instead. I can't believe I won a million dollars!"
Espinoza opted to receive his winnings in one lump-sum, which comes out to $820,000. He plans on putting the funds towards a new house for his wife and family. The local supermarket where the Espinoza purchased the ticket will also receive a $2,000 bonus commission. It's amazing how patience pays off!
After a stranger jumped ahead of him in line, Florida resident Stephen Munoz Espinoza bought a winning lottery ticket worth $1 million.
If you think patience doesn't pay off, click the link to find out how Stephen Espinoza of #DelrayBeach managed to keep his cool and stroll out of Publix—a gentleman and a millionaire! 👉https://t.co/9AnhlP59Mv pic.twitter.com/3OplMJEF1H

— Florida Lottery (@floridalottery) January 25, 2023
h/t: [Upworthy]
All images via Twitter.
Related Articles:
Lottery Winner "Addicted" To Helping Others Has Given Away Half Her Fortune
Best Friends Win the Lottery, Decide to Spread the Wealth to Their Community
Man Wins $217 Million Lottery and Uses It To Start an Environmental Foundation