We all know you can find almost anything on Amazon, but did you know that includes a house? A dive into the online shopping giant shows that they actually have a fairly wide range of kits and prefabricated tiny homes for sale. What could be better than getting the tiny house of your dreams with free shipping?
From basic shipping container homes to rustic cabins, prices range from just over $5,000 to more than $50,000, allowing you to select the kit that fits into your budget. A quick search for "garden house" or "cabin kit" will pull up most options, with these tiny dwellings perfect for guest houses or extra office space if you aren't looking to permanently downsize.
It's worth noting that many of the kits are sold through third-party vendors, and most will need you to get inventive when it comes to a bathroom and installing insulation—but isn't improvising part of the fun with a tiny home? You'll also want to check local building codes, as laws vary state by state about acceptable structures. Once you've done your research, it's just click and go.
Let's take a look at some of the best finds on Amazon so you can start living out your tiny house fantasies.
If you just want to turn the key and go, this shipping container house may be for you. MODS International, based in Wisconsin, recently listed this tiny homemade from a brand new shipping container. It comes fully furnished and insulated, with a bedroom, shower, toilet, sink, kitchenette, and living area. It's fully wired for electrical, heated and air-conditioned, and even has bottom sewer hookup. The 320-square-foot dwelling will set you back more than the average container home at $36,000 (plus $4,500 shipping), but if you want something ready to go, this may be for you. If you are interested in creating your container home from scratch, don't worry, Amazon sells shipping containers too!
This spacious cabin makes the perfect vacation home. Measuring nearly 300 square feet plus a sleeping loft, there's plenty of room for everyone in the solid-wood cabin. Made from Nordic spruce, there's a quaint log cabin feel to the tiny home. The kit comes with everything except roofing shingles and interior furnishings, but it does include pre-hung and glazed windows and a door. Made to order, it will take about 45 to 60 days for your cabin kit to arrive after ordering.
Chinese firm WZH specializes in modular homes and offers a tiny home that comes complete with solar panels and plumbing. Made with a galvanized steel frame, it can be expanded up to 800 square feet and has bamboo plywood flooring. There are also a host of upgrades available, including different layouts.
This small, contemporary home is the perfect solution if you are looking for a sleek, modern design. The 180-square-foot tiny home works as a guest house, home office, or vacation getaway. Large windows flood the space with light and this is an easy DIY project to assemble. The downside? With just one large open area, there's no bathroom, so think wisely about how you'd use it and where you'd go to freshen up. On the bright side, this little home can be yours for just $7,500. If you're looking for something a little bigger, this design is available as the 273-square-foot Arlanda XXL for $10,895.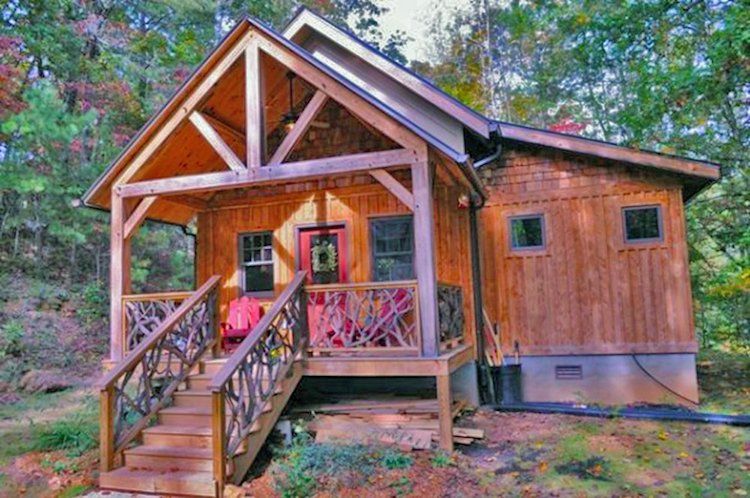 If you ever wanted to live in a log cabin, now's your chance. The luxurious 725-square-foot cabin has an upper sleeping loft and plenty of room downstairs for a kitchen, living room, and bathroom. With insulated panels and roofing materials included, the price you pay lets you build and move in as soon as it's shipped to your door. The timber frame package sells for $59,000.
This tiny house kit has a decidedly mid-century modern vibe. At 174 square feet, it's small but simple, with a completely open floor plan. And while this means you have to figure out the bathroom situation, it still makes an ideal guest house or hangout space. With windows covering almost the entire facade, light floods the space, giving an indoor/outdoor feel. And, at $8,360, it's a great option if you're sticking to a budget.
This three-room cabin includes a covered entry and makes the perfect guest house, pool house, or tiny home. Made from natural spruce, the assembly kit some with all the lumber, windows, and interior and exterior doors. The quaint 285-square-foot dwelling rings in at $14,500.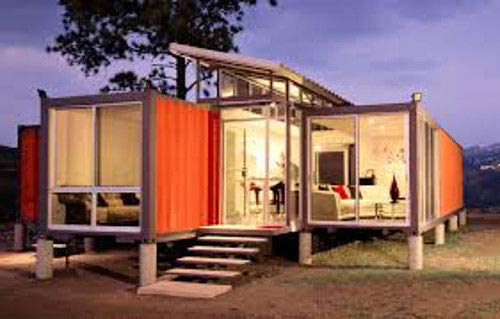 Made in the USA, this spacious container home will set you back nearly $150,000 but comes with everything you'll need for a small family. Nearly 1,000 square feet, the custom layout shown on Amazon features two bedrooms and two bathrooms, as well as a dining room, living room, closets, and kitchen. If you're looking for something more cost-effective, they also have a 160-square-foot container home available.
For under $10,000 you can own this bright one-bedroom tiny home. The basic 200-square-foot cabin comes with double-pane windows and doors to let light in without wasting energy. And while the interior is spartan, it's also possible to divide up the space any way you'd like. For just $7,850 and free shipping, it's a steal.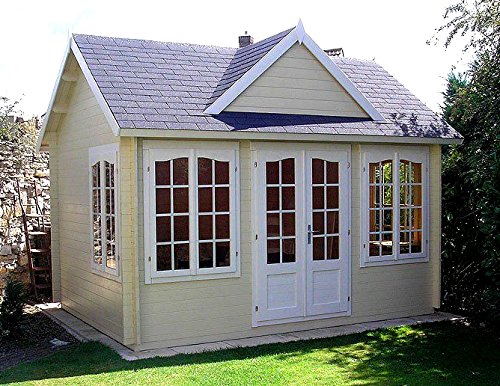 How small can you go? At just over 100 square feet, the Chloe cabin is tiny but full of charm. Windows on three walls allow plenty of light to come through and it takes two adults just 9 hours to put together the home. The downside? There's not much space for full-time living, but at $5,490 it's a great option for a party of one.
Think of the Claudia Garden House as the bigger sister to the Chloe Cabin Kit. Boasting 209 square feet, the Nordic wood structure is meant as a pool house or a guest house, or for those looking for a little separation between their home and office. Like Chloe, it doesn't take long to assemble this tiny home—two adults can do it in one full day of work. You'll have to pay a little more for this kit and spend $8,450.
Looking for a tiny home with a porch? The Avalon by Allwood features a 540-square-foot space that's divided like a conventional home. The plan allows for a bedroom, living room, kitchen, bath, and office. At a cool $32,990, it's not the cheapest option available, but considering you can make this a comfortable home, it's a steal.
Evoking a rustic look and feel, the Vermont Cottage is perfect for hosting an artist studio or serving as a home base for your outdoor activities. It features rough sawn lumber, a corrugated metal roof, and barn sash windows that give it the appearance of a cozy general store. This pre-cut kit is $18,916 and takes about 40 hours to assemble (with two people).
This isn't exactly the tiniest of homes, but it's a prefab design that even those wary of small living spaces will find plenty big. Comprising two 40-foot shipping containers, the Timber House includes a living room, kitchen, office, and bathroom on the ground floor. Head upstairs and you'll find a loft-style bedroom with plenty of natural light. It comes with a $75,000 price tag, but it offers enough comfort and style to make you want to stay for a while.
Inspired by Scandinavian cabin design, the Ranger kit focuses on "practicality and functionality" with 259 square feet of main floor space and 168 square feet for the loft. Its structure has thicker-than-usual wall planks that allow for energy efficiency and makes it suitable construction for colder climates. For $19,990 and a few days spent building this humble abode, you get a great vacation getaway in the end.
All images via Amazon. This article has been edited and updated.
Related Articles

:

Company Creates Line of Eco-Friendly Prefab Homes That Start at Under $100K

Eco-friendly "Hobbit Hole" Homes Can Be Built in 3 Days

Modular Tiny Home Can Easily Be Disassembled to Move Off the Grid With You

Modular Mobile Home Offers Easy Transport and Assembly for Living Off-the-Grid in Style