Signs being posted all over Manchester, England. ❤️ pic.twitter.com/szbFsdsS4Q

— Lorenzo The Cat (@LorenzoTheCat) March 4, 2020
Racist graffiti rears its ugly head in urban environments around the world. But someone in Manchester, England is taking a stand by covering up the offensive tagging with a giant sticker that features a stately kitty. Alongside the fluffy feline staring back at you is text that reads, "There was some racist rubbish here but I covered it up with this picture of a cat."
The effect of the sticker is two-fold. In one respect (and the most important), it conceals the racist remarks so that others will not see it. And in another, it shames the person that was bold enough to post it while demonstrating that other people won't tolerate their poor behavior. This particular instance came to light after the popular Twitter account Lorenzo The Cat first posted a picture of the placement. Throughout the tweet's many replies, the overwhelming message was users applauding the use of the sticker.
You can get your own cat cover-up label from the online shop called Cracks Appearing Distro. The stickers are sold in singles as well as packs of 10 or 30. Printed on a white gloss paper, they should brave the elements and last outdoors for six months.
This stately kitty sticker is helping cover up racist graffiti.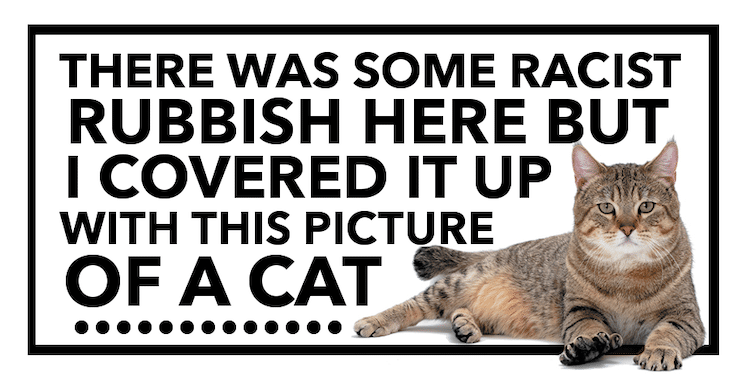 h/t: [Bored Panda, Boing Boing]
All images via Cracks Appearing Distro unless otherwise noted.
Related Articles:
Man Responds to Racist Conversation Overheard in Cafe with an Unexpected Kind Gesture
Artists Are Transforming a Racist H&M Hoodie Photo Into Inspiring Works of Art
Norman Rockwell's "The Problem We All Live With," a Groundbreaking Civil Rights Painting