Conservationists have spotted two white giraffes in northern Kenya, a rare sighting that will warm your heart. The mother and baby were caught on film by rangers for the Hirola Conservation Program (HCP), as they calmly stroll along—even pausing to look at the camera.
The cute duo has leucism—which was also the case with a pale tiger recently spotted in India. Different than albinism, the genetic condition occurs due to reduced levels of different pigments in skin cells. Interestingly, the baby giraffe still had prominent traces of reticulation that appear to be fading away, while the mother's skin is quite bare.
Rangers first heard about the white giraffes from local villagers and rushed to get their own glimpse of the majestic beasts. The video reveals the mother pacing back and forth, as the baby stays in the background. The mother's pacing is actually a signal to let the baby know to hide in the bushes. This is a behavior characteristic of mothers working to protect their children in the wild.
The appearance of white giraffes in the area is something quite new, with the HCP noting that previously there were only two known sightings in Kenya and Tanzania. This is the first time, however, that a white giraffe has been caught on film. As sightings are becoming more common in the area, community members take care to report each occurrence. Bashir, a local community ranger, shared, "This is new to us. I remember when I was a kid, we never saw them. It must be very recent and we are not sure what is causing it."
Rare white giraffes have been spotted by the Hirola Conservation Program in northern Kenya.
The mother paces back and forth, signaling to her baby to hide in the trees.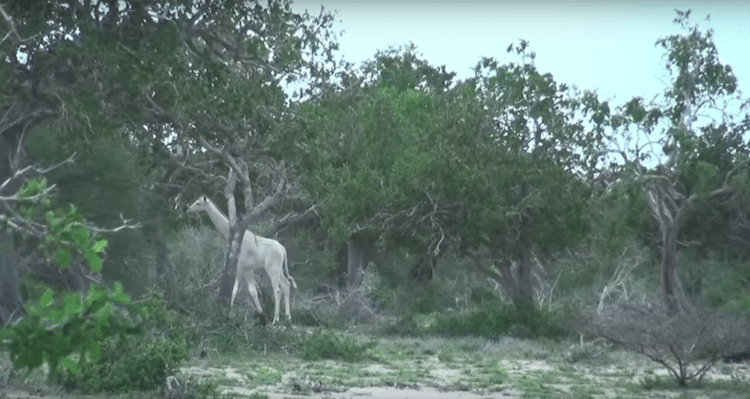 Watch the video and overload on the cuteness of these rare animals.
h/t: [Inhabitat]
All images via YouTube except where noted.
Related Articles

:

Rare White Giraffe Is Spotted in Tanzania

Rare Blonde Penguin Spotted Along the Shores of Antarctica

Extremely Rare White Squirrel Spotted in the Woods of England