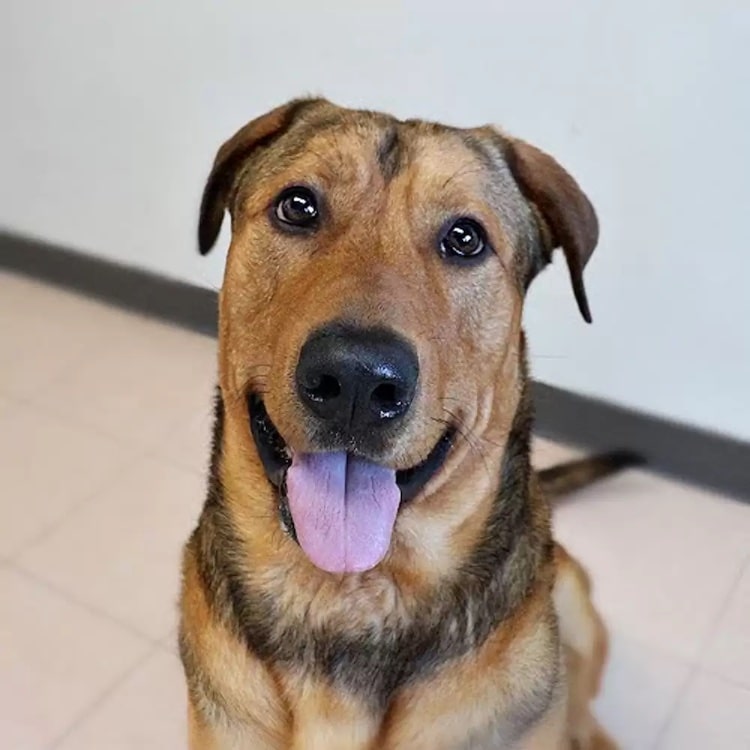 All pets deserve to have their furever homes, but some take a little longer to find them. Until then, they often stay in an animal shelter just waiting for that special person (or people) to come along. A pup named Jax was a long-time resident at the Regina Humane Society who wanted nothing more than to find a home.
Jax was brought to the shelter without many details, but it was clear he had spent some time on the streets by himself. He was very thin when he came to the Regina Humane Society and was also ravenous. After getting him fed and officially putting him up for adoption, he developed pneumonia and went into medical care. Once he was back on the adoptable list, people continued to pass him by. But why? The staff there loved Jax and were saddened each time his kennel was ignored.
The sweet pup, the shelter surmised, just wanted to be around people. "It wasn't anything aggressive," explained Bill Thorn, the Regina Humane Society's director. "He was really suffering from something known as barrier frustration. He's a super nice dog, but there was a barrier in his kennel, and he couldn't get to people to be with them. He just wanted to be petted, but it could often be off-putting for people."
A sign on Jax's kennel explaining his situation didn't help. That's when the staff decided to bring him up to their reception area where he was able to showcase his endearing personality. "During that time, he became a bit of a staff favorite because we all knew how nice of a dog he was, but we just had to get him into a place where he could show that."
It took many months, but Jax finally found his human. After being at Regina Humane Society for so long, the staff couldn't just send him off without a proper goodbye. They lined up, and each person crouched down and clapped for the pup as he left for his new home. In a heartwarming video captured by the shelter, Jax gives a little kiss to each person before going into the arms of his new dad.
"It was an incredibly sweet moment to end his long stay at the shelter," the video is captioned. "Have a great life, Jax!"
Jax the dog was a long-time resident at the Regina Humane Society before he found his forever home.
It took many months, but he's now with his human…
…but not before a sweet send-off from the shelter staff. Jax returned the love by giving each person a little kiss.
Regina Humane Society: Website | Facebook
h/t: [The Dodo]
All images via Regina Humane Society.
Related Articles:
One-Eared Shelter Dog Alters His Plush Toy So That It Looks Like Him
Long-Time Resident Shelter Dog Gets Standing Ovation as He Leaves for His Forever Home
Chiefs Player Celebrates Super Bowl Win by Paying Adoption Fees for Over 100 Shelter Dogs