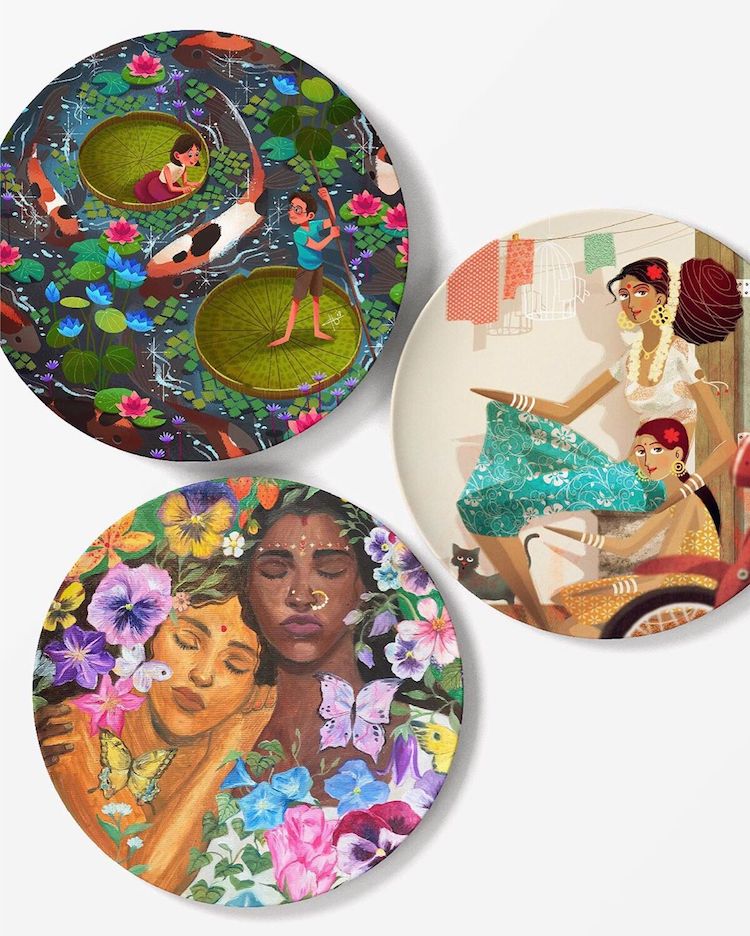 Mumbai-based Chitresh Sinha founded The Plated Project as a way to initiate change and help end hunger in India. Every month they partner with a new nonprofit organization to produce a line of unique decorative plates which raises funds with every purchase. Now, The Plated Project is focusing its efforts on helping the millions of laborers and migrant workers who have lost their jobs due to the COVID-19 pandemic.
"While the lockdown is being lifted, the battle is far from over," they explain on their website. "The most affected of all are daily wage earners, slum dwellers, and migrant workers. The sudden loss of income has caused a lot of them [to] struggle even for their daily meals." Their new series of artworks is entitled A plate full of hope, which includes limited edition designs by 20 artists from around the world. Among them are renowned, award-winning illustrators, such as Pavan Rajurkar in India, Hana Augustine in Indonesia, Zeynep Özatalay in Turkey, and Sandhya Prabhat in California. Each piece from this line of decorative plates depicts one emotion or experience felt during the lockdown.
By purchasing one of their art plates, you are funding 60 meals for a migrant worker in need. This includes a meal kit of essentials like dal, rice, and atta. The Plated Project has already surpassed its initial goal of 100,000 meals and is hoping to continue to support laborers in need.
Each plate is available for purchase at $26.67 (or ₹1,999 Indian Rupees). You can shop the whole collection via The Plated Project's website.
The Plated Project helps migrant workers in India that were impacted by the COVID-19 pandemic.
They collaborated with 20 artists to design a series of beautiful plates.
By purchasing one of these limited edition plates, you are donating 60 meals to a worker in need.
The Plated Project: Website | Facebook | Instagram
My Modern Met granted permission to feature photos by The Plated Project.
Related Articles:
UVMask Is a Reusable Face Mask That Filters and Sterilizes the Air in Real Time
Civil Rights Pioneer Leona Tate Is Turning School She Helped Desegregate Into Center for Equality
Germany Announces Ban on Single-Use Plastics Starting in 2021