As contemporary artists push themselves to explore deeper levels of creativity, it's not unusual to find interesting art mediums beyond the standard canvas. Since the 1960s, artists have increasingly explored the use of the human body as a vehicle for expression.
And while body art is often thought of as a type of performance art, using the body for creative purposes occurs well before Marina Abramovic or Dennis Oppenheim carried out their performances. Tā Moko, the permanent markings of the Maori in New Zealand, are just one example of rituals that use artistic designs with cultural significance.
Today body art includes tattoos, piercings, and body alterations, but perhaps the most eye-catching are artists who paint the body, transforming naked skin into something extraordinary. Often working to create precise illusions and transformations, artists who paint the body at the highest level are both technically adept and full of fantasy. Creating a connection between art and body is something unique to the art form.
Let's look at 10 artists whose body art uses skin as a canvas in surprising new ways.
Liu Bolin
Also known as "The Invisible Man," Chinese artist Liu Bolin uses his body to act as a chameleon, seamlessly blending into his surroundings. A look at his creative process shows the incredible effort put forth to examine the environment and merge with it. Wearing clothes painted down to every detail, the optical illusion that Bolin creates is beyond compare.
Bolin's motivations for beginning his work are deeply personal. After the government closed the Suojia Village Art Campus, his place of employment, the artist took a different path. "My resistance to the force of governments made me experience the life of people with no social status, no job, no family, no income and this was the emotional reason I began my series of works," he says. "In my work, the artist is hiding to restore his strength and to protect himself. I want my viewers to experience China as I know it, where the concept of artists as human beings was once neglected."
Alexa Meade
While many artists strive to bring the illusion of three dimensions to a flat surface, American installation artist Alexa Meade does the opposite. By painting her portraits on the human body, she causes them to appear flat when photographed for a mind-bending illusion that tricks the viewer. Challenging the viewer to blur the lines between reality and fantasy, her acrylic body painting pushes the boundaries of art.
Meade often places her models in elaborate sets that enhance her "reverse trompe l'oeil," creating living paintings that are as much about the performance as the final image. Her boundary pushing technique has skyrocketed her to success, with her TED Talk garnering more than 2.5 million views.
"I think the reason I'm not interested in traditional painting in my personal art practice is that when I used to do it as a kid, I could never get anything to my liking," Meade shares. "I was very critical and perfectionistic, and I'd overwork it and get frustrated; it wasn't a fun experience. I don't feel positive about making things on a flat surface—there's this mental block there. But when I create things in 3-D, it's completely different. It unleashes a different part of my brain altogether and I'm able to create much more fluidly."
Trina Merry
Body paint artist Trina Merry is a master of blending her models into their surroundings. After studying with Robert Wilson and Marina Abramovic at the Watermill Center, she took those lessons and applied them to her body art installations. Now, whether camouflaging models around the world or creating living sculptures, she is known as one of the top body painting artists in the field.
"I love working with the human body as my surface because my paintings are alive—they have a breath, a heart beat, a twinkle in the eye," she shares with us via email. "Bodypaint creates a special connection to a person that other visual art forms have trouble accomplishing; it's a distinctly human experience."
Cecilia Paredes
Venezuelan performance artist Cecilia Paredes is known for her photographic performances in which her body is concealed against different textures and patterns. Using her own body to perform a type of animal mimicry, it's ironic that her last name, Paredes, is Spanish for the word wall.
Sometimes compared with Liu Bolin, her work differs in that she primarily works in interior spaces, setting up against intricately patterned interiors, as opposed to blending herself into outdoor environments. Eternally camouflaged, LensCulture writes, "Throughout her work, Paredes succeeds in transforming herself into an expression of her interiority. Her body, a blank canvas, serves as an empty vessel to reflect both her surroundings and her feelings."
Johannes Stötter
Influenced by nature, body painter Johannes Stötter has an unparalleled ability to transform one or more bodies into a variety of animals. Based in Italy, Stötter has won numerous awards for fine art body painting, based on his incredible technical skill and fantasy. At times, his illusions are so precise that it's only through moving video that one can decipher the models painted to perfection.
Andy Golub
New York-based artist Andy Golub uses models to create his "human canvas" paintings. These spontaneous, colorful pieces are composed of multiple models who lay on the ground to form a surface for Golub's paintings and are then photographed from above.
The resulting works are bold, graphic pieces where individual elements are obscured to become part of the whole. Golub is also the founder of Bodypainting Day, which began in New York City in 2014. His work is as much about free speech as it is about creativity. "We're not using nudity as a form of exploitation," he shares in regards to Bodypainting Day. "It's all about body acceptance, accepting each other as we are."
Emma Fay
Considering herself a conceptual body artist, Emma Fay's work is about challenging visual perceptions. The British artist uses the human body to express a variety of social concepts. With her series Ridiculous, symbols are painted on different body parts to highlight our modern obsession with unrealistic and unattainable perfection. From a "trout pout" painted on a stark white face to a bread basket painted on a "muffin top," her work cleverly, and cuttingly, reminds us how modern turns of phrase can have detrimental effects on our psyche.
In other work, she combines illusionistic body painting with clever poses to disguise her models as animals or mimic outwardly the calming spirit of yoga.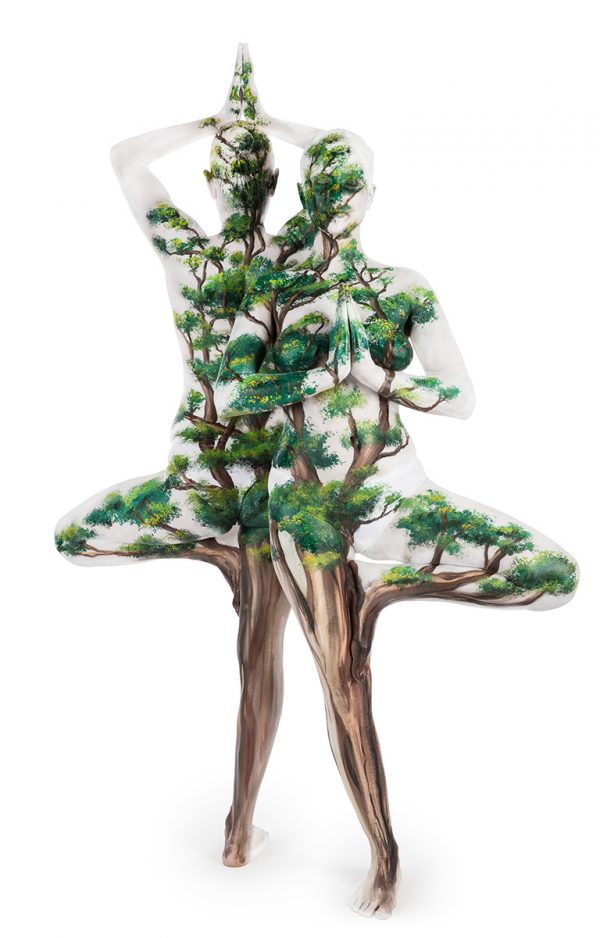 Natalie Fletcher
Artist Natalie Fletcher studied traditional painting, but soon turned to body art to satisfy her creativity. "I was experimenting with different canvases and mediums and getting weird with it, but I started to get really bored in my studio by myself," she shares. "I realized that photo shoots with models were my favorite part of the work."
Soon this led her to paint models, and she found her calling. "It was phenomenal. As an artist, I had to let go of the ideal of perfection. I used to work for forty plus hours on a painting, but I don't have that time with people, especially if I'm painting outdoors." Known for her incredible ability to create realistic illusions, in 2015 Fletcher traveled across the United States for the project 100 Bodies Across America. Over 200 days she painted 140 models—ordinary American citizens of all shapes and sizes. She's since turned the project into a documentary.
Emma Hack
Australian artist Emma Hack is best known for visually merging her models with patterned backgrounds inspired by wall paper designer Florence Broadhurst. As opposed to Liu Bolin or Cecilia Paredes, Hack paints models rather than being painted herself. Her work gained international recognition in 2014 after collaborating with Gotye in the Somebody I Used to Know music video.
Gesine Marwedel
Gesine Marwedel is known for her beautiful skin illusions achieved through the use of negative and positive space on the human body. The German artist mainly focuses on natural forms, whether it be flora and fauna or expansive landscapes.
For Marwedel, "body painting is not just coloring on a living canvas, it is taking up the body forms in the motif, painting on and with the body. It is the transformation of a human being into a breathing, moving, living work of art."
Guido Daniel
Italian artist Guido Daniele proves that you don't need to make use of the entire body to make a statement. His incredible series of animals painted on hands is a reminder that a keen eye paired with great skill can turn out unexpectedly impactful work. Called "handimals," the series is inspired by his love of nature.
And while the work is difficult, due to the fact that skin isn't flat or immobile like a canvas, these challenges are what keep it interesting for Daniele.
All images via their respective artists.
Related Articles:
Artist Transforms Herself Into Mind Bending Optical Illusions Without Photoshop
Artist Creates Striking Prints of Realistic Portraits Using His Hands as Stamps
15+ Artists Whose Mind-Bending Optical Illusions Will Make You Look Twice
Meet the Innovative Artists Who Pioneered Performance Art and Elevated Its Importance
Artist's Optical Illusion Tattoos Look Like They're Hiding Entire Worlds Beneath