Since it was first introduced in 2015, Flow Hive has been causing a sensation, both for helping promote beekeeping and as an incredible crowdfunding success story. My Modern Met has been following Australian father-son entrepreneurs Stuart and Cedar Anderson since their invention made a splash by raising $1 million in one day on Indiegogo.
Now, with 51,000 units sold and numerous awards won for their Flow Frames, which provide bees with a partially fabricated honeycomb matrix which they complete with their own natural wax, they are back with an updated model. Flow Hive 2 has more than 10 improvements to the original design, based on three years working with the model and also listening to customer feedback. As Indiegogo's most funded campaign of all time, the world is certainly watching to see what the Andersons will do next.
For a refresher of the Flow Hive technology: the Andersons' invention works by allowing beekeepers to insert a tool—from outside the hive—and turn it to activate a mechanism where honey cells split open, allowing the honey to flow into a jar, ready to taste. "Feedback for the game-changing invention has been overwhelmingly positive and a global community has sprung up around the invention," states Honey Flow, the company founded by the Andersons, "leading to an estimated 10 percent increase in the number of backyard beekeepers in the US and, according to ABC News, sharp upticks in beekeeping club memberships in Australia."
Moving from an innovative invention to a company that's shipped units to over 130 countries, Flow Hive is helping more people explore the enjoyment of beekeeping. Flow Hive 2, which has raised almost $15 million to date on Indiegogo, features adjustable legs, a harvest table, and a roof designed to withstand high winds.
We had a chance to ask Stuart Anderson some questions about Flow Hive 2 and how it feels to know how much the invention has impacted beekeeping, as well as his advice for others wishing to crowdfund their projects. Read on for our exclusive interview and click over to Indiegogo for special deals on the Flow Hive 2.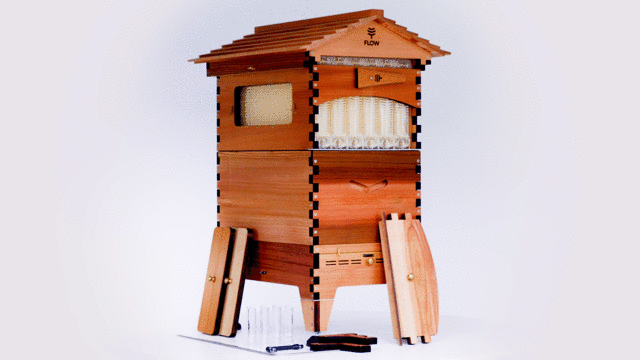 What's the best part of knowing you've helped make beekeeping accessible to a larger audience?
Beekeeping is a wonderful hobby which I believe acts as something of a drawbridge between humans and the natural world. As humanity's relationship with the planet becomes increasingly fraught, it's so important that we really acknowledge the interconnectedness of all life on Earth and make that knowing part of our daily life. Beekeeping is part of that. It makes us more aware of the change of the seasons, what is flowering, and when, are the neighbors using pesticides, what can we do to make our little part of the planet better?
Of course, there's also the extraordinary job the bees do as pollinators. The more bees we have, the better plants do. Not only our crops, but the wild plants as well. There's a community element too. People meeting their neighbors, sharing their honey, growing a little of their own food which can be shared with the people close to them.
I believe that beekeeping is something which delivers a net benefit to the world, so making it easier and so much more appealing to a wider range of people, is a fantastic feeling. There's a worldwide community of beekeepers who want to participate in the hobby in the gentlest way possible that has sprung up around our invention. I'm really proud of that.
What are the Flow Hive 2 improvements you are most excited about?
The harvesting shelf is a big one. You used to have to scrounge around for some besser (cinder) blocks or bricks to put your jars on but now you have this perfectly stable shelf which you can attach to the hive for an even easier harvest with your Flow Hive. We're getting a lot of requests from people who already own a Flow Hive Classic asking if they can get one.
Same for the leg kits. It just makes having your hive on the correct harvesting angle so much easier. You can tell by the spirit levels on the brood box whether you have it right and use the screw legs to make small incremental adjustments.
Also, people love watching the bees so the second window we've added to the super is generating a lot of excitement. Parents love having something their kids can be involved with that isn't yet another screen. And it's surprising how much you can learn about bees just by spending time observing them. We've made a total of 14 changes to the Flow Hive 2, but those would definitely be the top three.
What's your best advice for a beginner looking to get started with beekeeping?
We always recommend new beekeepers read as widely as they can, join their local beekeeping group and try to find someone local to mentor them. Beekeeping practices vary considerably from region to region so learning from the locals is essential.
So many people strive for the success that Flow Hive has had on Indiegogo, what do you think is the key to your success?
The more preparation you can do, the better. Have answers to the questions people will ask, have a good video, and people you can trust who have the skills to promote it.
Of course, you also need to have a good product, something new and really different that captures the imagination. But also, timing is critical. In the case of Flow Hive, bees and their welfare had been a hot topic for a while and Flow Hive is something which empowers people to do something in a very direct way to make a tangible difference—and plus you get honey!
What advice would you give to other entrepreneurs looking to crowdfund their projects in order to be successful and deliver on their promises?
First and foremost, be genuinely passionate about what you're doing. If you're expecting hundreds, or even thousands, of people to help you bring your dream to life, the job is to make them as enthusiastic about your idea as you are.
In terms of delivering on promises, make realistic ones! We made the promise of delivering a certain number of hives over the holiday season, which in retrospect seems ridiculous. Don't promise anything between November and February!
Get to know the Crowdfunding "beast." Look at successful and unsuccessful campaigns. Pledge your support for products or projects that you feel inspired by. Check out which videos and what use of words really touches you.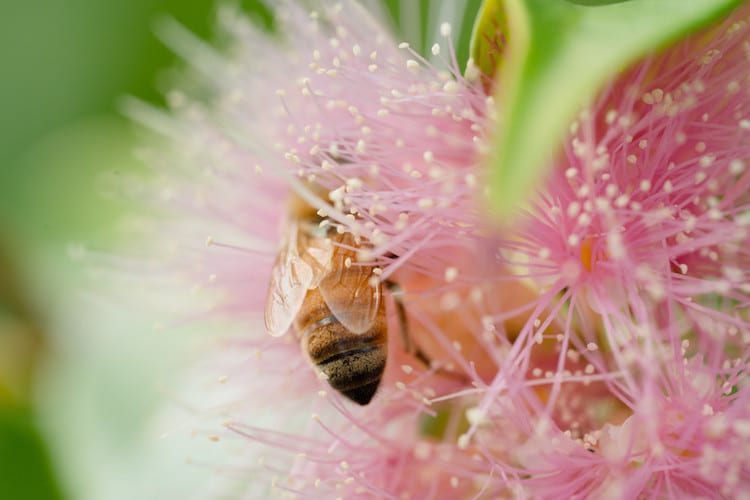 What can we look forward to next from Flow Hive?
A few months ago, we built a limited number of pollinator houses designed to be homes for native and solitary bees. All the profits from the sales of the pollinator houses will be going to projects as part of our Pollinator Support Program, which helps preserve or increase habitat for pollinating insects.
Our overarching goal, of which the Program is a part, is to increasingly be a prominent advocate for pollinators and the wellbeing of the ecosystem more broadly. We will also continue to innovate to make beekeeping even more accessible and continue to educate a new generation of beekeepers, including an online course which we hope to make available in the coming months.
Watch this video to see what beekeepers are saying about Flow Hive 2.
Honey Flow: Website | Facebook | Instagram | Indiegogo
My Modern Met granted permission to use photos by Honey Flow.
Related Articles

:

Ingenious Beehive Extracts Honey On Tap Without Disturbing Bees

Stingless Bees Are Creating Beautiful Spiraling Hives in Australia

Designers Create Real Observation Beehive You Can Mount on Your Wall at Home

New Fascinating Macro Photos of Bees by the United States Geological Survey