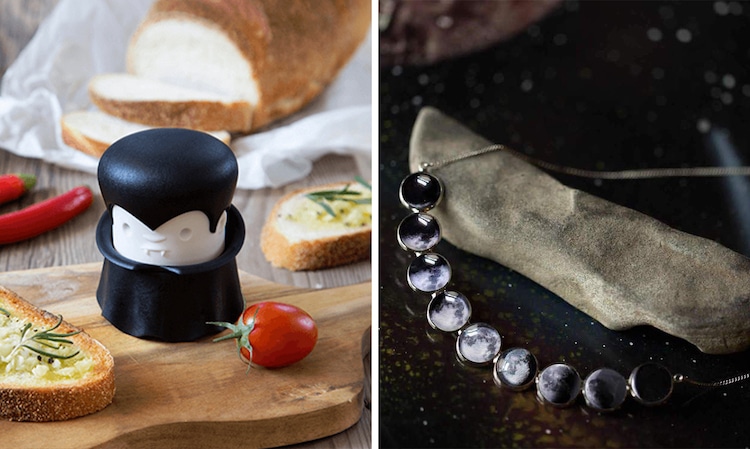 With the holidays just around the corner, it's nearly time to start planning gifts for friends and family. If you're someone who likes to plan ahead but hasn't pulled the trigger yet, this might be your sign. Some of our most popular products are already low in stock at My Modern Met Store. Be sure to snap them up before they run out.
This list includes a variety of items that make ideal presents, or treats for yourself. Among them is The Artists Socks Gift Set, which includes four pairs of whimsical socks that celebrate four art styles and artists (Andy Sock-Hole, Feetasso, Frida Callus, and Vincent Van Toe). Its counterpart, the Modern Artists Socks Gift Set is also running out quickly. This gift box includes colorful portraits of pop artist Roy Lichtenstoe, the beloved Yayoi Toesama, modern painter Feet Mondrian, and the surrealist Sole-Adore Dali.
There are a couple of other autumn-inspired pieces that you won't want to miss. The PyroPet Kisa Cat Candle looks like a stylized black cat at first. Once lit and the wax melts, it reveals a gold metal skeleton underneath—perfect for Halloween! Additionally, the Curved Moon Phase Necklace in Silver is the ideal statement accessory for winter parties.
Check out all of our picks, below. Be sure to head over to My Modern Met Store to check out.
Snap up these products before they're out of stock!
The Wildflower's Workbook
The Artists Socks Gift Set
Modern Artists Socks Gift Set
Find Your Artistic Voice Book
'Basquicat' Enamel Pin
Gracula Garlic Twist
Curved Moon Phase Necklace in Silver
Wolf Embroidery Kit
Frida Kahlo Temporary Tattoo Set
PyroPet Kisa Cat Candle
Related Articles:
38 Fun and Creative Gifts for the Artist in Your Life
10 Evergreen Gifts for Plant Lovers That Are Always Fresh
42 Purrfect Gifts for People Who Love Animals