Some people can make amazing sculptures with just about anything. And if Redditor PoopNDash is any indication, there is seemingly no limit to the amount of detail that can be achieved with snow. The creatives behind the handle recently shared a spectacular snow sculpture they built with their team, the Frozen Kiwis, that won them first place at the Alaska Snow Sculpture Championships.
The large sculpture features the characters, objects, and iconic scenery from the Super Mario Bros. video game. This includes Mario himself bursting out of a warp pipe, a power-up mushroom, and a towering Bowser's Castle. The Frozen Kiwis call entire this piece Super Maori-o, playfully paying homage to their Māori roots. "Had to put a little kiwi flair into the work," shared PoopNDash, "so all the characters are doing their best Maori pukana (sticking their tongues out)." Each element is thoughtfully sculpted and smoothed to a point where it mimics stone. They are all replete with crisp details that you wouldn't imagine could come from working with snow.
PoopNDash shared a photo of the impressive display, and it understandably went viral. People naturally wanted to know how they were able to achieve this wondrous work, along with the other sculptures the Redditor has shared.
"Everyone is given an 8-foot by 8-foot block of snow," PoopNDash explained. "It's been put into a giant form and has been allowed to settle under its own weight." The snow can be unpredictable. "It can range anywhere in consistency from tough and icy to or [sic] soft like mashed potatoes."
To manipulate the snow, the team put some of the powder in a 5-gallon bucket and brought it to a warming shack where it would melt and become a "wet slurry." This turned it into a glue-like consistency that would then be used to attach elements to the sculpture.
Although the Super Mario statue appears sturdy, its looks are deceiving. "The final product is extremely fragile," PoopNDash shares. "The flag pole at the top was one of two that we made. The first one broke into pieces as it was being sculpted. Only hand tools, no power tools allowed." They even had an accident with one of the team members (the Redditor's 75-year-old dad who flew in from New Zealand for the competition). He fell from 8 feet onto the 4-foot-high scaffolding. He landed on his ribs, but he's alright now with just some bruising. His son says, "He was bummed we wouldn't let him climb back up to put Donkey Kong on top of the castle."
Scroll down to see more from PoopNDash and his snow sculpture team.
A Redditor named PoopNDash creates incredible snow sculptures with his team, the Frozen Kiwis. Here's one that's inspired by the video game Among Us.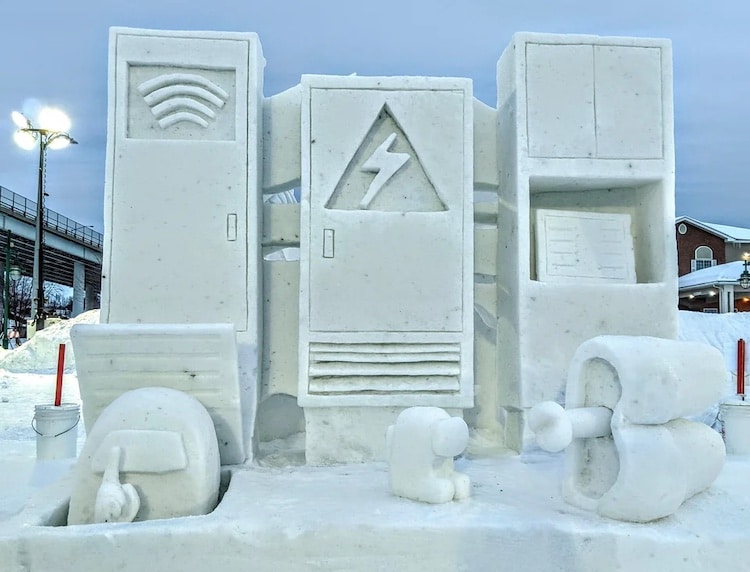 PoopNDash: Reddit
My Modern Met granted permission to feature photos by PoopNDash.
Related Articles:
Minnesota Man Builds 12-Foot-Tall Snow Sculpture That Looks Like a Real T-Rex
Interview: Artist Walks in Snow All Day to Create Giant Geometric Patterns by Foot
People in Tokyo Build the Most Creative "Snowmen" in the World